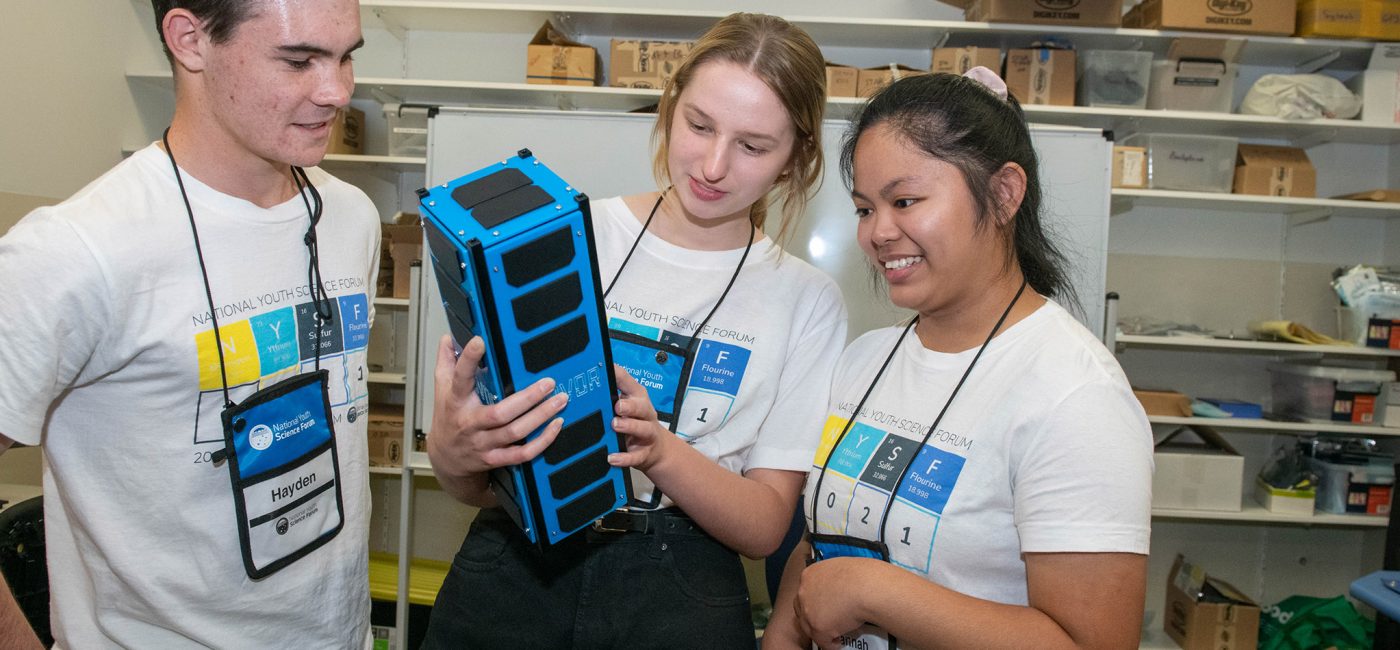 With our biggest line-up of events and workshops ever, the 2021 NYSF Year 12 Program was unlike any other in the NYSF's 38-year history.
Never before have we had so many diverse and exciting speakers or had to chance to explore so many different STEM facilities by live cross, both across Australia and internationally.
We welcomed 574 students, of which 66% were young women and 48% were from rural and regional Australia.
We awarded a record number of Equity Scholarships, with 41 participants receiving funding assistance to ensure they didn't miss out on this exceptional program.
Participants enjoyed three weeks of digital and in-person STEM activities with a stellar line-up of speakers.
(We really mean that pun, as we were joined by many from the space science field, including Nobel Laureate Professor Brian Schmidt AC FRS FAA!)
A big thank you to our speakers, guests, NYSF Partners, STEM visit hosts, Rotary volunteers, and the Student Staff Leadership Team for contributing to this unique program.
We appreciate your time and flexibility with our new-look program, and we look forward to doing it all over again next year!
If you are or know a Year 11 student with a passion for STEM, we are currently taking applications for the 2022 NYSF Year 12 Program. Apply now!
Weekly recaps
Participant highlights
"There are so many moments and sessions that were all highlights of the program for me. From making new friends who I felt were truly like me, to learning so so much about engineering and physics, and even hearing from industries and companies that helped broaden my knowledge of possible future pathways; the whole program was a highlight in itself."
"During Careers day I was particularly interested in the Australian National University as they gave me a better insight into uni life and what else is available after school."
"I realised that the world of STEM is much larger than I originally thought it was; which is truly amazing."
"I can't define one so I have a few:
the Closing Ceremony in which I was able to ask my question to the panellists about diversity in Australia
the 'making a difference with engineering' session
seeing Antarctica over zoom!
meeting people like me
hearing about all the opportunities I can get involved in around the world in engineering and volunteering
having the ability to learn so much over the holidays!"
"The highlight of the NYSF Year 12 Program, for me, was the Carbon Neutral Mining lecture presented by Dr Jessica Hamilton. It was so inspiring to hear from a young, female scientist who was using STEM skills to potentially combat climate change and protect the environment."
"In a word, I am amazed at the broad ranges of things related to science that were covered in this program and it made me determined I am going to pursue science. Some of my favourite events: The career days and in-person visits (specifically the UQ Meet the Researchers), The Future of Science by Prof. Liesl Folks, Science@Home, Jobs of the Future by Dr Karl."
"The critical thinking session with Dr Peter Ellerton blew my mind. The talk on AI with Dr. Leon Clark had me equally interested."
"There were so many but probably some of the discussions with Dr. Karl and Prof Lisa Harvey-Smith definitely stood out to me as well as talks with the staffies about year 12 and uni."
"There are so many highlights that I have which makes choosing one hard but my highlight of the program would be being able to go to Adelaide for some of the in-person STEM visits."