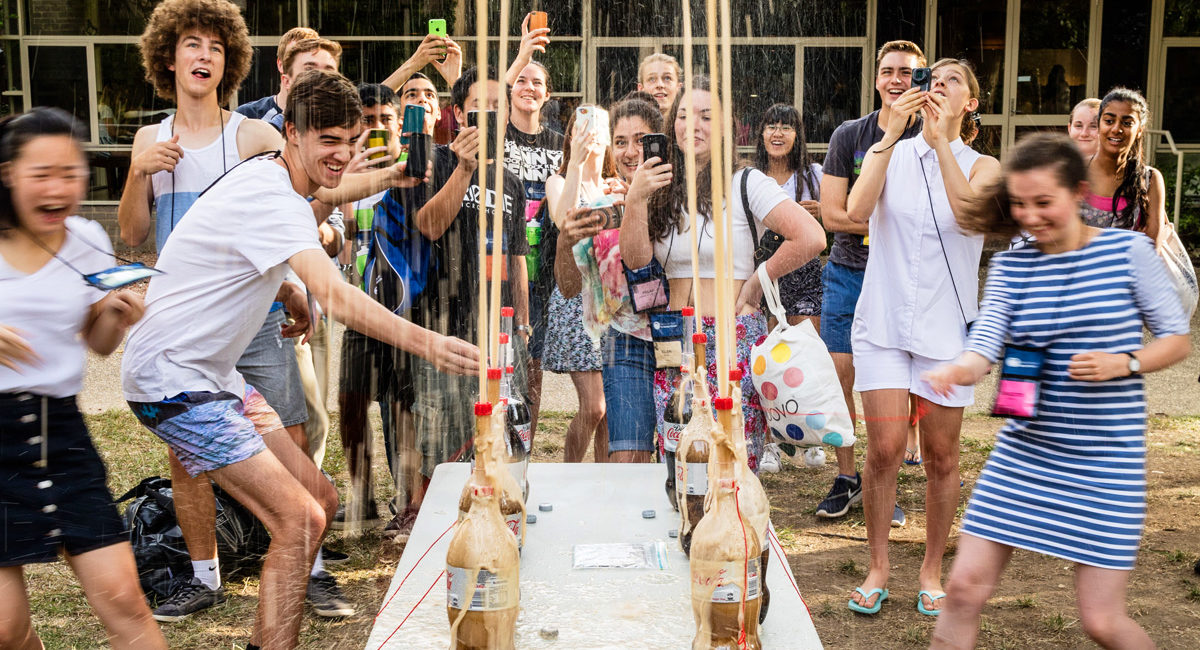 Applications for the NYSF 2021 Year 12 Program have now closed.
NYSF 2021 Year 12 Program & COVID-19
The NYSF acknowledges that Covid-19 situation provides many uncertainties for everyone and we hope that you are all coping during this unprecedented time. We would like to assure you that planning for the 2021 NYSF team Year 12 Program is progressing well and we are on track for January next year.
Please rest assured that we are actively monitoring Covid-19 related restrictions and health advice in the lead up to the NYSF Year 12 Program in January and have a series of contingency options ready to go as required. If required, NYSF will facilitate online selections and orientations in conjunction with our Rotary partners. Should we not be able to proceed in January, we working on a range of back-up plans which will be communicated to successful applicants in due course.
The NYSF has been providing amazing experiences to students for 37 years, and despite the events 2020 has given us, we will continue to think and act positively to ensure that our programs can be enjoyed by our future scientists for many years to come.
How do I apply for the NYSF Year 12 Program?
Please read all the information below before you start the application process. Applications are open from early March to July 20 each year.

There are five steps to applying for the NYSF Year 12 Program:

1. Start your application for the NYSF Year 12 Program
Follow the link below to start your application. First, you'll be prompted to check your eligibility. If you meet the eligibility criteria, you will start by entering your basic details. When you hit next, you will receive an email confirming that you're on your way! The email will include a link that you can use to return to your application, which you'll need if you're not able to complete it in the one sitting.
2. Complete all the application questions
There are several questions in the application, including some that will require longer answers that you might like to draft first. These include:
Please Tell Us About Yourself - your hobbies, interests and achievements and information on any extracurricular activities (up to 1,700 characters)
Motivation - Why do you want to attend the NYSF Year 12 Program (up to 1,700 characters)
Role of STEM - Why do you think STEM (Science, Technology, Engineering and Maths) is important? What role do you think STEM can play in helping us address current and future challenges? (up to 1,700 characters)
Career Goals - What career do you currently intend to pursue? How do you plan to achieve this career goal? If you're not sure at this point that's fine, just write what you are currently most interested in. (up to 1,700 characters)
Post Year 12 Intentions - What are your intentions for after Year 12? i.e. do you plan to attend university straight away, take a gap year and travel, look for employment, or something else? (up to 1,700 characters)
University Study - If you are thinking about studying at university after finishing Year 12, please give details about the degree and institution you're most interested in at the moment. (up to 1,700 characters)
3. Determine the fee option you will take
In 2019, certain Rotary Districts introduced a new option that applicants can choose with regards to payment of the program fee. For applicants who would not require funding assistance to cover their program fee, should they be selected to attend the program, the step of obtaining endorsement from a Rotary Club to proceed with your application will no longer be required. If choosing this self-funded option, applicants can progress directly to payment of the application fee and submission of your application without needing to contact a Rotary Club. You will only see this self-funded option in your application, if you are in a Rotary District currently offering this option.
Option to seek Rotary Endorsement. This option involves finding a local Rotary Club to endorse your application. Once you've started your application, you will have access to download the endorsement form once you reach this step. Alternatively, you can download a copy here.
Applicants will need to contact local clubs in your area, to find a club to endorse your application and complete the form. Each Rotary Club may have different endorsement procedures. They may require a formal interview, or further details from you, such as copies of your school reports, teacher references, and/or a printed or electronic copy of the information provided in your NYSF Application. You can read about the role of Rotary Clubs here and check for your local club using the Rotary Club Finder tool.
This option is best for those who may experience difficulties paying the $3,250 program fee. Please note, however, while Rotary Clubs can often offer support in this regard, Rotary Clubs have no obligation to offer any funding towards the fee for you to attend the program. Endorsement does not necessarily mean you will receive any financial support from your Rotary Club. You will need to negotiate this as part of your discussion and ensure that you and your family understand what, if any, level of financial support is available from your Rotary Club. At the least, your club may be able to offer some assistance with fund-raising efforts in your community.
Once you have secured the endorsement of a Rotary Club, ask a member of the club to complete the Rotary Endorsement Form. Once complete, upload your form to your application. You'll then be ready to review and submit your application. If you are having any difficulties at all with this process, please contact the NYSF Office via our contact form.
Option to be self-funded. This option is for those who are able to self-fund, and don't require any assistance to cover the full fee to attend the program, should they be successful. In this instance, once the application questions are completed you will be able to move directly to paying the $65 application fee and submitting your application.
Invoicing during COVID 19. If Student is offered a place on the program we intend to invoice in September/October for the attendance fee of $3250. This timing may change a little as we will be waiting until we are confident that the program will be able to proceed under COVID-19 restrictions prior to taking payment of any fees.
4. Pay your application fee
Once you have finalised how you will progress your application, you can then progress to the 'Payment' tab where you will be prompted to pay the $65 application fee. Once paid, your application will be complete and you will receive a confirmation email. Please note that the application fee is non-refundable, even for applicants not selected to attend the NYSF Year 12 Program.
Applications for the NYSF Year 12 Program 2021 close on 20 July, midnight AEST. Please ensure you have completed the above steps before this date as we are unable to accept late applications.
5. Participate in District Selections
Once your application is submitted, the next step will be to attend the NYSF District Selection for your local Rotary District. At selections, the NYSF District Chair will run a panel interview process or similar that will consider all of the district's applicants on their merit. Please note that at this stage of the process, whether you are self-funded or Rotary endorsed, this will not be part of the consideration and all applicants will be assessed on the same criteria.
Your local NYSF District Chair will advise you on the process involved and the dates of your local selections. You will need to keep checking your emails to see whether further information is required from you before proceeding to District Selections.
If you have any questions about this process please check our Year 12 Application FAQs page.
If your question is not answered please contact the NYSF office or call 02 61252777.

More information about the NYSF Year 12 program can be found here.
---