About
Don't miss your chance to have a life-changing STEM experience. The NYSF Year 12 Program in January 2022 offers an exciting range of in-person and digital science, technology, engineering and mathematics (STEM) experiences for participants across Australia.
In 2021 the program received fantastic reviews from participants, many of whom cited it as being "life-changing". Indeed, 9.2/10 of our 2021 participants recommend the Year 12 Program to others and all STEM sessions scored over 90% "good to excellent" ratings from the attendees.
In 2022, the NYSF will deliver a 12-day program from 10-25 January via a combination of in-person and digital STEM experiences. 2022 participants will experience everything the NYSF is famous for, including keynote speakers, lectures, hands-on workshops, debates, expos and enriching social activities. In-person STEM visit days and events will be held over a week of the program at major city hubs across the country, enabling students to meet each other and network with like-minded peers. A continuous program of digital events will run alongside the in-person events meaning the program is accessible to all. This option also means the NYSF experience is still accessible and stimulating should there be a COVID-19 hotspot emerge or lockdown called at a hub location.
At the Program, students will have opportunities to:
participate in tours of science and technology facilities, and learn about cutting edge research;
engage with industry partners and research providers;
learn about university and STEM career pathways;
mix with other like-minded students from all over Australia; and
network with former NYSF participants to further increase understanding of STEM-related study and career experiences
The NYSF is delivered by youth for youth, with past participants selected each year to come back and participate in our Student Staff Leadership Program (SSLP) and help run the program the year after they first attended.
In 2021, 574 students joined the program for life-changing STEM experiences. Here's what they had to say: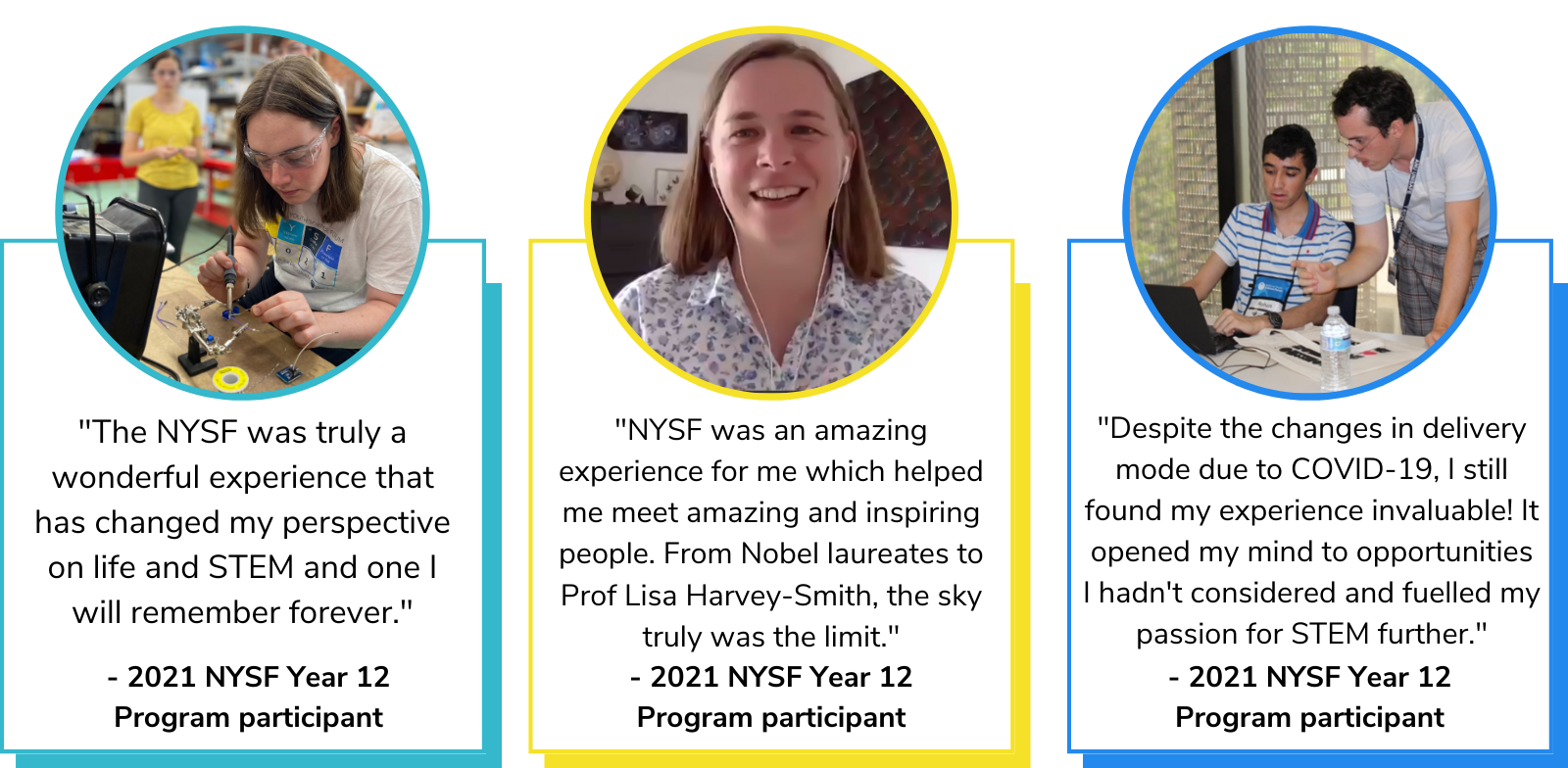 Read more about the 2021 NYSF Year 12 Program here.
The NYSF Year 12 Program provides exclusive opportunities for students who are passionate about STEM education and careers. To apply and secure your place in one of Australia's top STEM outreach programs, click on the link below. Applications close 2 July 2021.
---
Who can apply for the NYSF Year 12 Program?
Do you love science, technology, engineering or mathematics, or have the drive to find solutions to problems and fix things? Are you curious and constantly asking Why? How? Why not? Do you see yourself working in a science or technology-related field and would like to know more about STEM-related study and career paths?
If you answer yes to any of these questions, then you should think about applying to attend the NYSF Year 12 Program

Eligibility
To apply for the NYSF Year 12 program, you must:
be in year 11 in the year you apply, to attend the following January,
be an Australian citizen or resident, and/or studying full-time in an Australian high school, and
be considering pursuing further study/training and a career in science, engineering, technology, or a STEM-related discipline.
---
Program Cost
The 2022 NYSF Year 12 Program costs $1900, with a $25 non-refundable application fee. There are options to self-fund, gain Rotary endorsement where Rotary may provide funding assistance, or the NYSF may also provide funding assistance through our Equity Scholarships [link].
Please note, however, while Rotary Clubs can often offer support in this regard, Rotary Clubs have no obligation to offer any funding towards the fee for you to attend the program.
More information about funding opportunities can be found here.
---
Dates for the next NYSF Year 12 Program
The program will run over 12-days from 10-25 January 2022.
Applications are open now and will close in late June. Find out more about how to apply.

---