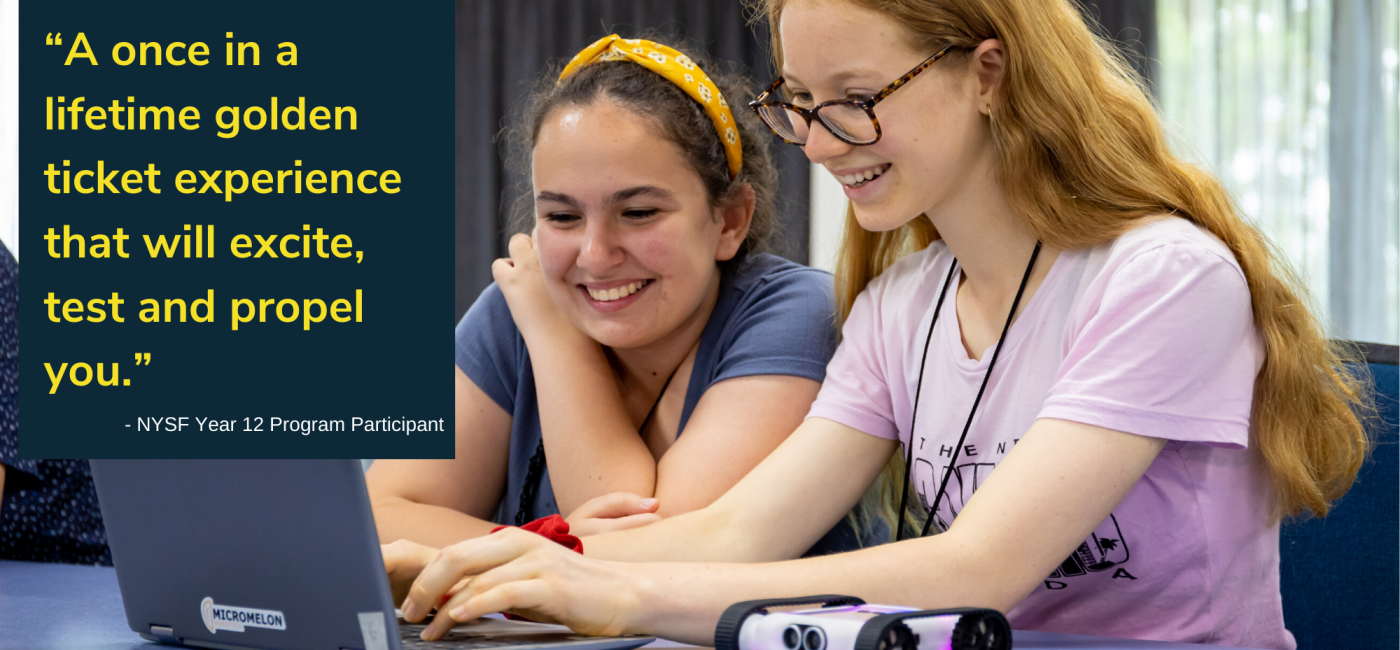 Your valuable donation today ensures all young Australians have access to this life-changing program.
HELP OPEN THE DOOR TO STEM OPPORTUNITIES FOR YOUNG AUSTRALIANS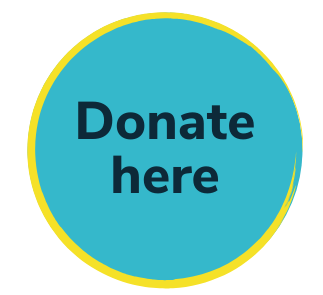 Thank you for considering making a donation to the National Youth Science Forum (NYSF).
We've all been there. It can be difficult to make decisions about a study and career after Year 12 when there is a whole world of opportunities out there. Especially if you are interested in science, technology, engineering, and maths (STEM), some opportunities are obvious but there are many others that the general public just doesn't get to see. STEM interested students come from all types of backgrounds, many need help to explore the different STEM study and career options available and to make informed decisions about the future.
That's where we come in. The NYSF is a not-for-profit charity committed to providing immersive live-in programs that encourage young people in their passion for STEM. We are all about exposing young people to a broad range of STEM options in a safe and fun environment.
Operating since 1984, our programs are life-changing for our young participants. Students explore what their future in STEM might look like by meeting STEM experts and leaders. Led by other young people who have attended the NYSF, it is a unique STEM mentoring and youth networking experience. We also provide professional development and networking opportunities for our program participants (NYSF Alumni) long after they have completed our program.
Due to COVID-19 and the rising cost of living, 2021, 2022, and 2023 were (and are) tough years for the NYSF and the families and communities who rely on the programs we deliver. The NYSF has a strong focus on equity and diversity and is committed to ensuring that as many talented young Australians can participate in our programs as possible.
MAKE A DONATION NOW AND CLAIM YOUR TAX BENEFIT!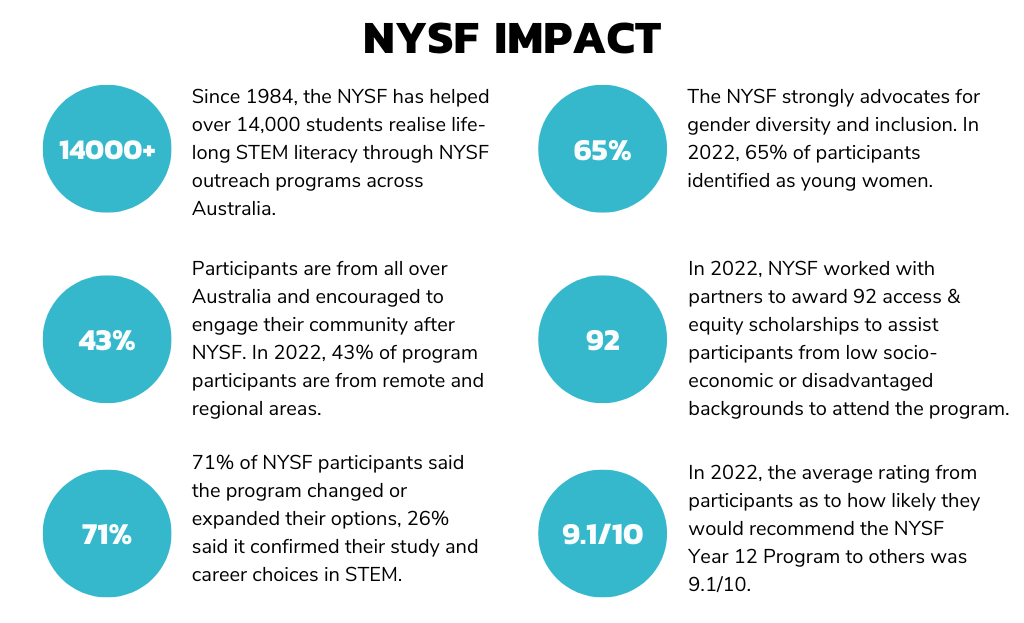 We need your support.
Your donation will help us continue to provide our life-changing STEM outreach programs for Australian students – our future STEM workforce.
All donations are tax-deductible. Corporate donors are encouraged to support the NYSF through the Good2Give platform or contact us today about NYSF partnership opportunities.
MAKE A DONATION NOW AND CLAIM YOUR TAX BENEFIT!
"I received an Equity Scholarship. It was very important to me as I wouldn't have been able to afford to participate otherwise. It encouraged me to keep applying to these sort of programs and I know that it isn't just limited to wealthier participants but can support the less well-off and people from different backgrounds." NYSF Participant
"A life-changing experience that opened my eyes to so many opportunities. I never realised how many STEM fields and types of jobs there are! This program has helped me understand how many options I really do have. I urge all students who are passionate about science to apply for the NYSF because it really is a once in a lifetime opportunity." NYSF Participant