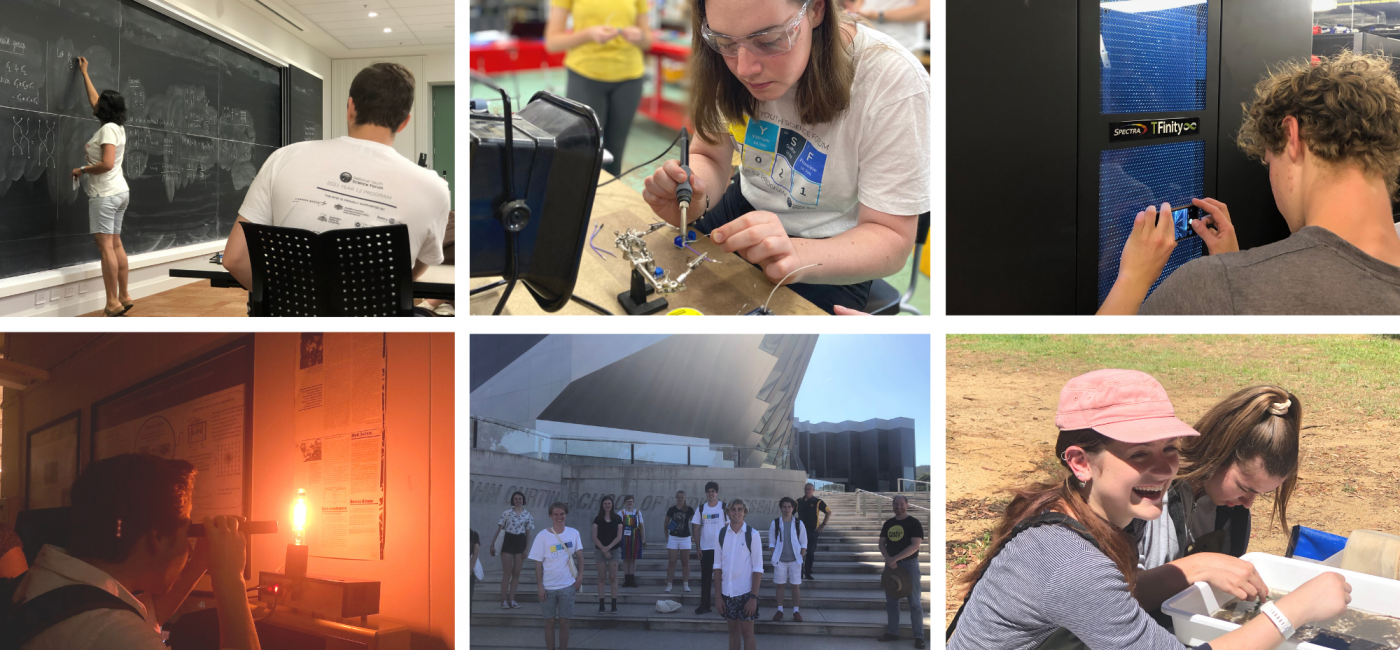 The STEM Visits showcased the incredible STEM opportunities available right on their doorstep.
In the Nation's Capital, participants from Canberra and surrounding regional areas were able to experience a diverse range of STEM careers and subjects at Canberra's leading organisations and universities during the 2021 NYSF Year 12 Program.
Three days of the new-look digital 2021 NYSF Year 12 Program were dedicated to in-person STEM visits, with over 80 activities, lab tours, and site visits running simultaneously at different hubs across Australia.
Participants had the chance to choose from a wide range of STEM fields and discover new directions they might never have considered. The STEM Visits showcased the incredible STEM opportunities available right on their doorstep.
NYSF Host University Partner, The Australian National University (ANU) gave participants exclusive tours of the National Computational Infrastructure and Research School of Physics, where they experienced first-hand the high-tech facilities producing ground-breaking research. One highlight for participants was learning about the future of high performing computing in Australia with Gadi, the southern-hemispheres fastest supercomputer, at the National Computational Infrastructure.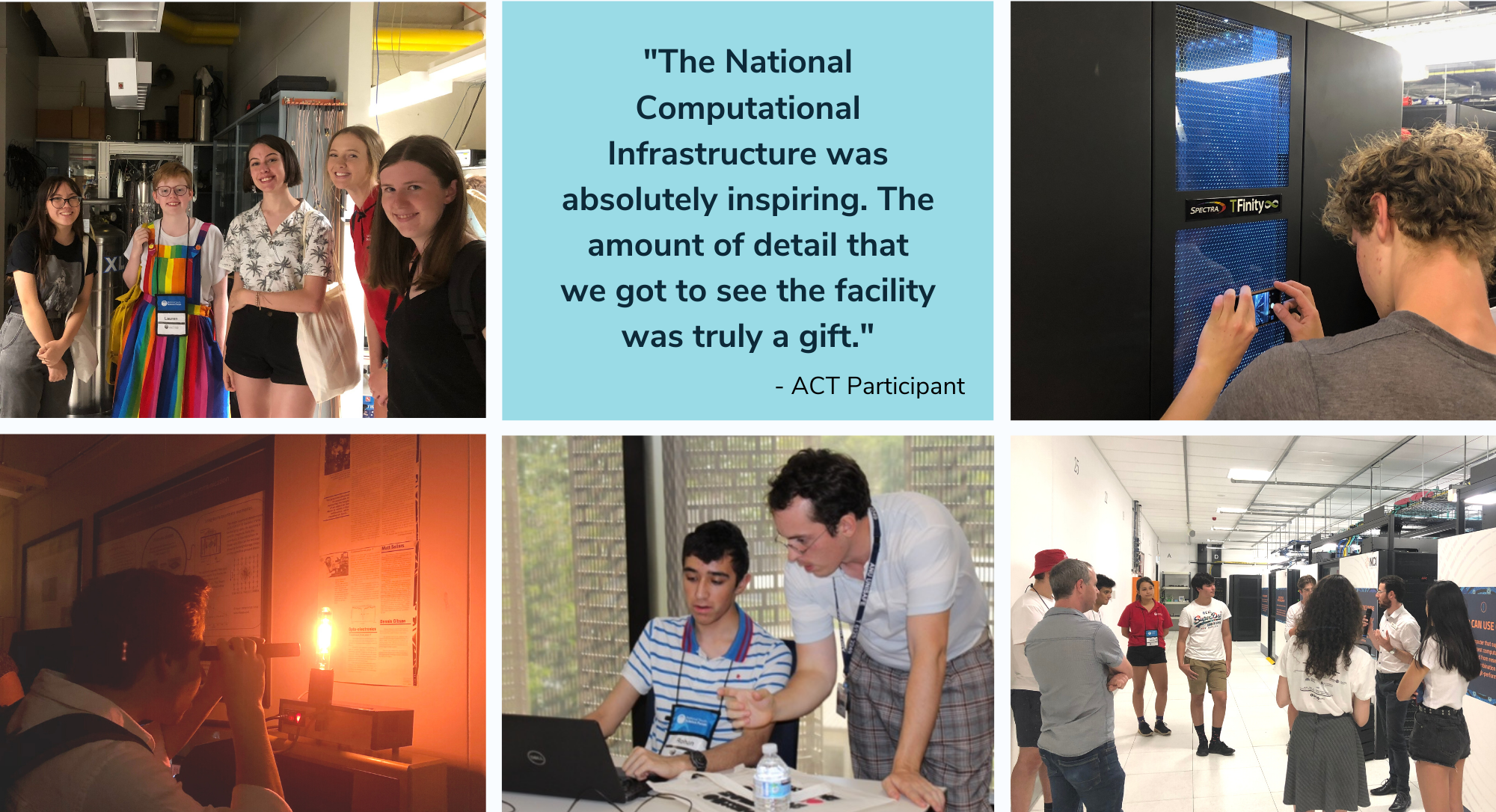 That was only the beginning at the ANU; students also experienced:
advanced mathematics with the Mathematical Sciences Institute;
cryptography and python programming with the Australian Signals Directorate;
conducted university level DNA profiling and electrophoresis with the Research School of Biology;
learnt the fundamentals of computer programming through the creative process of making music and visual arts combined science and their creative side through a workshop with the College of Engineering and Computer Science; and
got a taste of life as a physician with The ANU Rural Medical Society as they practised clinical skills such as measuring blood pressure, plaster casting and much more.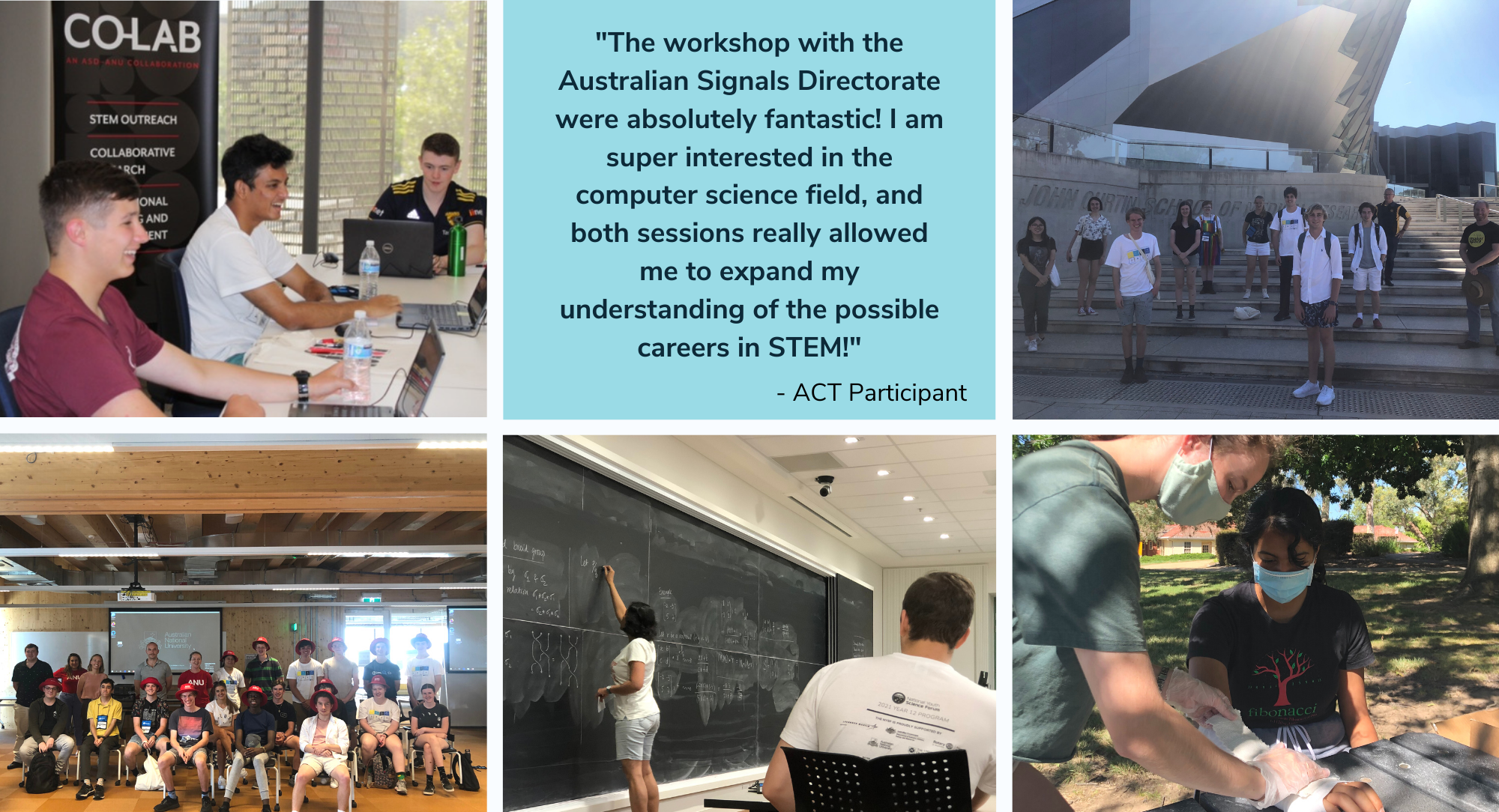 At the University of Canberra (UC), participants found themselves waist-deep in Lake Ginninderra searching for and identifying obscure water organisms with the Institute of Applied Ecology. Over in the lab, students learnt what goes on behind the scenes of advanced robotic systems by navigating their robot through an obstacle course with UC Computer Science.

Where can more science be found than at Australia's national science and technology centre, Questacon. Students spent the day exploring their interactive science exhibits - understanding artificial intelligence, physics, earth sciences, chemistry, anatomy, just to name a few - before designing one of their own!

Geoscience Australia was next on the list of world-class facilities our participants visited over the three days. They explored various aspects of earth sciences, including mapping the ocean floor to explore the history of life on earth! The students were engaged and fascinated by magnetised and crystalised rocks and the diverse topography of Australia and our surrounding oceans.

To finish off the three jam-packed days of STEM, students participated in a Creative Element workshop, where they learnt how to make a sunrise alarm clock! Students donned their safety glasses and followed a wiring diagram to build the circuit, then programmed an alarm at any time of the day to slowly wake up to bright blue light. This activity was even covered by WIN News, you can watch here.


This is part of a series of articles on the hubs that were offered as part of the 2021 NYSF Year 12 Program STEM Visit Days 13-15 January.
Thank you to all the NYSF Partners for supporting the 2021 NYSF Year 12 Program.