While the mode of delivery is changing, the content and opportunities the NYSF Year 12 Program offers remain as strong as ever.
The NYSF is renowned for producing life-changing residential STEM programs for young people. In a year where COVID-19 has impacted the entire planet and prevented large gatherings, the NYSF has had to adapt and transform its programs to meet the current challenges and restrictions.
The NYSF has risen to the challenge and altered the way we will deliver the 2021 NYSF Year 12 Program to ensure the safety and wellbeing of all our participants and volunteers. The 2021 NYSF Year 12 Program will offer a combination of state-based in-person events and digital experiences to our participants across Australia. While the mode of delivery is changing, the content and opportunities the NYSF Year 12 Program offers remain as strong as ever. Also, there will be exclusive new opportunities that were not previously possible.
With the help of our supportive partner organisations and providers from all areas of STEM, the NYSF is programming an extensive range of local and virtual events to set participants on their future STEM pathway. The 2021 NYSF Year 12 Program will feature a core digital program, consisting of all the STEM elements the NYSF is famous for, including keynote speakers, lectures, workshops, debates, expos, and social activities. COVID-19 restrictions permitting, we will complement this digital program with local in-person STEM visits and events held at hubs across the country, enabling students to safely engage with their peers and experience the networking and community aspects of the program.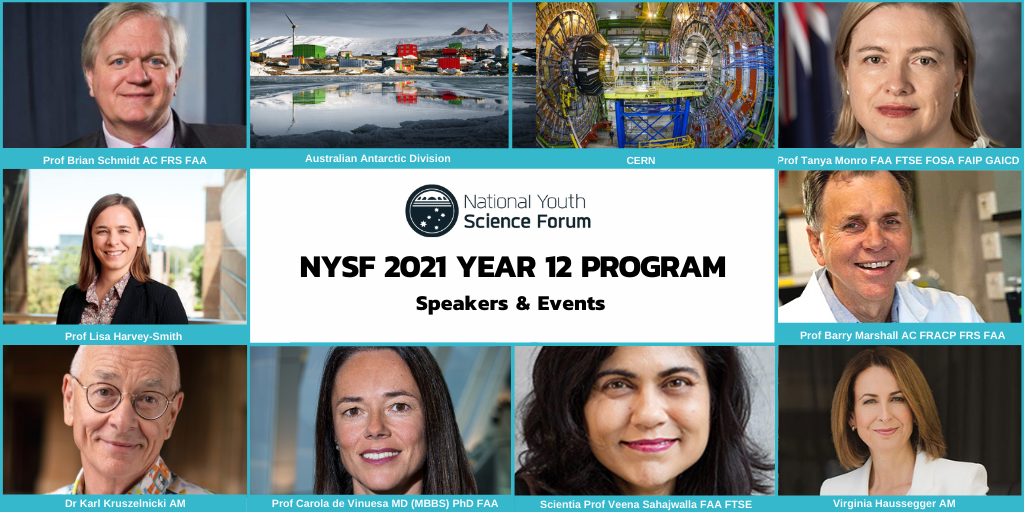 Nearly 600 students will participate in the 2021 program that will run on weekdays across 14 days from 5-22 January. Here are some of the fantastic keynote speakers and events we have lined up for January:
Nobel Prize Winner and Astrophysicist, Prof Brian Schmidt FRS FAA;
Australia's Chief Defence Scientist, Prof Tanya Monro FAA FTSE FOSA FAIP GAICD;
Nobel Prize Winner and Gastroenterologist, Prof Barry Marshall AC FRACP FRS FAA;
Journalist and Gender Equity Advocate, Virginia Haussegger AM;
Australian Research Council (ARC) Laureate Prof Veena Sahajwalla FAA FTSE;
Personalised Medicine Expert, Prof Carola Garcia de Vinuesa MD (MBBS) PhD FAA;
ABC Identity and Science Communicator, Dr Karl Kruszelnicki AM;
Women in STEM Ambassador and Astrophysicist, Prof Lisa Harvey-Smith; and
Broadcaster and ABC Science Show host, Robyn Williams AO;
A live cross to CERN in Geneva, Switzerland. CERN is the home of the Large Hadron Collider and one of the world's largest and most respected research centres;
A live cross to the Australian Antarctic Division; and
Two Science Communications Panels with some of Australia's leading Science Communicators.
We are looking forward to meeting all of our participants in January and are excited about the possibilities our new-look program will present!