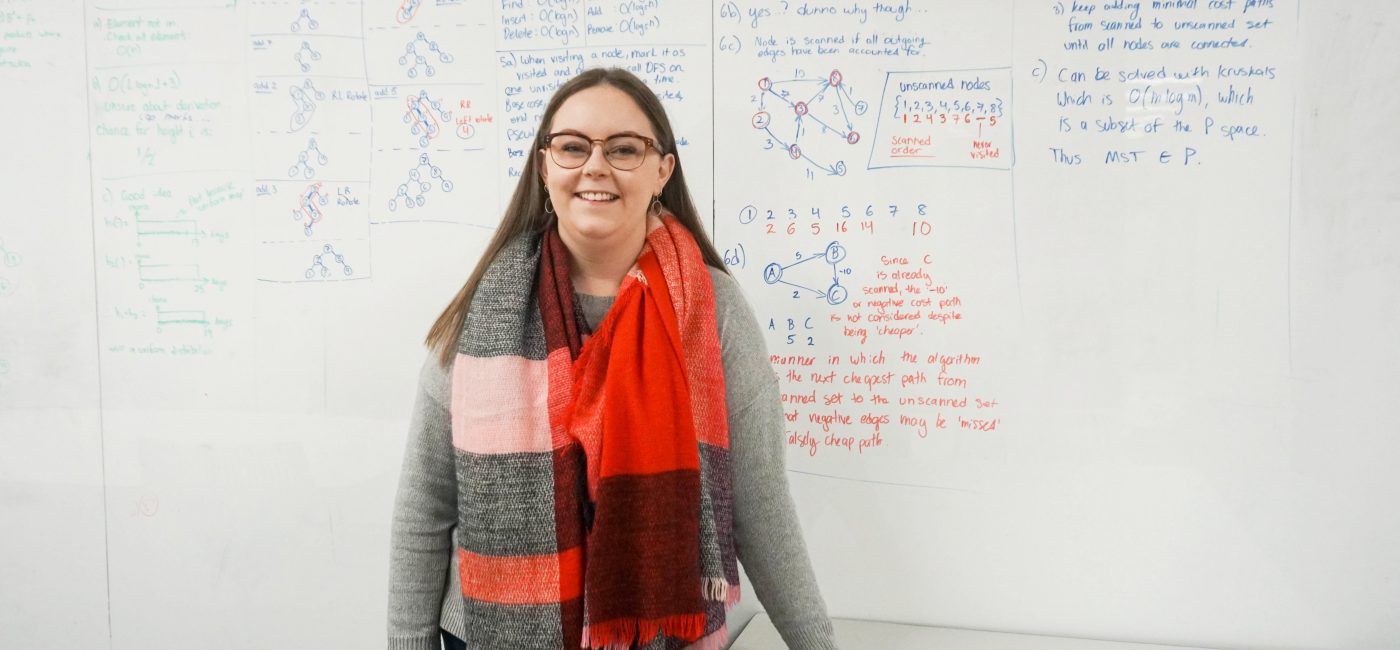 My key takeaway from NYSF was to give everything a go to the best of my ability. This mindset has put me in good stead throughout my education. With one year remaining, I am excited for the opportunities that lie ahead.
NYSF 2014 Alumna, Phoebe Chilman wants to make a difference in the world by tackling the issue of climate change. Read on to see why Phoebe continues to challenge herself and push beyond her comfort zone.
"Before attending the National Youth Science Forum (NYSF) in 2014, I was unclear about my education pathway after secondary school. Like many Year 12 students, I knew the subjects I most enjoyed, in my case Chemistry and Maths, but was unsure of the exact degree or course this could translate to at university. I am incredibly grateful from my time at NYSF for the exposure to so many different fields of STEM. NYSF provided a sense of direction for me and has had by far the most profound impact on my choice of career. I have gone on to study a Bachelor of Engineering (Honours) (Chemical – Sustainable Energy) at the University of Adelaide and am currently in my penultimate year.
Throughout my time at university, I have been a member of the University of Adelaide chapter of Robogals. Robogals is a student-run organisation that aims to encourage school students, particularly young women, to pursue engineering and STEM related fields as there is a significant gender disparity in both tertiary education and the engineering workforce. To inspire younger students, Robogals run technology and robotics workshops in the local community. I've been involved in several of these workshops and recently travelled to Moonta, Port Pirie and Whyalla for the Robogals Regional Trip. In July, the NYSF Stem Explorer Program visited Robogals at the University of Adelaide. I had the pleasure of meeting so many enthusiastic young students with a genuine interest in science and engineering. I am passionate about inspiring young students and it was incredibly rewarding to be able to show them first-hand the benefits of pursuing a STEM degree at university, just as I experienced from my time at NYSF.
A lot of people ask me why I chose to combine sustainable energy with my degree. Quite simply - it extends from NYSF. Whilst on session, I attended the Science and Culture Forum at the Australian Academy of Science Shine Dome. At this forum, Professor Janette Lindesay from the Australian National University presented undeniable, scientific evidence that the temperature of the Earth is increasing on an exponential scale. A time-lapse video showed that the most significant change to our climate has occurred within the last 200 years, solely because of our practices. Professor Lindesay enforced that we can solve climate change, we are just simply not acting fast enough. This encouraged me to try make a difference in my generation and pursue a career in sustainability.
I have continued this passion throughout university and hope to eventually work in the biofuels industry. I have undertaken work experience with a research associate who was looking at the utilisation of waste grape marc from the wine industry for the sustainable production of bioethanol and how this process can be economically upscaled. Similarly, for my Honours Research Project, I have been examining the hydrothermal carbonisation reaction of macroalgae. Hydrothermal carbonisation (HTC) is thermochemical reaction that converts wet biomass under moderate temperature and pressure to hydrochar, suitable for solid fuel replacement. HTC is an engineered simulation of the coal formation reaction beneath the Earth's surface in the laboratory, reducing the reaction time to a matter of hours. My research has focussed on upscaling this process with the end goal of economical biofuel production on a commercial scale.
I have come to appreciate that learning is not solely confined to the classroom and have benefited significantly from challenging myself to push beyond my comfort zone. Project Everest Ventures is an organisation who epitomises this for me. After learning about the organisation at a lecture, it just goes to show what amazing opportunities university can offer. Project Everest Ventures is an organisation based in Sydney, that aims to solve the worlds most pressing issues through social enterprise. Offering socially beneficial products and services that are affordable, sustainable and consistent with the needs of local communities, Project Everest Ventures provide valuable solutions to real-world issues. Ventures operate in Malawi, Fiji and Timor-Leste and are centred around the UN Sustainable Development Goals looking at issues such as agriculture and food security, health, social consulting and environmental sustainability. In December 2017, I travelled as a trekker to Cambodia with the Everest Recycling Solutions venture. I worked in a team of students to develop a sustainable waste management system to assist in improving the health and environment of the local community. As much as it sounds cliché, being involved with Project Everest Ventures for what has now been 11 months, has been the best decision of my life. To be surrounded by such a supportive environment of people who encourage you to achieve to the best of your ability whilst gaining hands-on experience in a developing country has been incredibly rewarding, to say the least! Since returning from a month overseas as a trekker, I have gone on to participate in Team Leadership Training with Project Everest Ventures, working towards a Certificate IV in Leadership and Management. The week-long intensive training was both mentally and physically challenging. With the unwavering support of the Project Everest Ventures community, I developed personal and professional skills to work towards my ideals of being an effective and supportive leader.
Participating in extracurricular programs, including Robogals and Project Everest Ventures, whilst studying at university has value-added significantly to my undergraduate degree.
My key takeaway from NYSF was to give everything a go to the best of my ability. This mindset has put me in good stead throughout my education. With one year remaining, I am excited for the opportunities that lie ahead."
Watch this space - we can't wait to see what Phoebe does in her future career!