The NYSF Year 12 Program is renowned for providing its participants with unique and life-changing experiences. Each year, the Nobel Laureate Lectures stand out as some of the most exceptional of these experiences – it is not often that high school students have the chance to attend a live presentation from a Nobel Laureate and ask them questions about their STEM career and life journey. And participants of the 2022 NYSF Year 12 Program had this remarkable opportunity not just once, but twice!
The 2022 NYSF Year 12 Program Nobel Laureate Lecture by Professor Brian P. Schmidt AC FAA FRS was proudly supported by the ANU.
Professor Brian P. Schmidt AC FAA FRS, Vice-Chancellor and President of the Australian National University (ANU) and winner of the Nobel Prize in Physics in 2011 delivered a lecture to a packed-out audience. Prior to becoming Vice-Chancellor, Professor Schmidt was an astrophysicist at the ANU Mount Stromlo Observatory and Research School of Astronomy and Astrophysics. Under his leadership, in 1998, the High-Z Supernova Search team made the astonishing discovery that the expansion rate of the Universe is accelerating.
Following an Acknowledgement of Country from Student Staff Leader Tish, NYSF CEO Dr Melanie Bagg introduced our special speaker to the young audience.
"I am very honoured to welcome Professor Schmidt, a terrific supporter and friend of the NYSF…you've had a stellar career, and we look forward to hearing your advice for the NYSFers, Australia's future STEM workforce."
The NYSF is far from just a sitting and listening experience - Professor Schmidt announced an exciting STEM challenge!
"Late last year, the Australian Government announced its long-term emissions reduction plan… to get to Net Zero Greenhouse Gas Emissions by 2050. In the plan…there is about 15% [of the emissions reductions required to get to net zero] that we need to find from things 'not yet envisioned'. These are the 'unknown unknowns', the things that are beyond what is in the current technology roadmap."
"Your challenge is this – where should Australia invest money now, to help fill this 15% gap in the technology roadmap in the future? In 100 words, tell us why this area is important, and what needs to be done to make it work."
This STEM Challenge represents an incredible opportunity for the participants – the top 5 ideas will be presented to the National Science and Technology Council, which provides advice to the Prime Minister and other Ministers on important science and technology issues facing Australia. The 2022 NYSFers will no doubt be highly motivated by having the chance to inspire the Prime Minister with their ideas!
Professor Schmidt delivered an insightful presentation on his career journey from a young astronomy student to Nobel Prize winner and the lessons he learned along the way with pearls of wisdom for the participants to take on board in their own life journeys.
"We'll talk about astronomy but also about how I got to where I am today, and 'demystify' what a scientist is for all of you…because I will have a lot in common with many of you, and I think it's good for you to understand how the world works. I have been involved with the NYSF since I first moved to Australia, and I think it is a great program," Professor Schmidt said.
Showing just how similar his story could be to many in the audience, Professor Schmidt recounted his young years in remote parts of the USA, from his upbringing in Montana and attending a diverse school in Alaska, to his passion for astronomy and the uncertainty he felt when the time came to choose a university degree.
"That diverse background has always been a strength for me, not a weakness…I was interested in astronomy from a very young age, [but] using your telescope in Alaska is quite challenging, in summer it never gets dark and in winter it is freezing cold. You have to be really keen, but I persisted."
"I was a good student, but I wasn't 'stand out of the crowd' good…I decided to do astronomy [at university] precisely because I did not know what else to do! I never thought astronomy would be a career, but I knew I would learn physics, engineering, computing, math, all these skills that would get me a job somewhere in the future. And I was absolutely right."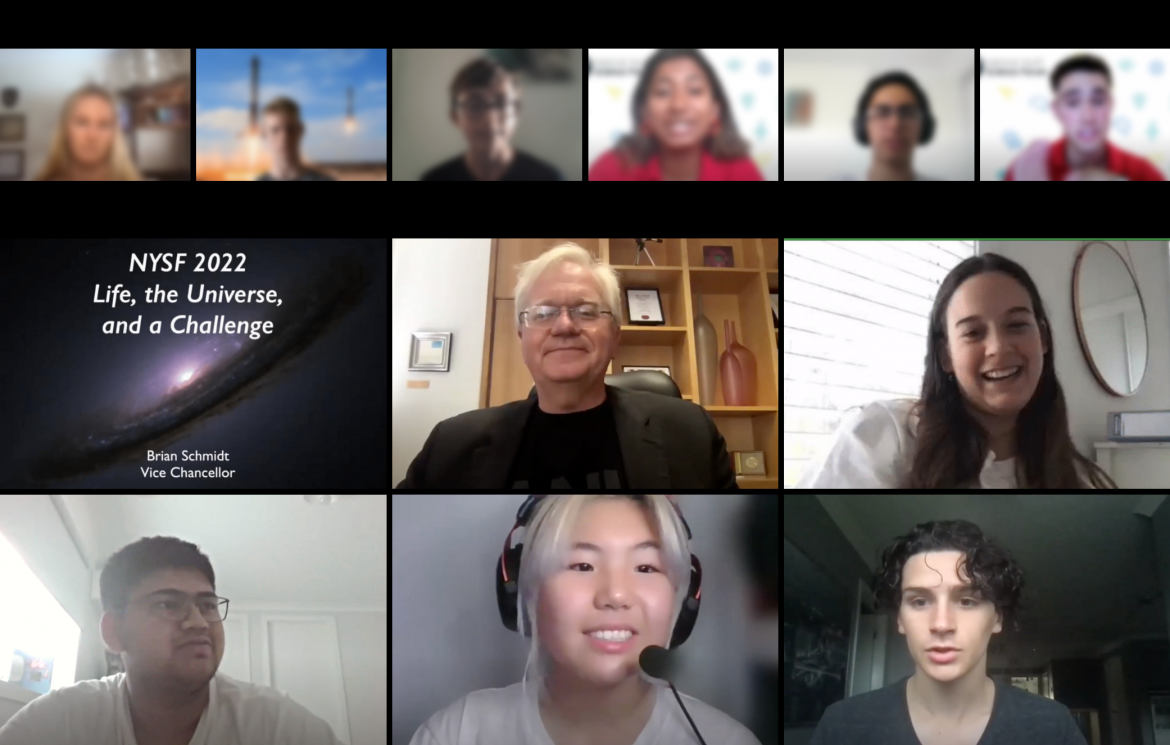 Alongside astronomy, Professor Schmidt branched out into many other areas during his time at university, including learning Russian, playing the french horn, and taking classes in art history and anthropology.
"You need to have a balance in life. People become completely obsessed with their work…that's not what you want, that's why I took so many different subjects. I like to be able to do many, many things in life."
A regular theme throughout the presentation was the importance of pursuing your interests and passions, and it was a love for research that led Professor Schmidt to complete a PhD.
"I really liked not having a book that told you the answer, but rather having to figure out the answer, solving the problems where there was no answer. That's something that's not for everyone but it is something that was for me."
"Don't think that the future is exactly going to reflect the present…you can continually learn and enjoy and love what you're doing, that's what served me well," he advised.
"I chose to measure the expansion rate of the universe because it was the problem that I wanted to know the answer to!"
Professor Schmidt explained some of the seriously cool aspects of his research, including how to measure distances in space, the 'Doppler Shift', and how he calculated how old the universe is! While reflecting on his work as a researcher, he also emphasized the importance of teamwork.
"In science, it is not often that just one person gets the answer… you don't have to do everything on your own, get the right team to help you and work to do things together."
It was this collaborative, teamwork-first approach that gathered together leading astronomers to create the 'High-Z' team, which went on to make the discovery for which Professor Schmidt is most famous.
Their discovery that the expansion rate of the Universe is accelerating was so astounding that Professor Schmidt didn't even believe his own work at first.
"[Our findings] were crazy! When we first saw this, we just assumed we had made some horrible mistake, I was despondent and thought my career was over… it was a very unexpected find."
But their discovery was correct and became the 'Science Breakthrough of the Year' in 1998. Years later in 2011, Professor Schmidt received an unexpected call from Sweden, telling him he'd won the Nobel Prize. A 'whirlwind' life followed before he pursued a new challenge as the Vice-Chancellor at ANU in 2016.
To finish his presentation, Professor Schmidt shared the valuable lessons he has taken away from his journey.
"Learn to believe in yourself – not that you're perfect, but by doing the best you can, that is the best path…and the world will reward those who deserve to be rewarded."
"Gut feelings are really important. I always encourage you to listen, take advice from everyone, but ultimately go with your gut feeling, not someone else's."
"Remember, being excited about what you're doing is far more effective at promoting you and what you want to do [for your career], than doing it out of fear… make sure you're motivated not by the fear of failure, but the excitement of success…Don't worry too much about what others think, worry about what excites you!"
"There are so many ways to enjoy life, and you have lots of options…the future is really bright for all of you."
A live Q&A session with the student audience followed where NYSFers asked a range of curly questions that certainly kept Professor Schmidt on his toes!
Is it possible to create a wormhole in space as a time machine?
Can science and religion co-exist in harmony?
What theories do you have for the constituent of dark energy?
What is the most promising method of future inter-galactic space travel?
Dr Bagg finished the session with some encouraging words for the participants about the STEM Challenge.
"This is your chance to get change, this is your chance to get a line to the people that make decisions…so let's come up with a brilliant idea to help support people in those decisions that need to be made for our planet and for the future. I'm really excited to see what you all come up with."
Keep an eye on our website and socials for updates on the winning ideas from the STEM Challenge.
We wish to send out a huge thank you to Professor Schmidt for sharing his story with our 2022 cohort, and allowing them to tap into his wealth of knowledge and experience which will no doubt be invaluable as they forge their own way forward in their STEM careers.
The 2022 NYSF Year 12 Program Nobel Laureate Lecture was proudly supported by the ANU.