Scroll to view winning entries!
The National Youth Science Forum (NYSF) provides opportunities for Australia's future leaders in STEM to brainstorm solutions to the world's toughest challenges, forging networks of like-minded peers to debate and develop pitches and proposals that showcase the innovation of Australia's youth.
The NYSF STEM Challenges are not just chosen for participants to share their knowledge but also for everyone to work together and produce work that is much greater than the sum of any individual part.
The 2022 NYSF Year 12 Program participants were given a challenge by Dr Gabrielle Vivian-Smith, Australia's Chief Plant Protection Officer at the Australian Government Department of Agriculture, Water, and the Environment.
How can Australia achieve its Ag2030 goal of reaching $100 billion in agricultural productivity by 2030, both sustainably and consistently?
A tough brief for professionals with decades of experience, NYSFers had 12 days to form teams and prepare an innovation proposal (while engaging in full-time NYSF sessions during the day).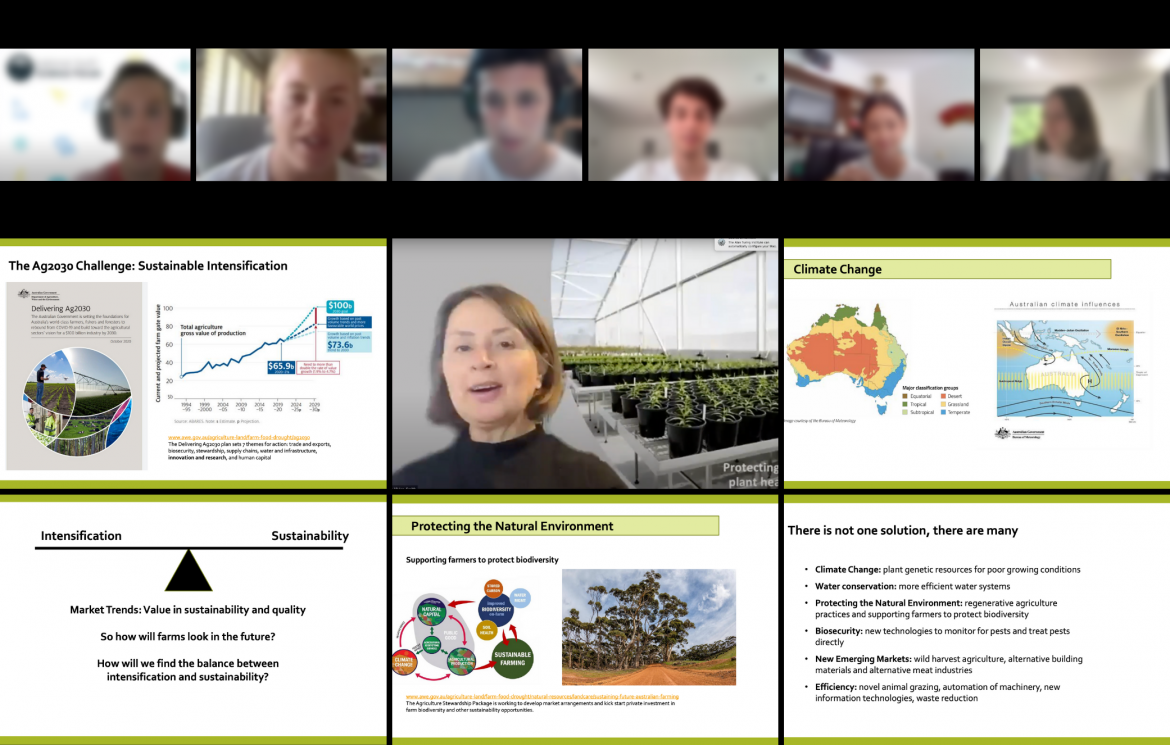 And what a result!
23 submissions by 60 individuals from all over Australia - who had never met and who worked independently online to produce video pitches, complex presentations, fully-costed reports, posters, design elements, prototypes, illustrated proposals...and even an explanatory memorandum and bill proposition including ethical and socioeconomic reasoning.
The submissions were judged by Dr Gabrielle Vivian-Smith and the team at the Department of Agriculture, Water, and the Environment. Discussions are underway for the winner and runner-up proposals to be presented to department executives. Watch this space!
Dr Vivian-Smith reflected on the process of creating the challenge and judging the submissions.
"Your proposals were really inspiring in terms of helping us meet our 2030 goal of $100 billion of agriculture productivity by 2030 both sustainably and consistently given the vagaries of our climate here in Australia and the challenges of climate change. We appreciate the effort that you put into these really great submissions and you should be extremely proud of yourselves for such great ideas that you've come up with and the diverse set of proposals that you created. The quality of submissions was excellent and it's given us hope that future generations are really up to the challenge of innovatively providing multi-faceted solutions to this complex and ongoing issue," said Dr Vivian-Smith.
"Each submission had a unique take on how we could meet the challenge and you displayed engagement with the challenge and understanding of the problems. The variety of the submissions also highlights the complexity of the issues that we face in many areas of the system and shows the many opportunities that can be and should be improved to meet our goal. I want to encourage you all to continue to develop your ideas and work with others collaboratively because they will help you find your future. As you move forward always believe in what you create - your submissions that we've been reviewing over the last few days are a testament to this."
It's with pleasure that we announce the winners of the 2022 NYSF Year 12 Program STEM Challenge - Ag2030.
WINNER
Nicole Thwaites, Sophie Castles, Zella Nichols, Cristofe Moya and Eddie Rowlands
Aquaculture and Efficiency: Incentives to increase the number of highly efficient overhead irrigation systems and the adoption of widespread microalgae farming
View the entry:
RUNNER UP
Sarah Bosboom
Entomorphose - Embrace the Invertebrate
View the entry:
HONOURABLE MENTIONS (in no order)
Chloe Pankhurst
Aquaculture to Aquaponics Initiative (PDF)
Mannix Showell, Harishan Nirumalan, Mac Rogers, Noah Russell
Feeding Tomorrow: Hydro, Aqua and Aeroponic agriculture
YouTube
Explanatory Memorandum and Proposition
Design Elements
Eve Tsolakidis, Francesca Dobbie, Monique Andjelic, and Kiara Hemetsberger
Lab Grown Meat (PDF)
NYSFER's CHOICE
Eden Gelfand, Nina Fitzsimmons, Isabelle Douglas, Clare Moloney, Miruthiny Nagalingam, and Nadine Lim
Tapping into New Industries (Hemp) (YouTube) and supplementary notes (PDF)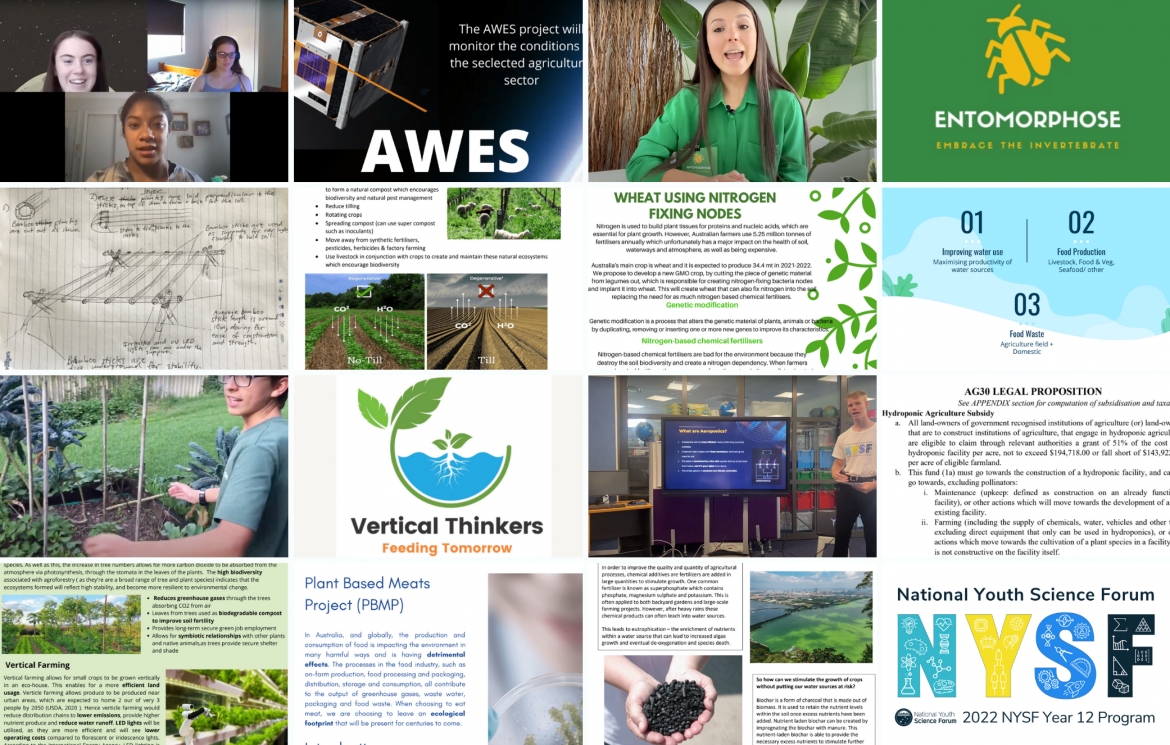 The 2022 NYSF Year 12 Program STEM Challenge - Ag2030
The Australian Government is supporting the agriculture industry to reach its goal of $100 billion in production by 2030 – this is Ag2030. In 2020-2021, agriculture is estimated to be $71.2 billion, which means we need to more than double the rate of value growth.
To sustainably reach the goal, growth in agricultural production would need to occur without disrupting the environment, biodiversity, and society, noting that a strong environment would provide good agricultural outcomes. To consistently reach the goal, we would need to navigate Australia's volatile climatic conditions and other threats, such as pest outbreaks and a dynamic trade environment.
There are several aspects and barriers to meeting the Ag2030 goal. Australia's farmers are already some of the most efficient globally and Australia produces substantially more food than it consumes with 71% of agricultural production exported.
We cannot double the use of resources including land, water or labour, so is there another solution to achieve significantly greater growth?
How do we increase yield with the same land size?
Are there better methods for water use to increase use efficiency?
How can we better use technology for automation and efficiencies?
Will we produce twice as much food at the same price, or can our produce be worth twice as much?
The answers to these questions point to a change of systems approach. We will need to do things differently, but what will that look like?
We need your help in addressing this challenge.
Develop an innovation proposal that uses science at the interface of agriculture, environment and technology to consistently and sustainably meet the Ag2030 target of $100 billion in production by 2030.
Background reading:
Snapshot of Australian Agriculture 2021 - DAWE
Analysis of Australia's food security and the COVID-19 pandemic - DAWE
Presentation by Dr Gabrielle Vivian-Smith, Chief Plant Protection Officer of Australia
Thank you to all the entrants!
You put an incredible amount of work and brainpower into these innovation proposals. You should all be very proud (we certainly are proud of you!)!