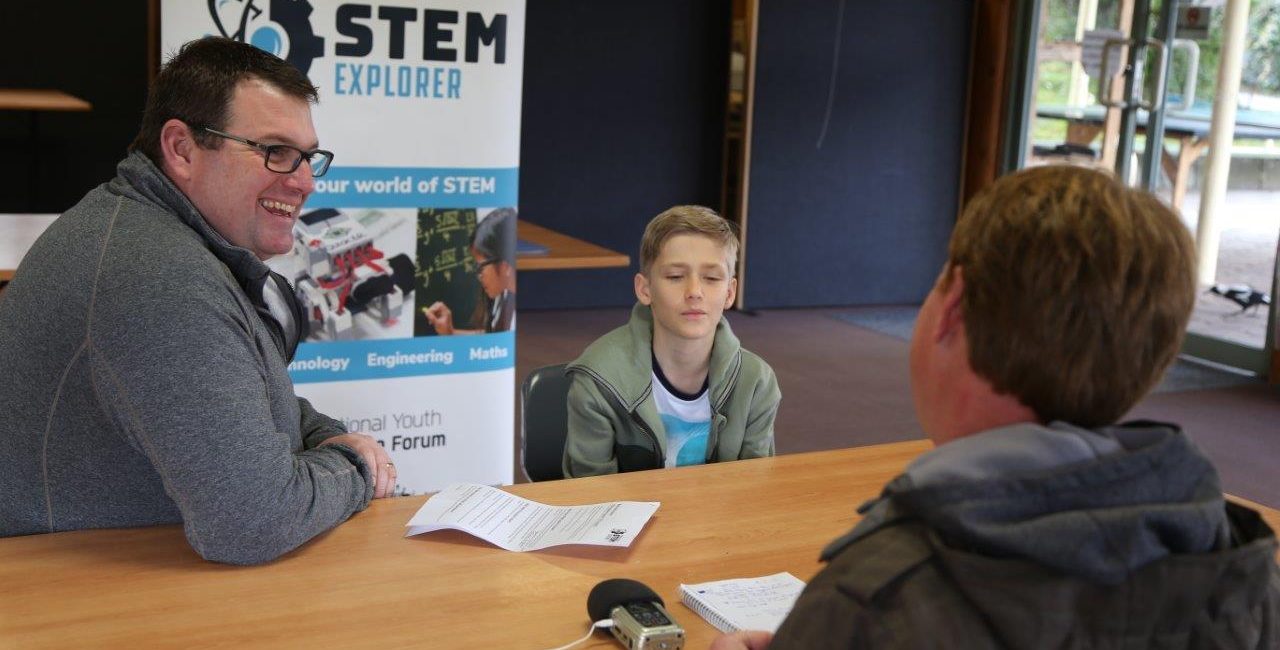 The NYSF is tracking well as we head into our 35th year of program delivery
As selections for the NYSF 2018 Year 12 Program are finalised in communities all over the country, I can report that the NYSF is tracking well as we head into our 35th year of program delivery, making a difference in the lives of so many young Australians who love science.
In my sixth year as the CEO of the National Youth Science Forum (NYSF), I am very proud to to report that the NYSF's suite of outreach programs was again delivered successfully in the past financial year. The feedback we received from last year indicated a broad sense of satisfaction with the programs we are offering to our wide range of participants – year 12 students, teachers, alumni, and just outside of the 2016-2017 reporting period – year seven and eight students. As always, we will continue to use this feedback to support our continuous improvement paradigm for upcoming programs. 
Reflecting the strategic direction of the organisation over the past financial year we have welcomed five new staff members to the corporate team – effectively doubling our resources. These new members have complemented the expertise of our existing team and boosted our capability within communications, marketing, program development, and delivery. With these new colleagues, we now have a team of 10 FTE.
The receipt of significant funding from the Australian Government through the National Science and Innovation Agenda has assisted in the continued development of NYSF's Year 12 Programs and the National Science Teachers Summer School, which will also be delivered in both Canberra at The Australian National University (ANU) and Brisbane at The University of Queensland (UQ) in January 2018. The Year 12 Program will be offered to up to 600 participants, with 70 student staff leaders across the three sessions supporting their experience, and the expanded science teacher program now allows for 80 places in both locations.
We have also introduced an Equity Scholarship to assist students from low socio-economic backgrounds and other equity groups to attend the program, complementing the ongoing financial support available from many Rotary clubs. We expect this initiative to be fully subscribed for the NYSF 2018 Year 12 Program.
As noted above, we recently successfully delivered our first STEM Explorer Program, in conjunction with the South Australian Department of Education and Early Childhood. This program is targeted at year seven and eight students to increase their curiosity and STEM literacy and was extremely well received by the younger students who participated in the inaugural program.
Our fundraising and corporate support achievements remain solid and have exceeded expectation and budget. My sense is that this is due to our mature communications strategy, our paradigm of continuous improvement, and the delivery of quality and relevant programs. An additional factor is the contemporary governance approaches championed by our experienced Board. 
I take this opportunity to thank our Board members for their ongoing support, professionalism and strategic vision as we move the organisation through this significant growth phase.
I am pleased to advise that Andrew Metcalfe, AO, Rowley Tompsett, Loren Atkins, Dr Renee Kidson and Professor Sally-Ann Poulsen – the latter three are alumnae of the NYSF (as the National Science Summer School) - have all been re-appointed to the Board. We are also delighted and very excited that Dr Geoff Garrett, AO and the Hon Kate Lundy have been elected to the NYSF Board and will both be Deputy Chairs. Andrew Metcalfe, AO was re-elected as Chair for another two years.
Dr Garrett has a distinguished leadership and professional career in science both in Australia and internationally and most recently was the Chief Scientist in Queensland; prior to that Dr Garrett was the CEO of CSIRO.
Ms Lundy is the ACT Local Industry Advocate and formerly Senator for the ACT (1996-2016) in the Australian Parliament; she served in Ministerial appointments during this time, and is now actively engaged in promoting the opportunities for national and international business in the ACT. As a Senator, Ms Lundy was an enthusiastic supporter of the NYSF, often welcoming our participants to Canberra at Parliament House Opening Ceremonies.
The breadth of experience that these appointments adds to our board cannot be overstated, and I look forward to working with all of our board members to continue the organisation's strategic development in the coming years, under the steady guidance of our Chair, Andrew Metcalfe.
The broad aims of the NYSF are to reach more young people to encourage and build their engagement in STEM, to support and acknowledge science teachers in their own growth and development, to re-engage our alumni who are our best ambassadors – their achievements both personally and professionally inspire me every day.
I also acknowledge all of the Rotarians across the country for their support of the NYSF Year 12 programs, and specifically the significant contributions from our NYSF Rotary District Chairs.
And finally, I thank our corporate team members who work at the coalface of STEM outreach activities, finding and fashioning all of the pieces of the jigsaw, and working together to deliver quality programs for our participants.
I look forward to January 2018 and beyond as the NYSF continues to grow and meet the needs of the Australian community.
Dr Damien Pearce
Chief Executive Officer
August 2017