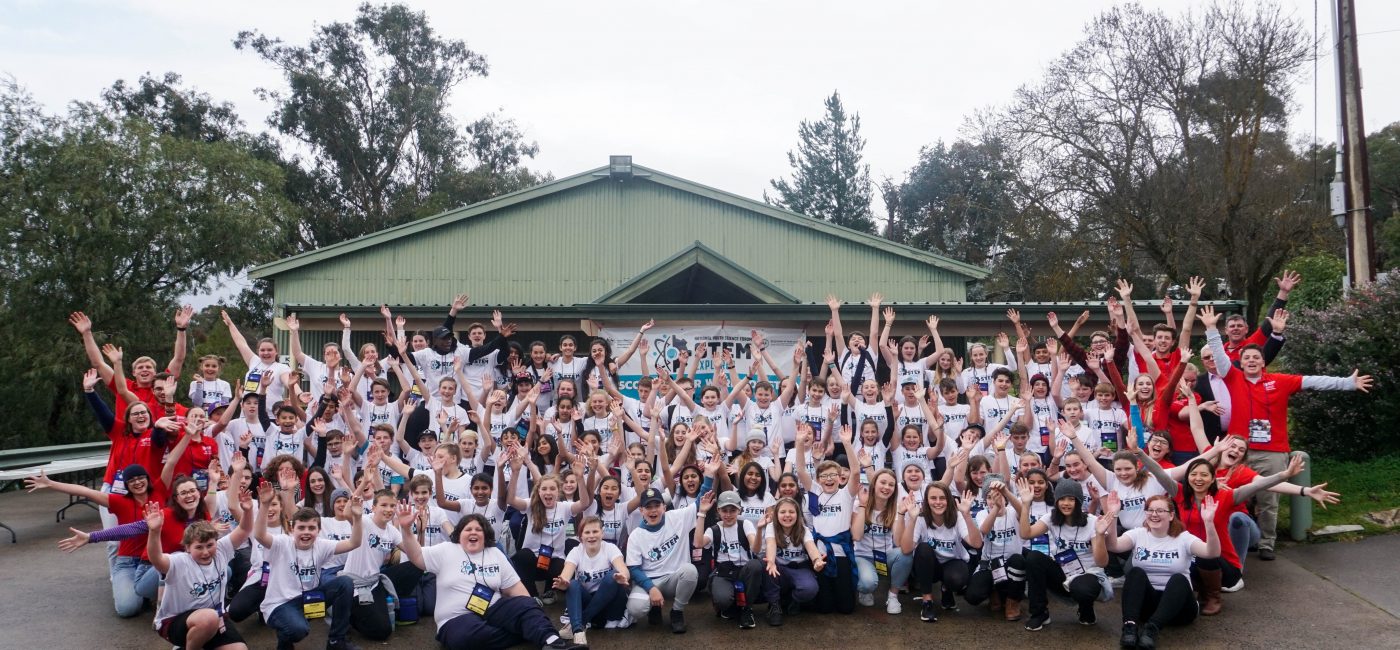 "Keep your vision wide as you go through your secondary and tertiary education so that all of those job opportunities that are being invented now become available in the future."
What will our cities of the future look like?
This key question provided a focus for the students at the recent National Youth Science Forum (NYSF) STEM Explorer Program 2018 held in Adelaide.
Over 100 South Australian students, 11 inspiring Youth Advisors, 15 different STEM visits, projects, quizzes, presentations, games, workshops and more made for a week's worth of STEMtastic fun!
In the program's second year at Mylor Adventure Camp, in the Adelaide Hills, SA students were able to learn and experience real world science.
With support from the South Australian Government's Department for Education, and their STEM Ambassador Program, students from years 6 – 9 were selected from across the state to participate in the residential outreach program.
The central goal of the program is to foster an interest in STEM fields by demonstrating that 'doing science' doesn't only happen in the lab or classroom, but also in every part of our lives, and a variety of jobs and careers.
Students were supported by NYSF Youth Advisors (YA) who provided learning support and pastoral care throughout the program. The YAs are alumni of the NYSF's Year 12 Program and share a passion for science and science communication.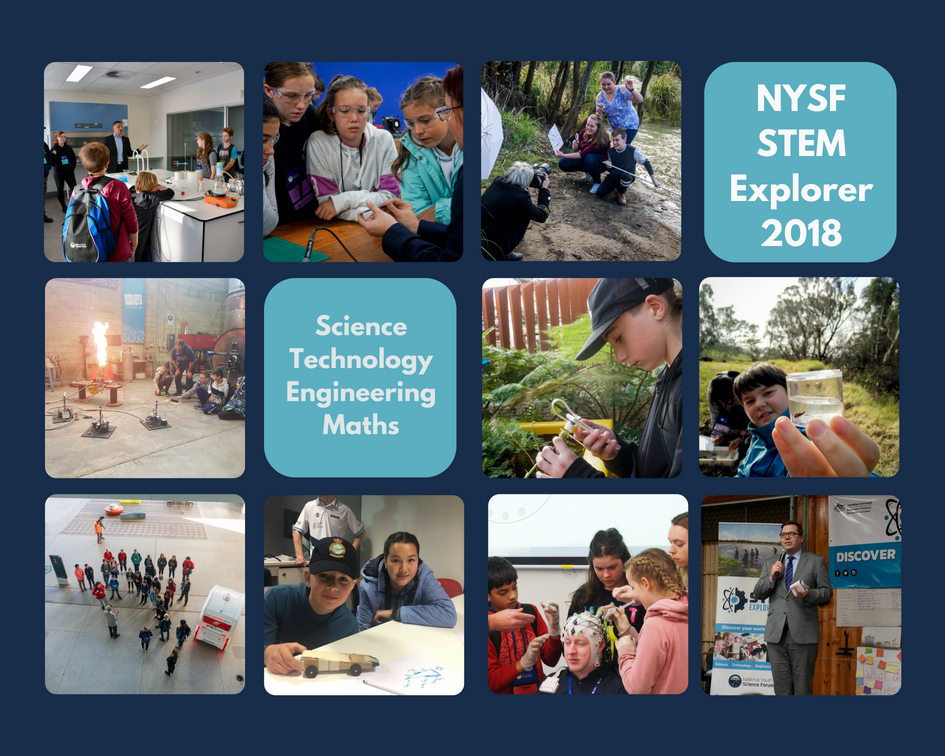 Highlights of the week included hearing from leading scientists, technologists and engineers from the Department of Primary Industries and Regions South Australia, the University of Adelaide, Flinders University, the University of South Australia and other STEM focused organisations. The students also developed a group project on 'Future Cities'.
Collaborating in groups, the 'Future Cities' project involved students working together to create their vision of one component of a future city such as a school zone, a medical and health zone, a public spaces and places zone, a transport zone and more. They then went about building models to explore the practicalities of their ideas.
Materials were sourced from The City of Onkaparingas's Waste Nott Recycling Store a creative reuse enterprise that diverts resources from landfill and redistributes discarded goods as low-cost supplies for art, education and fun.
After a lot of brainstorming, collaborating, planning, cutting, pasting and painting students presented their projects to peers, mentor teachers and VIPs who attended the presentation on the final official day of the program.
The South Australian Government's Minister for Education the Hon John Gardner MP visited and learned from the students about their projects .
"One of the things you've been looking at is the way STEM interacts with our everyday lives and the 'Future Cities' project is a terrific example of that ... these are the ways that we might live in the years ahead. All of the work that you have done to learn in the last week, these are learnings that you will take back to your schools and your everyday lives and your communities," Mr Gardner said.
"The jobs of the future are in advanced technologies. Some of them (are) jobs that are going to rely on technologies that haven't even been invented yet ... (jobs) that your teachers, and I as adults wouldn't have even considered when going to school and those jobs may even be reliant on technology that you yourselves might be involved in inventing and developing. It's fantastic to see."
"I'm really proud of you all and the work that you're doing as the next generation of young scientists."
Throughout the program 15 different STEM visits provided students with the opportunity to experience 'real world' science outside of the classroom. STEM visits were held at various universities and local STEM based businesses in Adelaide and ranged from students learning to code, bushfire management, electronic engineering, water testing, neurology and motor sport engineering.
The STEM visits were a real highlight for participants:
"I found it really interesting how a business in Adelaide is excelling in this particular side of STEM and applying it on an international level and using the STEM skills in an entertaining way," Alana – FCT Flames visit.
"Today I loved looking around the Formula SAE car built by Adelaide University's Motorsport Team. I personally would love to get involved myself!" James - University of Adelaide Motorsport visit.
"I really enjoyed the opportunity to experience the programming and applying to actual robots, not just a website or animation." Ellen – University of Adelaide Robogals visit.
"We learnt that the most important function of the brain is to have fun," Mia – University of South Australia, Cognitive Neuroscience Laboratory visit.
"I learnt how to solder and read instructions properly to build an electronic board. It was really cool using all of these items and making a game out of it. I didn't expect it to be that fun," Leonie, University of South Australia, Electrical Engineering visit.
"It was so incredible to see how they are designing technology for people who are older or can't walk around ... I learnt a lot," Navya - New Venture Institute Flinders University, Tonsley Campus.
"I enjoyed working together with my group members. I learned 'POO' stands for place of origin, for a fire and about the strategies firefighters use, and what the head of a fire is." Tamara, Cleland Conservation Park visit.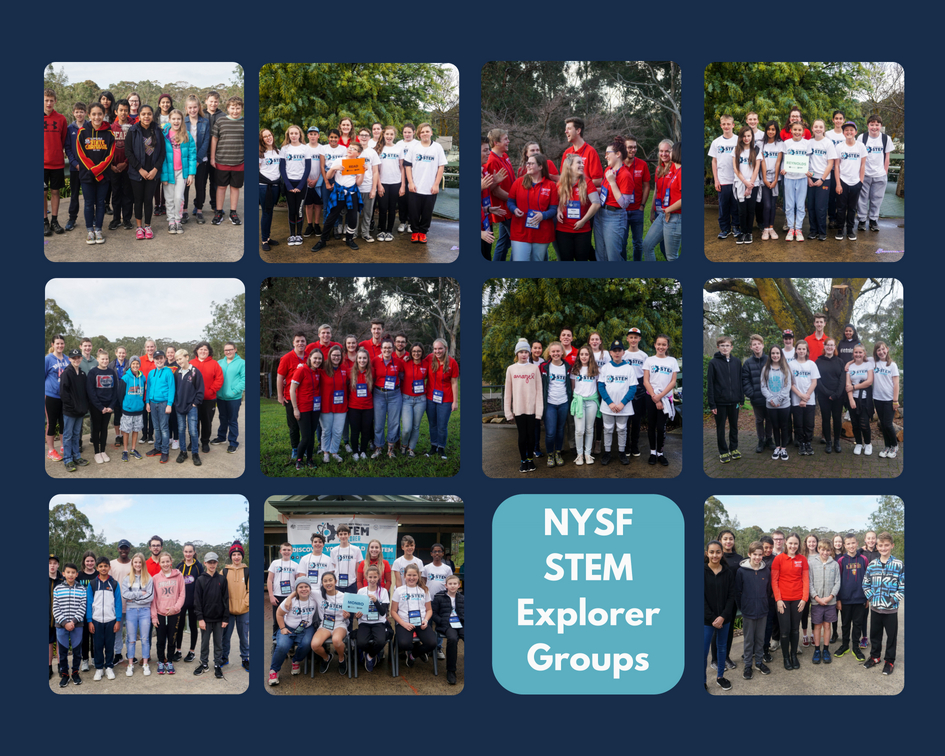 Now that the program is over, our STEM Explorers are now young scientists ready to be STEM Ambassadors. With assistance from mentor teachers students will be spreading the word that STEM is more than microscopes and lab coats – it's fun and there's a whole world of opportunities out there waiting for them into the future!
NYSF Board member, Mr Rowley Tompsett encouraged the students to make the most of what they learned during the program.
"The mentor teachers have started your journey with you today and will continue with you when you go home," Mr Tompsett said.
"We know that this is an opportunity to show you what is possible if you stick with studying science, technology, engineering and maths and to highlight to you the importance of keeping your vision wide."
The NYSF thanks the following people and organisations for making the NYSF STEM Explorer Program 2018 possible:
The NYSF alumni Youth Advisors, Katie Gray, Callum Breetzke, Renee Demeo, Breanna Evert, Georgia Hadlow, Connor McMahon, Emma Rae, Tom Roocke, Ashley Twigger, Carine Wessels and Ryan Wilson for giving up their time and applying their talents and skills to engage and share their passion for science with the students.
The Minister for Education, the Hon John Gardner, MP.
NYSF Science Patron, Professor Tanya Monro, for visiting on presentation day and whose vision contributed to the program's development.
The South Australian Government's Department for Education and its staff.
The team at Mylor Adventure Camp, Adelaide Hills.
The program's STEM visit providers:
Final thanks to the NYSF Programs and External Relations team, and Belinda and Erica from AgCommunicators for all of the work in delivering the NYSF STEM Explorer Program 2018.