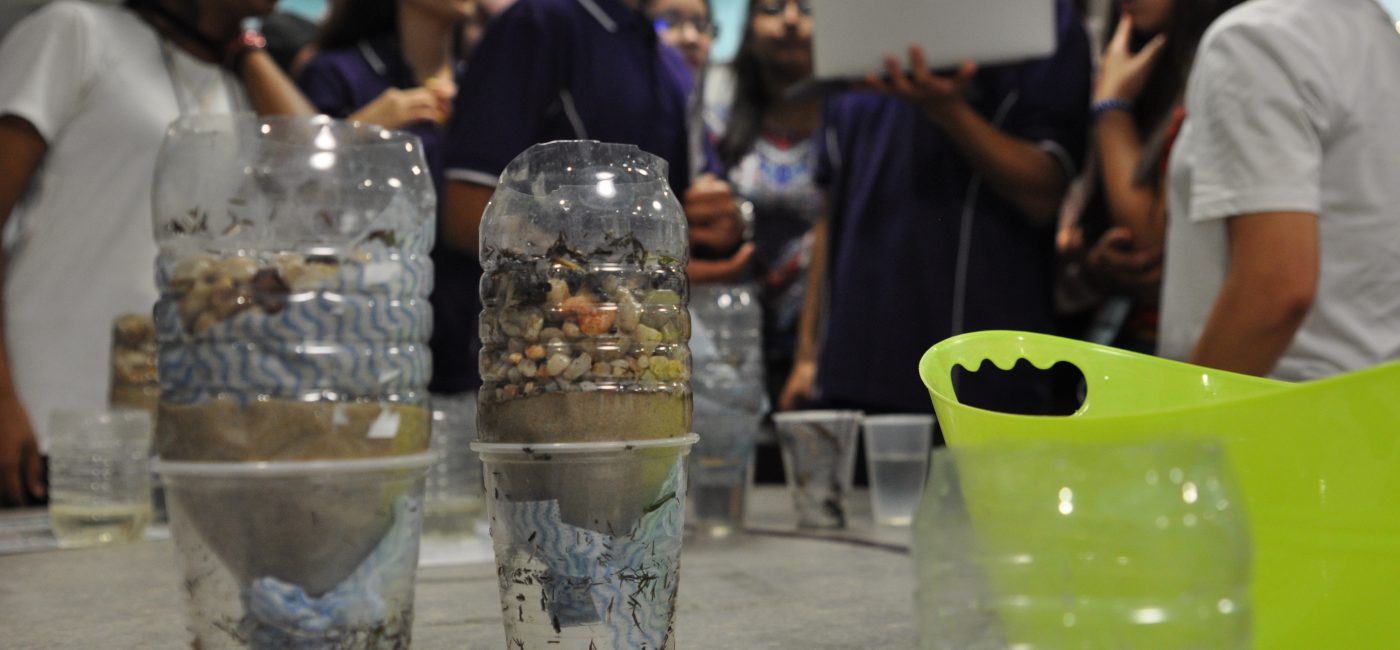 Students selected their visits today, so we're off to the engineering department at UQ to participate in an activity where we learn how to make a water filtration device
It's elective day! That's the day when NYSF 2018 Brisbane Session B students get to choose which labs they visit. This year, they were able to select from an algae farm, labs and institutes at UQ, a pharmacy school or a visit to the hypersonics centre. One of the options was a visit to the engineering school at UQ for an activity with Engineers Without Borders (EWB) students Joe Christopher Suzuki, Keshav Kumar and Cong He. The activity? Creating a water filtration system to produce clean drinking water.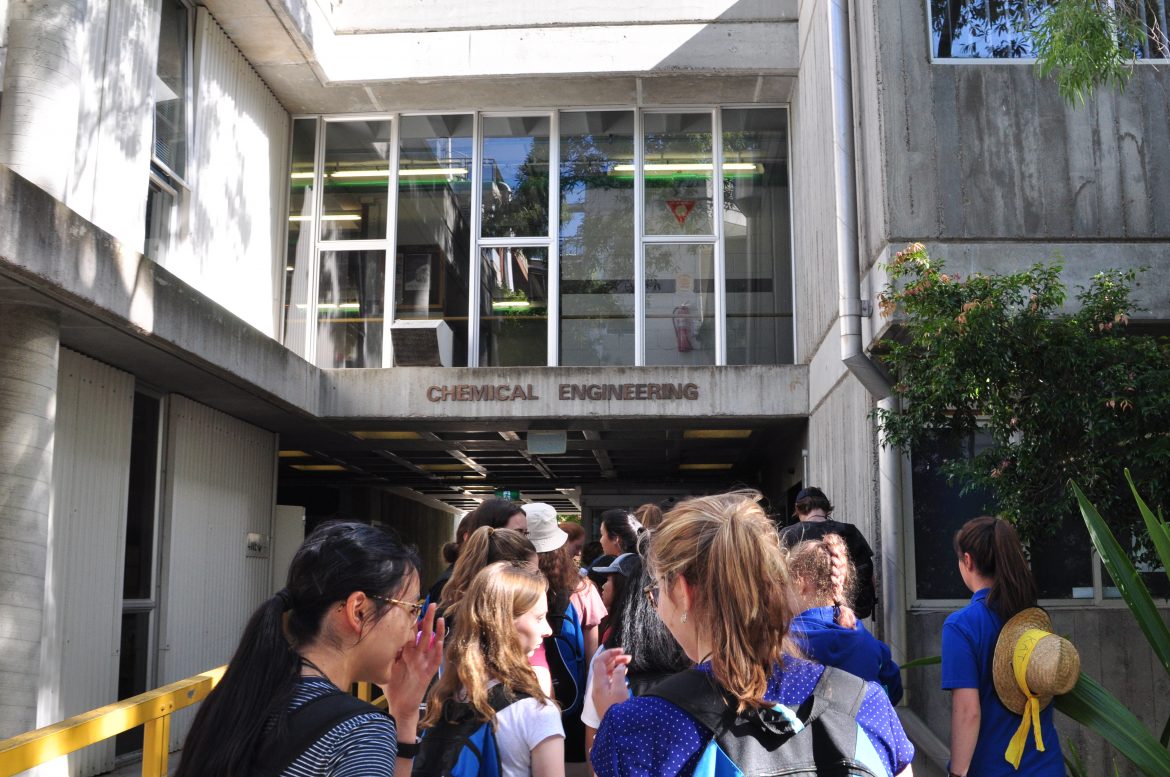 The experiment involved breaking into groups and each being assigned a country, which had an amount of money based on their GDP. One group "was" Ethiopia with unclear instructions to reflect lower levels of numeracy and literacy and limited materials to sell, or revenue to purchase materials with.  Students then had to trade or borrow from other countries to buy the materials needed to build their water filtration device. Trade agreements, cost of raw materials and location impacted on the potential solutions.
"Engineering is responding to the needs of society with technical solutions."
Each team approached its problem in a unique way, considering the society they were part of to design a solution that combined economics, social science and engineering. The filtration devices were made using plastic bottles, sand, gravel, and cheesecloth. After building their device, it was tested with dirty, muddy water for three minutes. The winners had the cleanest water for the most efficient cost.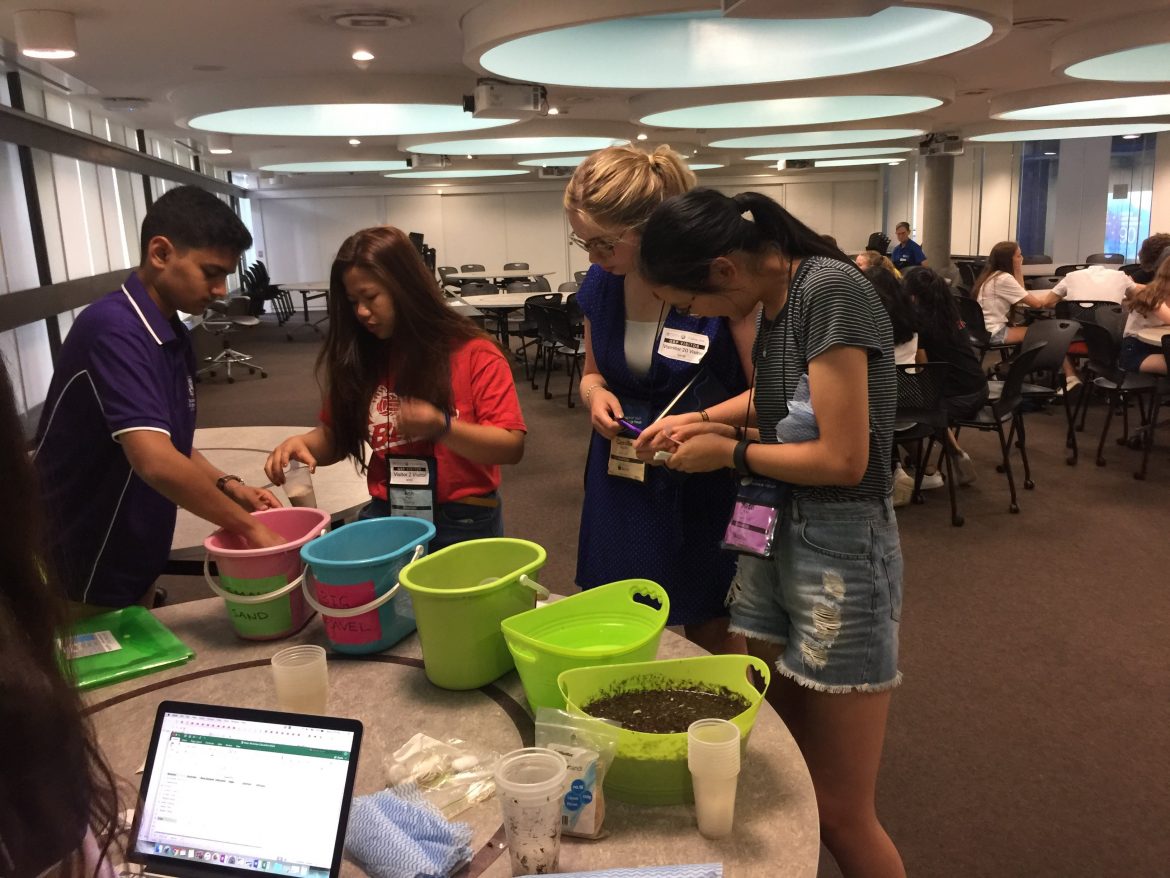 It took some heated arguments and hard negotiations to get to the final contest. The skills learned in the critical thinking workshop in day 1, combined with physics and engineering and biology, negotiation skills and innovative thinking are a passionate combination.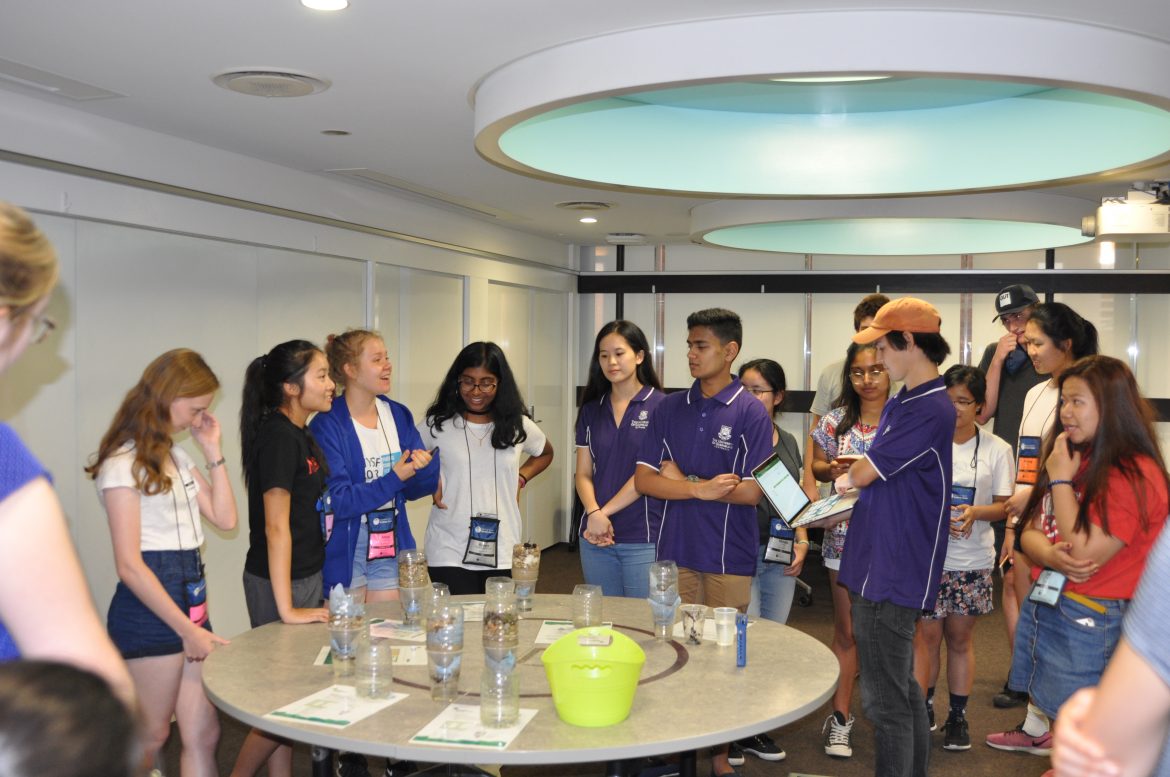 Each country was asked to explain their approach and present what they did during the activity. Here's how each country approached their challenge:
Vietnam: We approached countries with good deals on our materials. They gave us their money, we used the bit of profit to buy items for our filter. We didn't even start off with enough to buy a charcoal filter. New Zealand bought from us helping us to make some profit from our raw materials.
Ethiopia: We had very humble beginnings starting with $20 and we were able to approach countries to ask them for kind offerings, even though we have lower literacy rates than the other countries and are very far away from everyone. And we were able to construct this device to create cleaner water…
Australia: Ok, so we gave $70 to Ethiopia, and traded with India to build ours.
India: We traded with Australia and bought material from Vietnam and managed to get clear water, slightly off tepidity. We started with $50 and had about $17 left.
New Zealand: We gave all of our money to Vietnam. We have a trade deal. We basically paid for Vietnam and traded to build ours.
Indonesia: Ok so we were turned down by our biggest trading partners Australia and we traded with our less developed partners and purchased items using about $45 of our starting $50.
The Winners
Winners were decided based on a score calculated using a top secret formula of collaboration, cost, efficiency and tepidity of the final filtered water.
First prize: Vietnam
Second prize: India
Third prize: Australia
Fourth prize: New Zealand
Fifth prize: Ethiopia
Sixth prize: Indonesia
The exercise may have been a lot of fun, but the students were clearly learning every step of the way. Engineering requires us to look at a range of technical solutions to a problem, and these must fit the needs and resource of the people and communities requiring the solution.
For more information about Engineers Without Borders: https://www.ewb.org.au/explore/chapters/qld/uq
NYSF 2018 Session B is supported through funding from the Department of Industry, Innovation and Science as part of the National Innovation and Science Agenda (NISA) – Inspiring a nation of scientists."