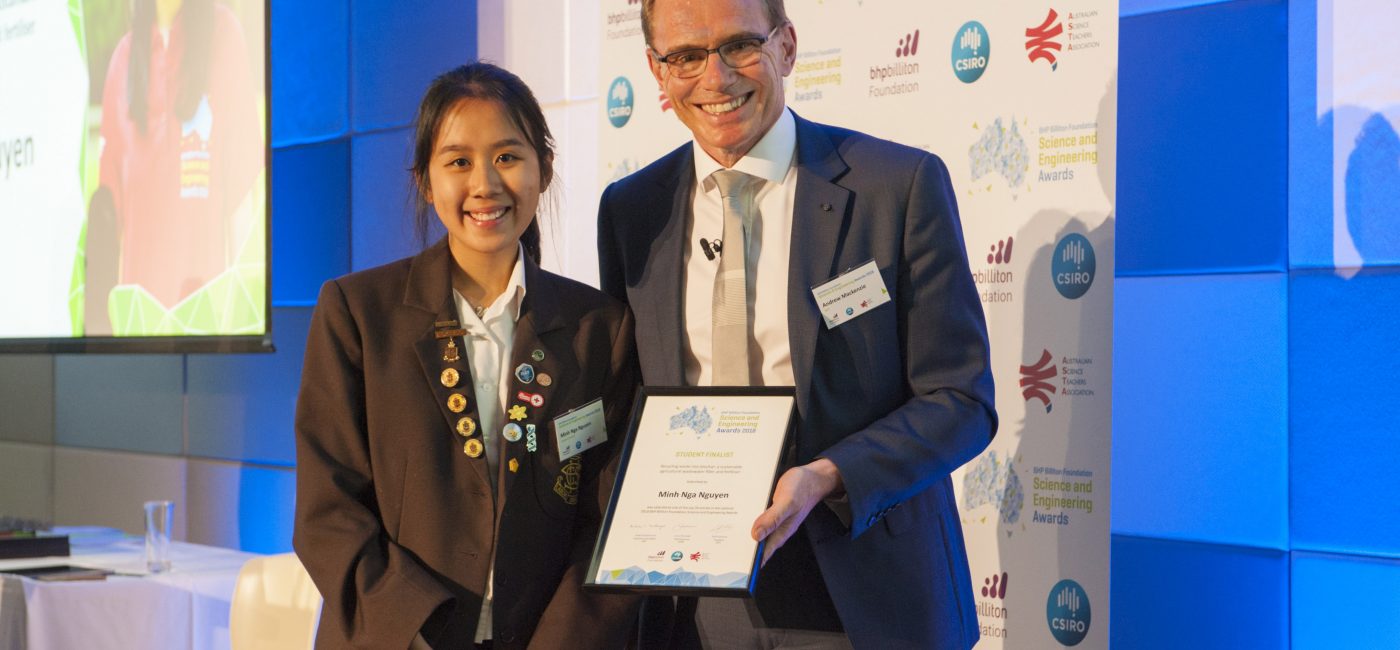 I really do believe that STEM is key to addressing so many global problems
This weeks alumni article was written by the very talented 2018 NYSF Year 12 Program alumna Nga Nguyen. Before even starting the NYSF program, Nga had completed two independent research projects, and since NYSF she has travelled the world sharing her ideas with leading companies such as BHP!
"Hi! I'm Nga Nguyen, a 2018 NYSF alumna. I attended the Canberra session, with its memories remaining fresh in my mind.
So before entering NYSF, I already had a strong interest in environmental science. I had conducted 2 independent research projects during years 9-11, in which I engineered new ways to filter water. My first project used duckweed (a floating plant), to adsorb harmful pollutants, and my second recycled agricultural wastes such as corncob into a multi-purpose biochar charcoal filter and crop-fertiliser. From these projects, I was incredibly grateful to be offered opportunities to travel to compete internationally.
My biochar research that received 1st place at both the BHP competition and Australian Junior Water Prize was titled: "Recycling waste into biochar: A sustainable filter and fertiliser for the agricultural industry". In this, I essentially used waste to treat waste. Firstly, I recovered agricultural plant wastes such as rice husk and corn cob, and reconverted them into a biochar charcoal. Through extensive experimentation, I engineered a model that maximised this biochar's effectiveness as a filter for polluted wastewater. I then reapplied the biochar filters as a crop fertiliser. I found that biochar aided plant growth similarly compared to commercial fertiliser, due to the nutrients that biochar adsorbed from wastewater aiding plant health.
And overall, my engineered model optimised biochar's filtration effectiveness significantly, with treated wastewater meeting Australian guidelines. My model is in essence a closed-loop cycle of agricultural-waste treatment, as biochar filters become fertiliser that help grow the next generation of biochar. Economic analysis estimates that around after 7 months, the model can financially benefit farmers, due to the savings of replacing commercial fertiliser by biochar fertiliser. My model hence provides farmers an economical and sustainable way to minimise their environmental pollution, by using waste-products to treat wastewater.
Due to my passion for environmental science, I was placed in the 'Darwin' group at NYSF. My NYSF time was so dynamic, incorporating lab visits to CSIRO, workshops on scientific policy, Q&A's with CERN (European Organisation for Nuclear Research) engineers, and mock parliamentary debates on nuclear power. The people I met during session were absolutely infectious with their positivity, and have influenced me to look towards the future with a smile and open mind.
And since NYSF, I have continued to say yes to any challenges and chances to present my findings. Last February in year 12, I was fortunate enough to be chosen as a finalist at the BHP Billiton National Science and Engineering competition, and was ultimately awarded 1st place for Investigations nationally. After this, I also won the 2018 Australian Stockholm Junior Water Prize, following which I was sponsored to compete at the Stockholm International Water awards in Sweden, and the INTEL International Science and Engineering Fair in America. These events exposed me to so many new ideas, that I will take forwards with me as I enter my second semester as a Bachelor of Science and Advanced Studies student at the University of Sydney.
And apart from my university journey beginning in 2019, this February I was also chosen as a 'Future Young Leader' by Evoke.ag. This provided me the valuable platform to present my findings on agricultural pollution at Australia's largest agriculture conference. I have also been selected as a 'Talent' for the UNLEASH Global Innovation Lab. For this, I will travel to Shenzhen, China this November to work on engineering and pitching a solution in relation to UN Sustainable Development Goal 6, of Clean Water and Sanitation. I aim for this experience and all those that preceded it to help me fulfil my future career aspiration: to be an environmental scientist who extends Australia's scientific aid overseas. I really do believe that STEM is key to addressing so many global problems, so I encourage any interested young scientists to apply to NYSF and think outside the box!"