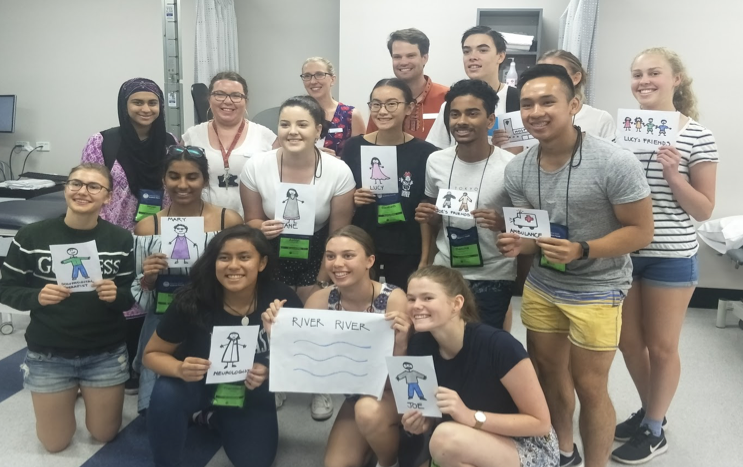 There is a complex network inside our bodies
Students from the Blackburn interest group of NYSF 2018 Session A delved into the world of medical science at the University of Canberra. The students were exposed to three areas of medical science; Occupational Therapy, Speech Pathology and Pharmacy.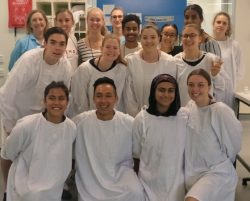 As an Occupational Therapist it is important to understand the motivation behind everyday activities and to use an holistic approach to allow patients with injuries or care needs to resume tasks with as little impact on their lives as possible. This may include home modifications or training for the individual to use their non-dominant side to complete a wide range of tasks. Dr Daniela Castro de Jong, Ms Breanna Cave and Mr Thomas Bevitt walked the students through a scenario to illustrate the far reach of an Occupational Therapist and offered unique insights into the important role they play.

Dr Elizabeth Clark, a speech therapist and linguist, posed the question "Have you ever wondered what components make up speech?" There is a complex network inside our bodies that, when moved in a coordinated and specialised way, allows us to produce speech. This network includes the tongue, soft palate, vocal chords, diaphragm and various other muscles.
Dr Clark had three key messages for the students:
"We need to recognise that language is what makes us human, "
"Language is important."
"Remember to play with language, [play] is as important to scientists as formulas."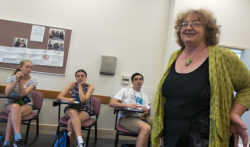 Under the guidance of Dr Alison Shield, an NYSF alumna, the students had the opportunity to investigate the solubility of various household medications such as aspirin and panadol. Whilst also learning about the differences between a Pharmacist, Clinical Pharmacologist, Pharmacologist and Pharmaceutical Scientist, not only in their job role, but the qualifications that each position requires. Dr Shield also informed the students about the important role that emulsifiers play in the creation of topical creams, such as those used to treat sunburn. Following a demonstration, the students were able to create and keep their own menthol cream.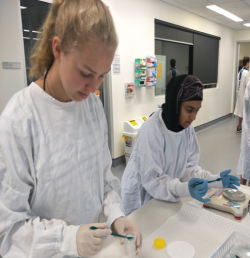 Hayley Miller, NYSF Communications Intern Session A 2018 and NYSF Alumni 2013.