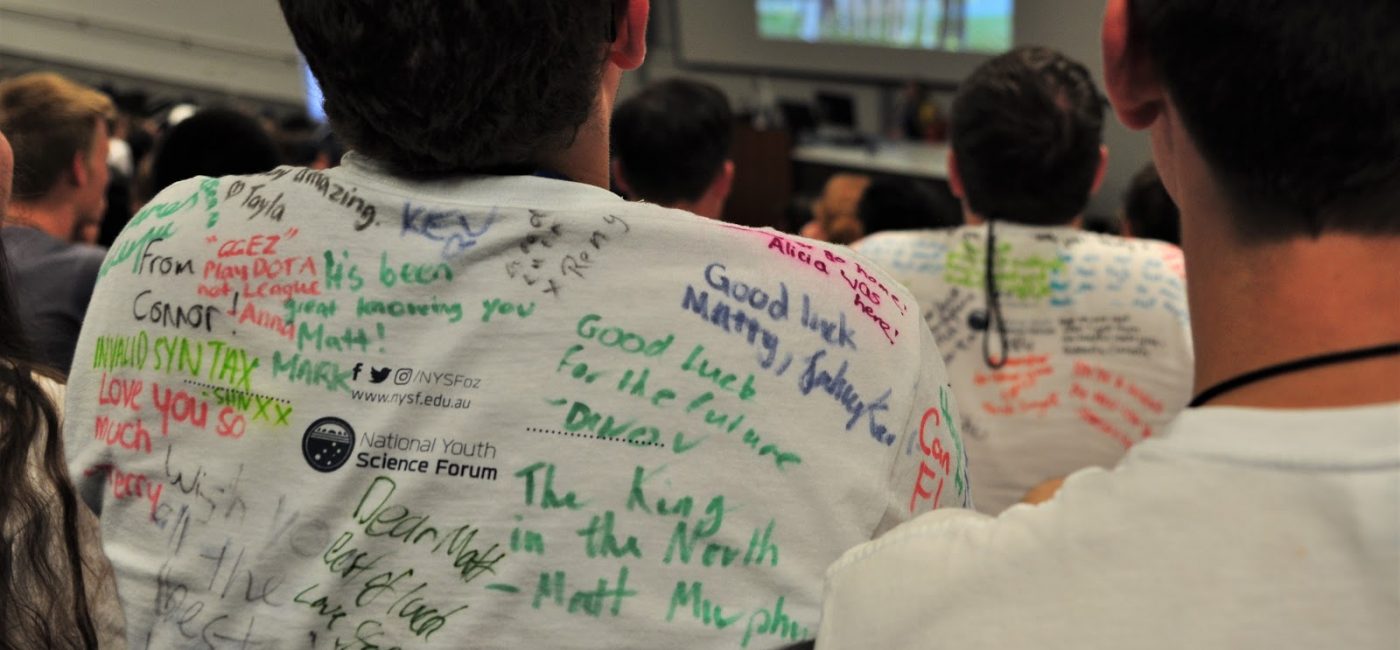 "I've stayed in touch with NYSF alumni from my year and previous years."
New friends streamed into the Hawken Engineering Building auditorium at The University of Queensland for the closing ceremony of the first NYSF Brisbane program - Session B. Staffies guided students into rows, and it didn't take long for a rhythmic 'dodo do do dodoo' as the whole room broke into one final rendition of "Baby Shark" echoed by alumni attendees Melody Dobrinin and keynote speaker Holstein Wong.
Holstein Wong attended the NYSF in 2008, and now works as a supply analyst at BHP, providing market intelligence and analytical foresights to inform strategies at their global mining operations which include coal, copper, iron ore and petroleum facilities. Graduating from a degree in material science and engineering at the University of New South Wales (UNSW) with first class honours led to an opportunity at Blackwater mine where she worked at the coal handling and preparation plants.
Just five years on from university graduation, Holstein remembers her time at the NYSF and what it felt like to be sitting in this position after an amazing 12 day science experience.
"10 years ago I was in your exact same position after two weeks of NYSF - really pumped from all of the activities; a little bit stressed about starting year 12 and hoping I could stay in touch with all the great people I met throughout session."
Holstein went on to talk about the importance of building a network and core skills, but reminded the students embarking on year 12 that not having a clear idea of your career path is perfectly normal because, "... you haven't heard about all of the amazing options yet."
"Fortunately I've stayed in touch with NYSF alumni from my year and previous years."
"Looking back it is easy to say that is an obvious path to where I am today in marketing at BHP. To me it didn't feel that way. Back in year 12 I didn't have a clear idea of what I wanted to do and definitely didn't think I'd be wearing hi-vis and working on a coal mining site. Now my market analyst job is based here in the CBD and I research how market trends impact our company's operations and cost improvements for iron ore, copper and coal. My manager works from Singapore, and I work with a global team of people so it is a very dynamic and flexible work structure. There's also lots of opportunities to travel - next week I'm visiting clients in London."
The pressure in year 12 to do well, to pick subjects and get into the right university, saw Holstein comparing herself to her peers and she admitted to the NYSF class of 2018 that after attending the program she worried that she wasn't being ambitious enough.
"People were talking about studying overseas or taking scholarships to all these amazing universities, and I started to question myself. I realize now, and a lot of my high school friends agree as well, that comparing yourself to other people (causes) unnecessary stress. Everyone follows their own path, different degrees are different durations, some people take a gap year or like I did a CO-OP scholarship program at uni. I took one year off doing industrial training. Everyone branches off and does different things in the end. What I found useful is to find your own ambitions and goals and use them as a guide instead of other people around you."
Holstein's Top 3 STEM Tips
STICK WITH STEM
YOU CAN ENACT CHANGE IN A NUMBER OF WAYS
SOFT SKILLS, ROTARACT, COMPLEMENTARY ACTIVITIES
NYSF 2018 Session B is supported through funding from the Department of Industry, Innovation and Science as part of the National Innovation and Science Agenda (NISA) – Inspiring a nation of scientists."
Words and images: Carla Paterson, NYSF Communications Officer, Session B NYSF 2018