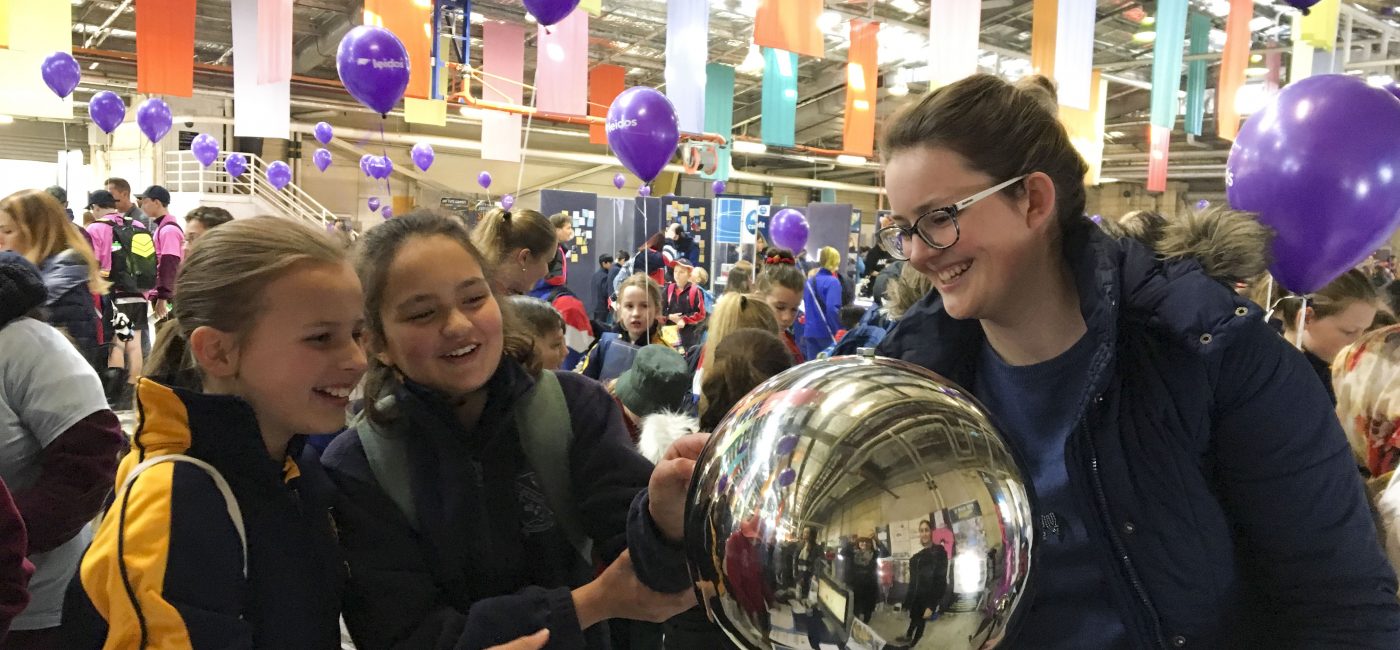 "The event was very inspiring to see so many children enthusiastic about STEM and I felt privileged to be in a position where I could contribute to their understanding and interests in science."
National Science Week is now over for another year. Across Australia there have been hundreds of festivals, activities, events and more, designed to fascinate, educate and entertain us about everything science.
The National Youth Science Forum (NYSF) did not miss out on the fun, participating at Science in ACTion in Canberra over the two-day event. Over 50 STEM based organisations were on hand to showcase their science to the 2,500 school students on Schools Day and estimated 7,000 - 8,000 people on Community Day. Physics, gaming, forensics and lizards - there was something for everyone over the two days!
NYSF alumni joined us to talk to attendees about the suite of NYSF programs and show some of our science displays. Sparks flew when our alumni demonstrated the Van de Graaff Generator to onlookers and our badge making machines were a hit with hundreds of participants learning about the mechanics of badge making and taking home their very own NYSF badge.
NYSF 2013 Alumna, Lauren Booth volunteered her time for both the NYSF and Robogals stands over the two days.
"Science in ACTion is an incredible event that brings together so many different groups from the Canberra science community. NYSF provided me with so many incredible opportunities so I am always enthusiastic to get out and share my experiences and spread the great work that NYSF does! I volunteered with NYSF at the very first Science in ACTion event in 2014, and was happy to put on the hoodie again during my final year at ANU," Lauren said.
Elise Kellett is an NYSF 2017 alumna and also spent time at the NYSF stand.
"I volunteered at the NYSF stand at Science in ACTion because I believe it's important to inform the community about the amazing opportunities NYSF provided for me. It's very important that higher school students are aware of the year 12 program so they don't miss out. "
A little bit of ceremony added to Science in ACTion with the announcement of the 2018 ACT Scientist of the year. Congratulations to Dr Rose Ahlefeldt, research fellow at the ANU Research School of Physics and Engineering who received the honour for her research into finding the right materials to build the quantum memories needed for quantum computers.
It was great to have former Chief Scientist, Professor Ian Chubb and Professor Tim Senden, School Director, Research School of Physics and Engineering, ANU, and an original NYSF/NSSS participant drop by for a chat during Schools Day.
The NYSF would like to thank the alumni who volunteered their time at our stand over the two days, Mitchell de Vries, Jaslin O'Connell, Lauren Booth, Josh Wei and Elise Kellett, and Andrew Papworth from the ANU Department of Quantum Science, Physics Education Centre for the use of the Van de Graaff and the organisers of Science in ACTion for hosting such a great event.
We are already looking forward to next year's event!