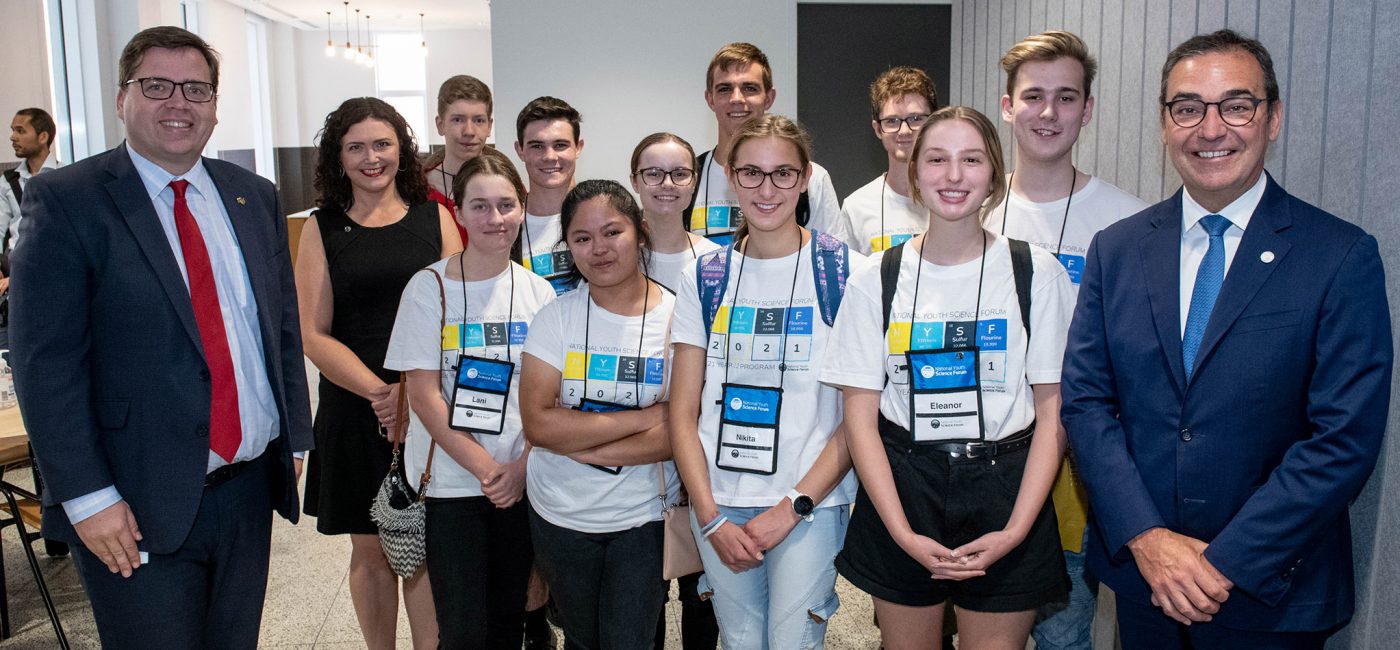 "2021 was the year of exploring local STEM opportunities as part of the NYSF Year 12 Program."
The National Youth Science Forum (NYSF) Year 12 Program opens up a world of opportunity by introducing students to areas of Science, Technology, Engineering and Maths (STEM) that they often don't know exist. An immersive experience that has run for over 38 years, the program introduces young people from across our nation to the very best STEM facilities and top STEM professionals across Australia and beyond.
Normally a residential program hosted in Canberra and Brisbane, the NYSF responded to the challenges of the global COVID-19 pandemic and reinvented our mode of delivery for 2021. Our new-look 3-week hybrid program combined a series of live digital events, experiments, lectures and 8 state-based hubs across Australia.
Support from the Australian Government's Department of Industry, Science, Energy and Resources through the National Innovation Science Agenda (NISA), our Major Partner, Lockheed Martin Australia, Rotary, our host universities and a range of other partners ensured that the NYSF could pivot and deliver this high quality, immersive national STEM program.
Our students met over 180 STEM professionals, attended 57 in-person STEM visits over three days at the local hubs, and attended over 60 digital events including lectures, workshops, debates, career expos, experiments at home and social activities to meet like-minded peers across Australia. A first in 2021, the local hub and state-based STEM visits allowed the NYSF to showcase amazing STEM opportunities to Australia's best and brightest students in their home state. South Australia (SA) was no exception with three days of STEMtastic experiences!
The SA Hub kicked off with an inspiring Opening Event at the University of Adelaide with the SA Minister for Innovation and Skills the Hon David Pisoni MP, South Australia's Chief Scientist, Prof Caroline McMillen AO, Peter Fechner, Chief Engineer for Lockheed Martin Australia (NYSF Major Partner), Prof Mark Hutchinson from the Centre for Nanoscale Biophotonics, and Prof Jennie Shaw, Interim Deputy Vice-Chancellor (Academic) at the University of Adelaide.
Minister Pisoni welcomed participants and congratulated them on their selection saying he was "inspired by what is possible through science and I am delighted to be here today to recognise the importance of the NYSF."
Prof McMillen highlighted the importance of introducing South Australian students to the many opportunities available in South Australia and said she was impressed by the 67 young South Australians who were selected for the coveted 600 national places from over 1100 applicants nation-wide to attend this year's NYSF program.
"These bright minds have the passion, curiosity, STEM smarts and innovation to harness opportunities in SA, lead change and solve the problems of tomorrow. Our future is in great hands."
After the formalities, students participated in three days of SA STEM workshops hosted by the Centre of Nanoscale Biophotonics, the University of Adelaide, Flinders University and the Defence Science and Technology Group, part of the Department of Defence.
The STEM opportunities didn't end there. The following week a group of SA 2021 NYSF Year 12 Program students were invited to tour the exciting space sector facilities at Adelaide's innovation precinct, Lot Fourteen, with SA Minister for Education, the Hon John Gardner. The tour included hands-on satellite technology experiences at Myriota and Inovor Technologies. Students also met Australian Space Agency staff and had a sneak peek at the Australian Space Discovery Centre. Still a construction site, NYSF participants were delighted to be the first students to set foot in the new Australian Mission Control facility!
During the Lot 14 tour, students attended their first press conference and met the Premier of South Australia, the Hon Steven Marshall MP who announced a ground-breaking space mission which will see the Marshall Government partner with the South Australian space industry to send a locally manufactured satellite to space. South Australian Minister for Education the Hon John Gardner MP, South Australian Minister for Trade and Investment the Hon Stephen Patterson MP and Mr David Butler, Engineering & Technology Senior Manager from Lockheed Martin Australia also attended the event. Having completed two workshops on science communication during the program, this was a perfect opportunity for students to meet these decision-makers see STEM communication and policy in action.
Minister for Education, the Hon John Gardner commented on the unique opportunity the SA NYSF hub presented
"One key benefit of SA's push into the space sector is that high achieving science students like these (NYSF) can now see a future career here in SA."
"Being there for the announcement of SA's coming satellite was a bonus! This massive opportunity for our State will deliver for government services and economic opportunity. I am so excited about the career pathways our brightest kids now see for themselves here in Adelaide," Minister Gardner said.
NYSF participants were delighted to network with and learn about space technologies alongside likeminded peers attending the SASIC ATP Space Industry Work Experience Program at Lot Fourteen.
One lucky South Australian NYSF participant appeared on ABC Radio Adelaide with NYSF CEO, Dr Melanie Bagg. You can listen to the interview HERE.
NYSF CEO, Dr Melanie Bagg thanked the South Australian Government and institutions who contributed to giving South Australian students such a memorable experience and hoped to continue showcasing unique South Australian STEM facilities to future NYSF participants.
"The NYSF has been operating since 1984. With over 13,000 alumni we have a proven track record of delivering outstanding STEM experiences to young people to assist them in making decisions about their STEM careers."
"In a year of uncertainty and change, I am so excited that we have been able to show South Australia's best & brightest students not only national and global STEM opportunities but also the amazing study and career opportunities their home state and region has to offer."
NYSF organisers reached out to STEM organisations in SA inviting participation and were delighted with the response to host these bright students. We thank the following organisations for hosting the NYSF Year 12 Program and look forward to future collaborations:
Defence Science and Technology Group, Department of Defence
Fibre Optics
Underwater experimentation
Combat system integration lab
Indoor flight facility
The University of Adelaide
Centre for Nanoscale Biophotonics, laser and sensing technology labs, IVF facilities
North Terrace, Medical Science Precinct, Adelaide Health Simulation (AHS) facility
Engineering Faculty and Australian Institute of Machine Learning (AIML), Space Labs and Machine Learning Tour
Andy Thomas Centre for Space Resources
Waite Campus, plant genetic and crop facilities and agriculture and wine research facilities
Roseworthy Campus, veterinary research facilities, animal birthing simulation, and the equine lab and veterinary hospital.
Flinders University
Autonomous robot WAM-V boat
Automotive solar team
Defence and electronic warfare technologies
Lot Fourteen Innovation Precinct
Myriota
Inovor Technologies
Australian Space Discovery Centre
Australian Space Agency
SA NYSF Year 12 Program participants gave a range of feedback on what it was like to explore their local STEM facilities:
"This was an incredible day filled with so much learning and new experiences!!! This has genuinely made me realise just how vast an array the career opportunities are. I have discovered so many life-changing career paths right here on my doorstep!"
"It was really cool to see the Defence Science Technology base as well as learn about some of the offers that they have for undergraduate students"
"It was amazing to see all of the things at DST, to hear about the opportunities for working there in the future, learning about what is done there and the work environment."
"Waite opened my eyes to more degrees and the array of STEM jobs in agriculture"
"The Engineering and Machine Learning tour was so interesting. I was surprised to find out how much space-related research is being done at the University of Adelaide"
"I had no idea how many space, satellite and defence technology jobs there are now and forecast for the future in SA and Australia. Hearing from Lockheed Martin Australia, Defence Science and Technology and seeing all the Uni facilities available in this area has me seriously reconsidering what I am going to study next year."
"The solar car was absolutely amazing. The technology was interesting, and the speaker was very passionate. It has influenced me to consider further career and study paths and look forward to club activities at uni."
"I didn't even think of reproductive technologies as a career option before this experience or the ways it can be used for livestock production, it was really exciting to see what IVF technologies were and how exciting it is"
"I didn't expect to have a chance to birth a cow or round up livestock using technology before today. Roseworthy has the most amazing technologies and looks like a great place to live and study."
"I'd heard a lot of reports on how life-changing the NYSF was, but until I actually completed the program, I didn't understand just how accurate these statements were, and how much being an NYSFer would mean to me."
In summary, it is clear that the SA hub was an extremely engaging and valuable experience as part of the National 2021 NYSF Year 12 Program. We thank everyone that was involved in hosting these STEM visits and look forward to exploring future collaboration in SA.
This is part of a series of articles on the hubs that were offered as part of the 2021 NYSF Year 12 Program STEM Visit Days 13-15 January.
Thank you to all the NYSF Partners for supporting the 2021 NYSF Year 12 Program.