Thank you for your enthusiasm to promote the 2023 NYSF Year 12 Program - we're really excited to bring a whole new cohort to the NYSF.
We would love your help to ensure a diverse group of students apply for the program and meet you during selection interviews.
This page includes promotional materials to encourage applications for the 2023 NYSF Year 12 Program.
We are happy to supply more information if needed via emailing communications@nysf.edu.au.
Social media posts
The easiest way to share information about NYSF is to share posts from our social media channels – Facebook, Instagram, Twitter and LinkedIn.
A great post to share will be the post that we put out on 24 May announcing the opening of applications!
You can also craft your own post - if you'd like a guide we've put together a caption that you can use on Facebook or Instagram post in combination with some photos or the poster!
Facebook or Instagram caption
Are you in Year 11 or know a Year 11 student with a passion for science, technology, engineering or maths? Apply for the 2023 National Youth Science Forum in January! Join an immersive STEM program where you could meet Nobel Laureates, discuss problem-solving with Dr Karl, and join a video tour of CERN (just some of the highlights)! If you're a Year 11 student with aspirations in STEM, start your application now! Early bird applications close on 24 July.
Apply now at:
https://www.nysf.edu.au/programs/year-12-program/
#NYSFoz #STEMeducation #StudySTEM
Instagram Image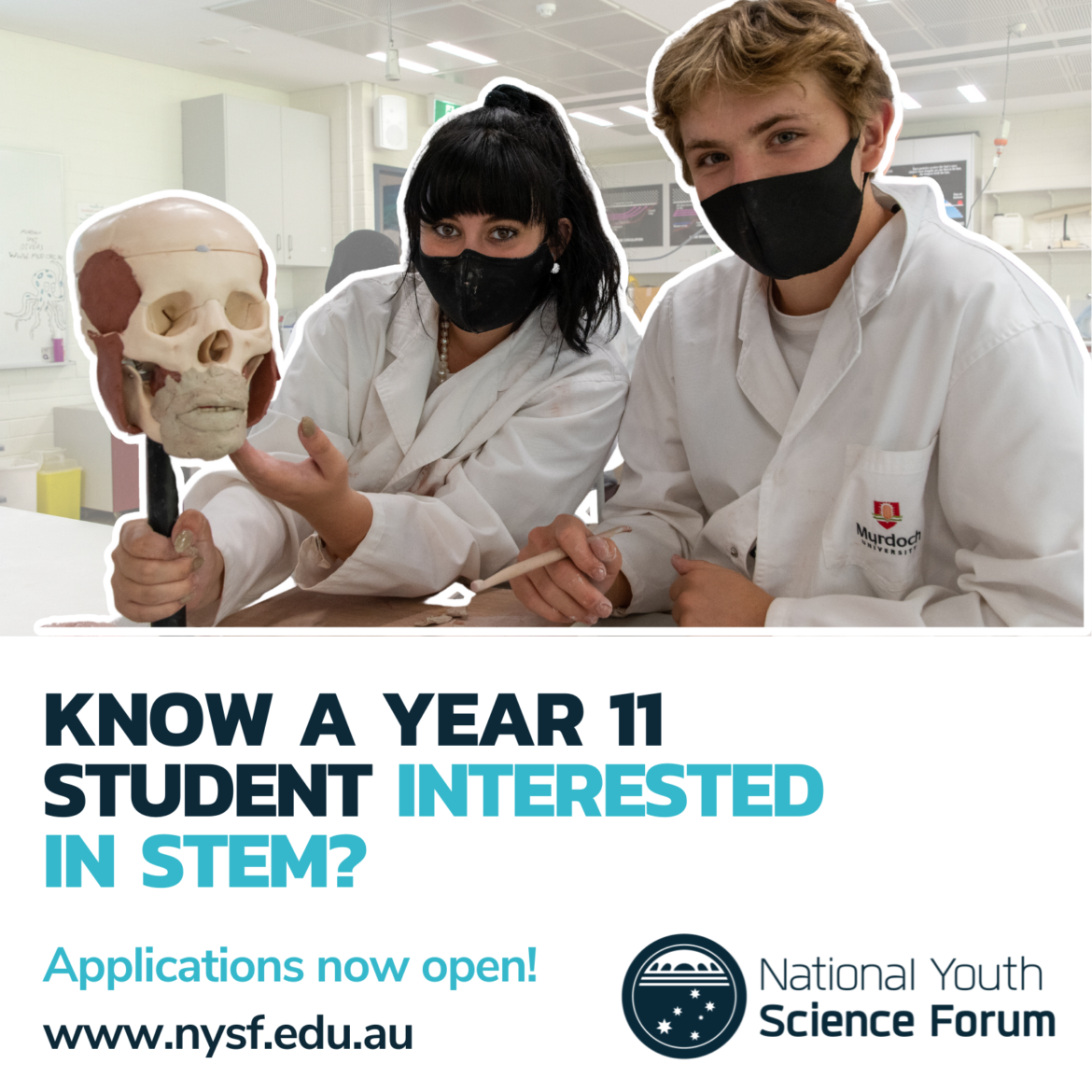 Download Instagram graphic (PNG)
Photos
Any of the following images can be used to promote the program, too. If you prefer to share these on your social media channels instead of the graphic, please feel free!
Download photos of the NYSF Year 12 Program
Poster
Download the 2023 NYSF Year 12 Program poster (A2 PDF)
2023 NYSF Applications Poster_Students

Video Promotion
We filmed a video promoting the new look digital and in-person NYSF Year 12 Program:
5-minute video (highlights from the 2022 NYSF Year 12 Program + an overview of what the program is about)
1 - minute video (showing key highlights)
Rotary endorsement form
In the same way as in previous years, students are directed to approach their local Rotary Club for potential endorsement and funding support to attend the program.
Here is a copy of the Rotary Endorsement Form that the students will be presenting to you.
Example social media posts promoting applications in 2021
View this post on Instagram