Applications for the 2023 NYSF Year 12 Program open 24 May!
Register your interest for the 2023 NYSF Year 12 Program and we will let you know when applications open.

The NYSF Year 12 Program offers an exciting range of in-person and digital science, technology, engineering, and mathematics (STEM) experiences for participants across Australia.
About the 2023 program
The program will run on weekdays between 10 – 24 January 2023 and will be delivered as a mixed-mode experience – a combination of in-person and digital events.
At the program, students will have opportunities to:
participate in tours of science and technology facilities
learn about cutting edge research
engage with industry partners and research providers
learn about university and STEM career pathways
mix with other like-minded students from all over Australia
network with former NYSF participants to further increase understanding of STEM-related study and career experiences.
The NYSF is delivered by youth for youth. Past participants return each year to participate in the Student Staff Leadership Program and help run the program the year after they first attend.
Throughout the program there will be optional activities to engage with such as the STEM Challenges, The Great Debate and the NYSF Talent Show.
Week one: 10 to 13 January
In week one, participants will join their fellow NYSFers for a digital program packed full of amazing STEM sessions, including specialist lectures from renowned STEM experts, careers days, critical thinking and STEM communication workshops, and more.
In the evening, connect with like-minded peers and share your passions in smaller social groups facilitated by the NYSF 'staffies'.
Week two: 17 to 21 January
In week two, participants have the chance to meet each other in person, see inside amazing STEM facilities and labs in capital cities around Australia, meet researchers and STEM experts, listen to lectures, and learn what a career in science looks like (and how to get there) at an online university expo.
Pending availability and COVID restrictions, STEM Hubs will be held in:
Adelaide
Brisbane
Canberra
Melbourne
Newcastle
Perth
Sydney
For those who choose not to or who are unable to attend the in-person visits, there will be a range of digital STEM visits across the week. Our digital program has the ability to feature a vast array of speakers from Australia and around the world and will feature STEM experts from many of the in-person locations and beyond.
Last two days: 24 to 25 January
The final two days of the program will see participants back online to share their experiences with their newfound STEM friends, engage with key speakers, join a debate, and wrap up the program.
In 2022, a record 630 students joined the program, featuring 195 speakers and a combination of 73 live digital events, experiments and lectures, plus five days of in-person STEM visits in Perth, where COVID-19 restrictions allowed.
Here's what the participants had to say: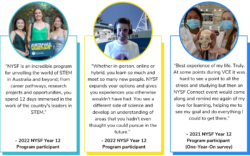 Program Fee
The 2023 NYSF Year 12 Program fee is $1950, with an early-bird $25 non-refundable application fee for applications submitted before 24 July 2022. A $65 non-refundable application fee will apply for applications submitted between 25 July and 14 August 2022. Please contact us if the application fee is a barrier to submitting your application due to your personal financial circumstances and we can discuss your options.
Please note that the program fee covers the program and does not include travel or accommodation, should you choose to travel to attend an in-person STEM Hub.
Applicants who would benefit from financial support towards their program fee are encouraged to seek endorsement from their local Rotary Club. While Rotary Clubs are under no obligation to provide financial support to applicants, many are able to offer some level of funding or assist in fundraising. Applicants who do not require financial support do not need to obtain Rotary endorsement and can instead apply as "self-funded". Details of these options are found on the How to Apply page.
NYSF offers Access and Equity Scholarships to students who require additional financial assistance due to experiencing financial or other forms of disadvantage or will incur additional costs to fully participate in the Year 12 Program. Information regarding Access and Equity Scholarships, including how to apply, will be sent to successful program applicants later in the year.
2022 NYSF Year 12 Program and COVID-19
The ongoing COVID-19 situation still provides some uncertainties for everyone.
As in 2021 and 2022, the NYSF actively monitors any COVID-19 related restrictions and health advice in the lead-up to the 2023 NYSF Year 12 Program in January.
Please refer to our COVID-19 Policy and Procedures for in-person events.
We have a series of contingency options ready to put in place if needed.
We will keep in close contact with successful applicants should these options be implemented.
How to apply
Find tips on applying and answers to common questions on the How to Apply page.