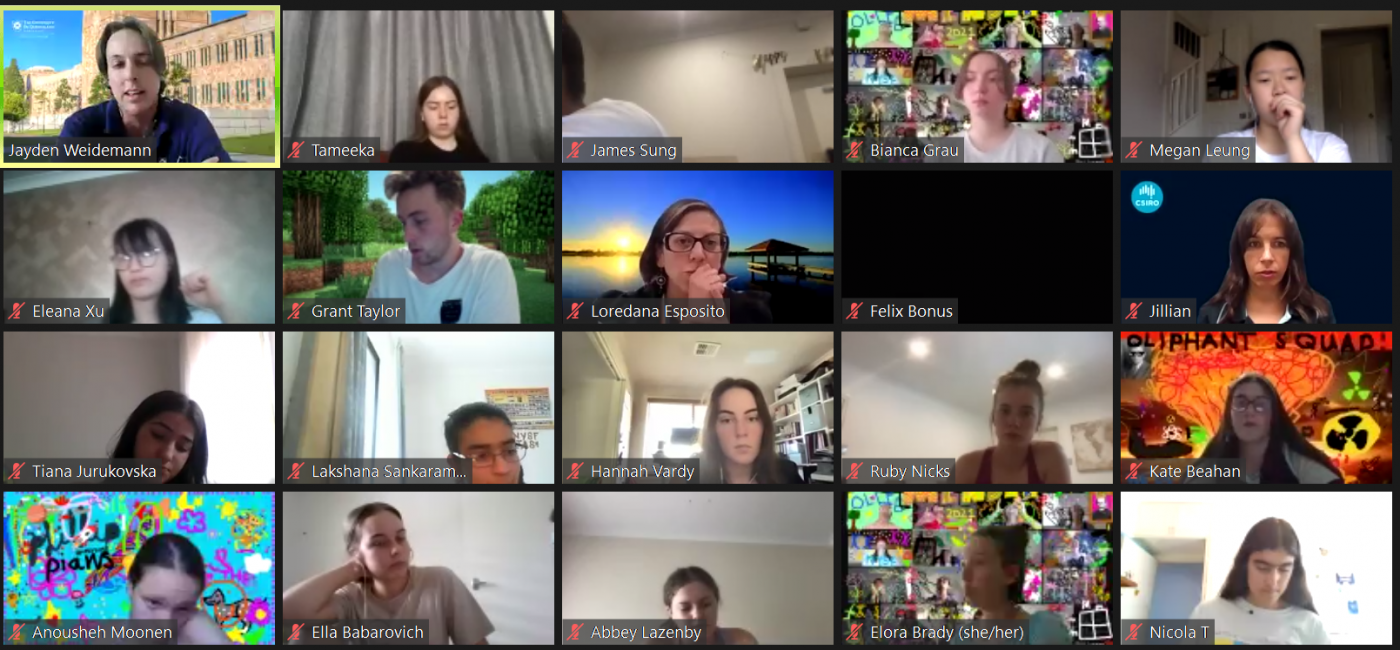 Careers Day has always been one of the most popular events during the Year 12 Program.
The event provides an invaluable opportunity for participants to get an insight into the endless paths a STEM career can lead them down. It is also an incredible opportunity for NYSF Funding Partners to connect with our 550+ participants to share information about their organisation, its activities and prospects for future study and careers.
For the 2021 Year 12 Program, Careers Day was held online over two days. Each session began with presentations from Partner representatives about their organisation, followed by a Q&A for participants to engage directly with the representative. Participants heard about exciting career opportunities, ground-breaking research, personal STEM journey's and the various pathways they can take to work with leading organisations.
On the first day, participants heard from our Major Funding Partner, Lockheed Martin Australia (LMA), our Host Universities, The Australian National University (ANU) and The University of Queensland (UQ), and Corporate Partners CSL, CSIRO and Bayer.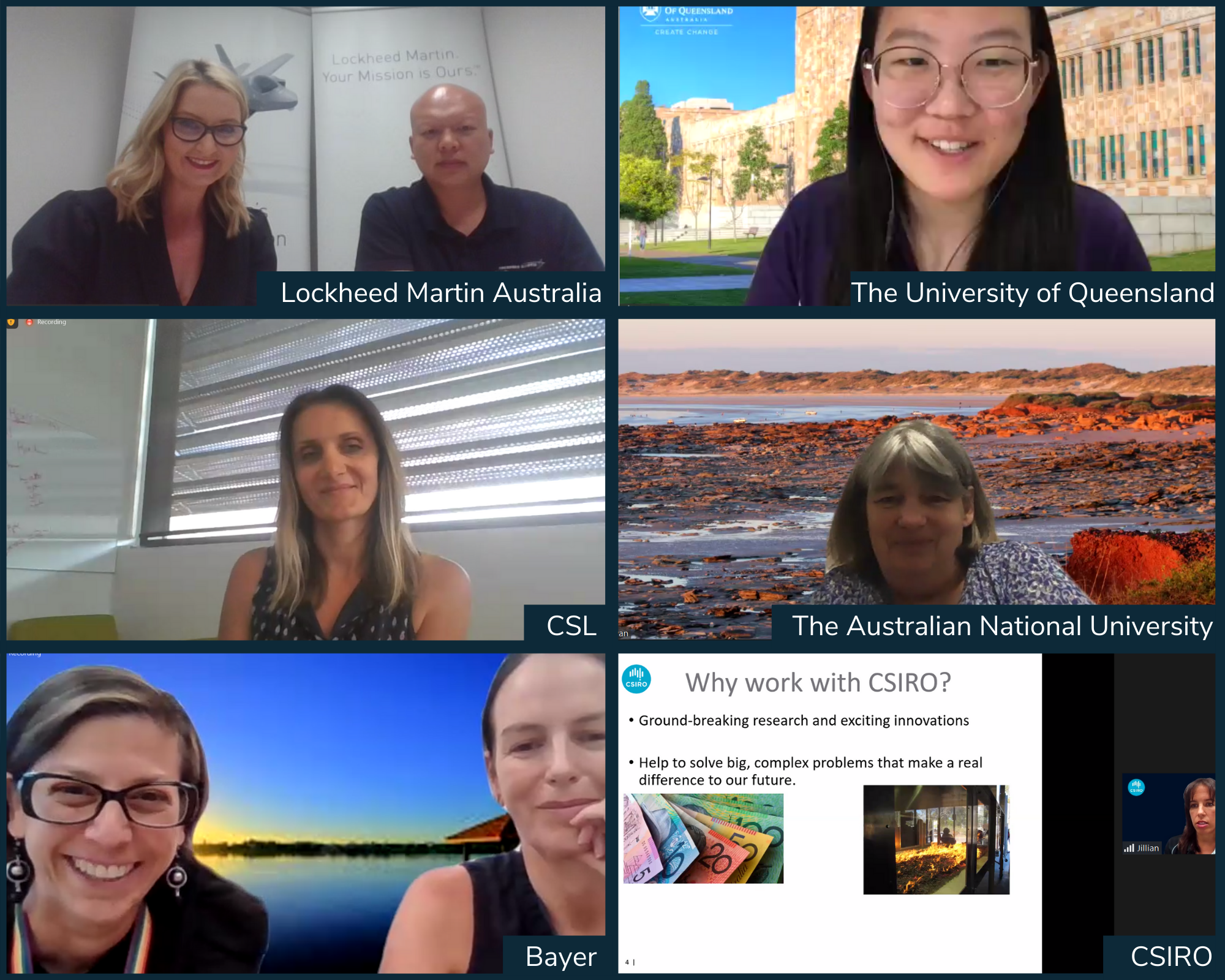 Amanda DeDear, HR Talent Solutions Manager from LMA highlighted the various pathways that participants aspiring to work for a leading aerospace engineering specialist company such as LMA can take.
"There is definitely more than one way people can join LMA, and it's not just through university options but also through vocational pathways as well."
ANU's Deputy Dean of Education, Associate Professor Anna Cowan, spoke about the ANU's course flexibility.
"We offer maximal flexibility in what you can do by combining degrees not as we design them but as you design them, with our flexible double degrees."
The day was filled with advice and tips to help participants prepare for their future. When an NYSF participant asked about the necessary qualities they should have when entering a STEM field, Jayden Weidemann from the UQ Future Students Team responded, "Critical thinking, the ability to question why and the need to get to the bottom line and find out."
There was more advice and interesting career paths with all their twists and turns shared on day 2, with presentations from University Partners; The University of Melbourne, Griffith University and UNSW, and Corporate Partners; ResMed, Defence Science and Technology Group (DSTG), and Defence Force Recruiting (DFR).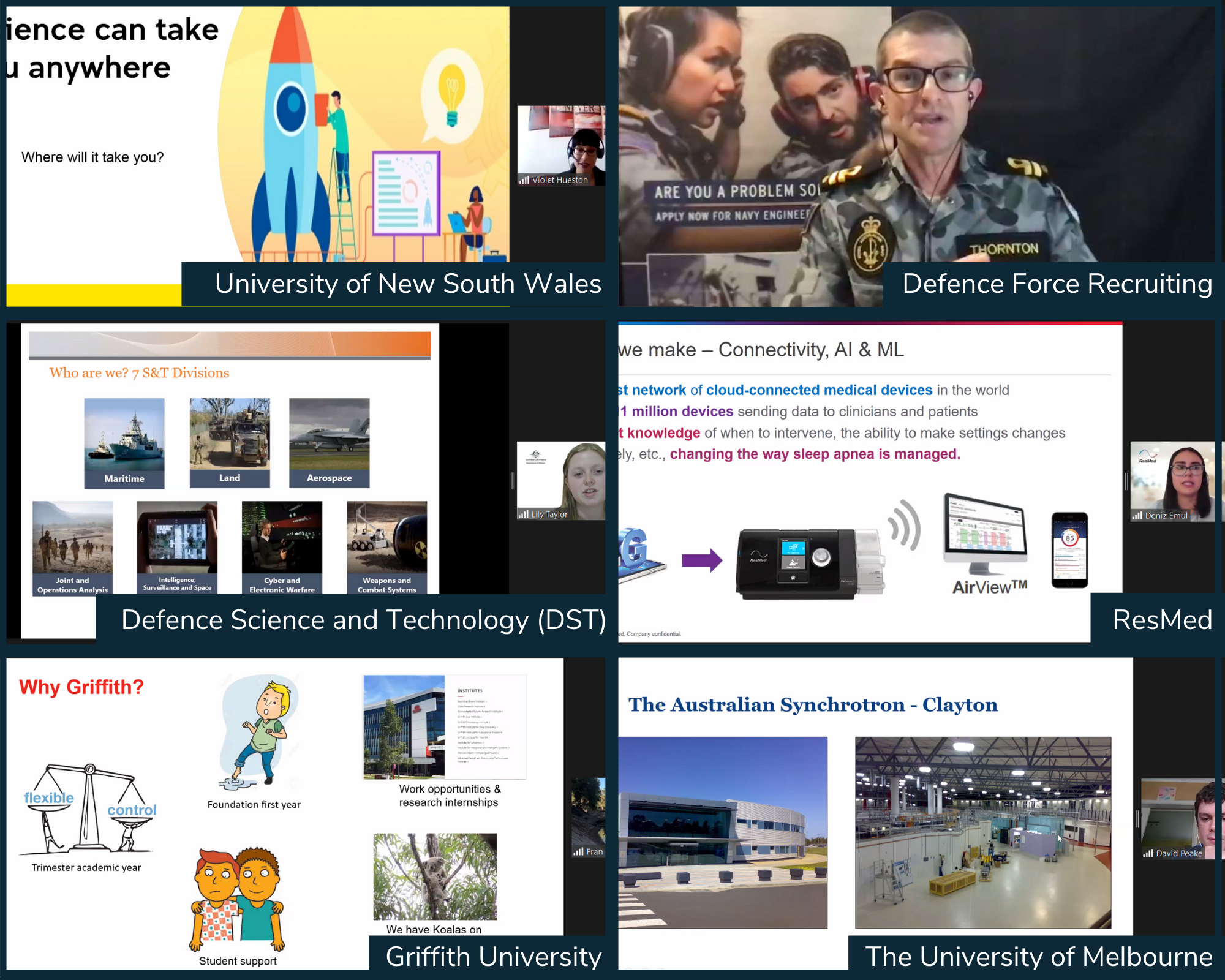 Partners offered a plethora of inspiring advice to participants, which followed along themes of keeping their options open, saying yes to every opportunity that arises, and most importantly knowing that their career path may not lead where they'd expected, which is the exciting thing about a STEM career!
Our participants developed an understanding of just how immense the opportunities with a STEM degree are and who knows, they may have even found their new career path! Here is some of the feedback we received from participants.
"I was particularly interested in Bayer and CSL as they are fields that I hadn't considered before but very much interest me."
"I enjoyed the university speakers. Particularly because I am trying to work out which University I will attend in the future, especially within Victoria. However, I am being persuaded via NYSF to look into attending interstate universities."
"The presentations consolidated my views on the significance of STEM and also broadened me to different pathways of working in industry after tertiary education. Thanks to NYSF and the partner organisations for organising such informative presentations."
Thank you to all NYSF Partner representatives who volunteered their time to speak to the 2021 NYSF Year 12 Program participants, it truly is a valuable and often life-changing session!