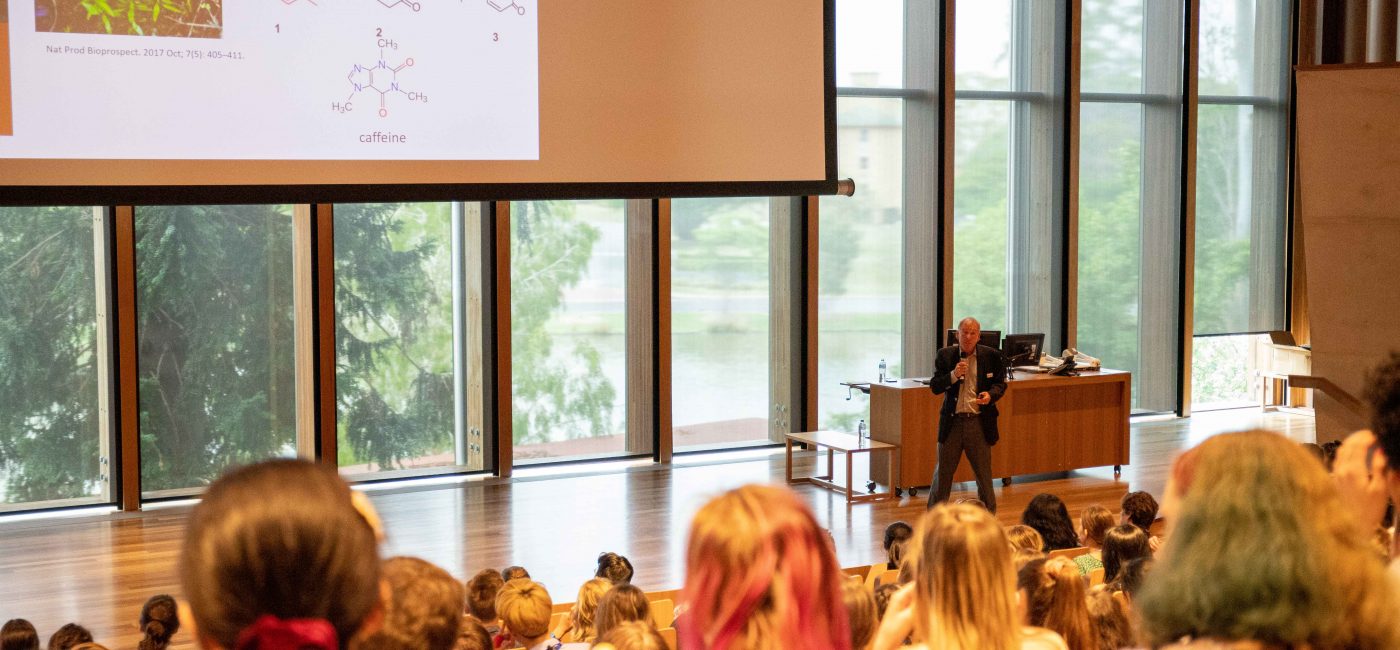 Hearing from these four speakers and seeing their passion and motivation firsthand was an incredible way to officially open Session B of the NYSF 2020 Year 12 Program
The University of Queensland's beautiful Advanced Engineering Building hosted the Session B Opening Ceremony for the NYSF 2020 Year 12 Program, marking the official start of session. Four guest speakers welcomed students with their insightful ideas, followed by an enlightening introductory lecture.
The students were first welcomed by NYSF Board member and NYSF 1986 alumna Mrs Sally-Ann Poulsen, who spoke fondly of her time at the NYSF and thanked the generous partners who support the program. Not unlike the 12,000 NYSF alumni, she arrived with no idea of what to expect but left finding it to be an undoubtedly transformative experience.
"I don't want to start without acknowledging the bushfires that have continued across the country. But when I think about that situation and then I put it in terms of what the National Youth Science Forum is, which is to engage with young Australians to teach them to recognise the importance of Science, Technology, Engineering and Mathematics to the future prosperity of Australians both in the present and in the future; it makes me proud to be a part of this organisation."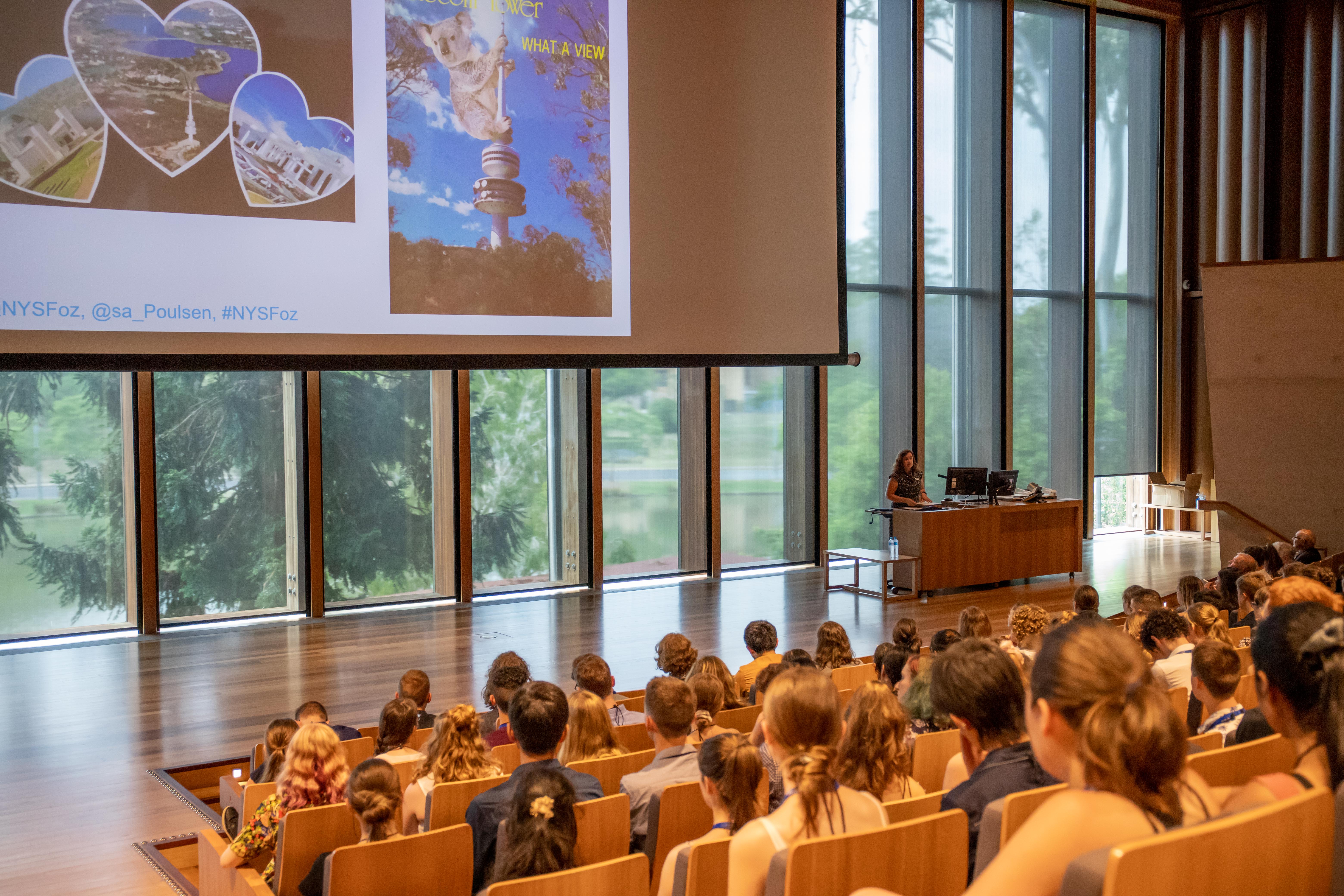 Professor Aidan Byrne, Provost for the University of Queensland, followed by sharing his belief in the forum and its capability to be extraordinary. He highlighted its ability to connect thousands of young people with STEM and Rotary Australia in a truly positive way, gives it a longevity which he believes to be second to none in the country.
"You come into an institution, an environment like this from school, not really knowing what the science is all about, having some sense that it is exciting. But as you go further and further you will see through engagement with events that you go to, just how far it can take you… it is truly exciting, and it can be truly be transformative."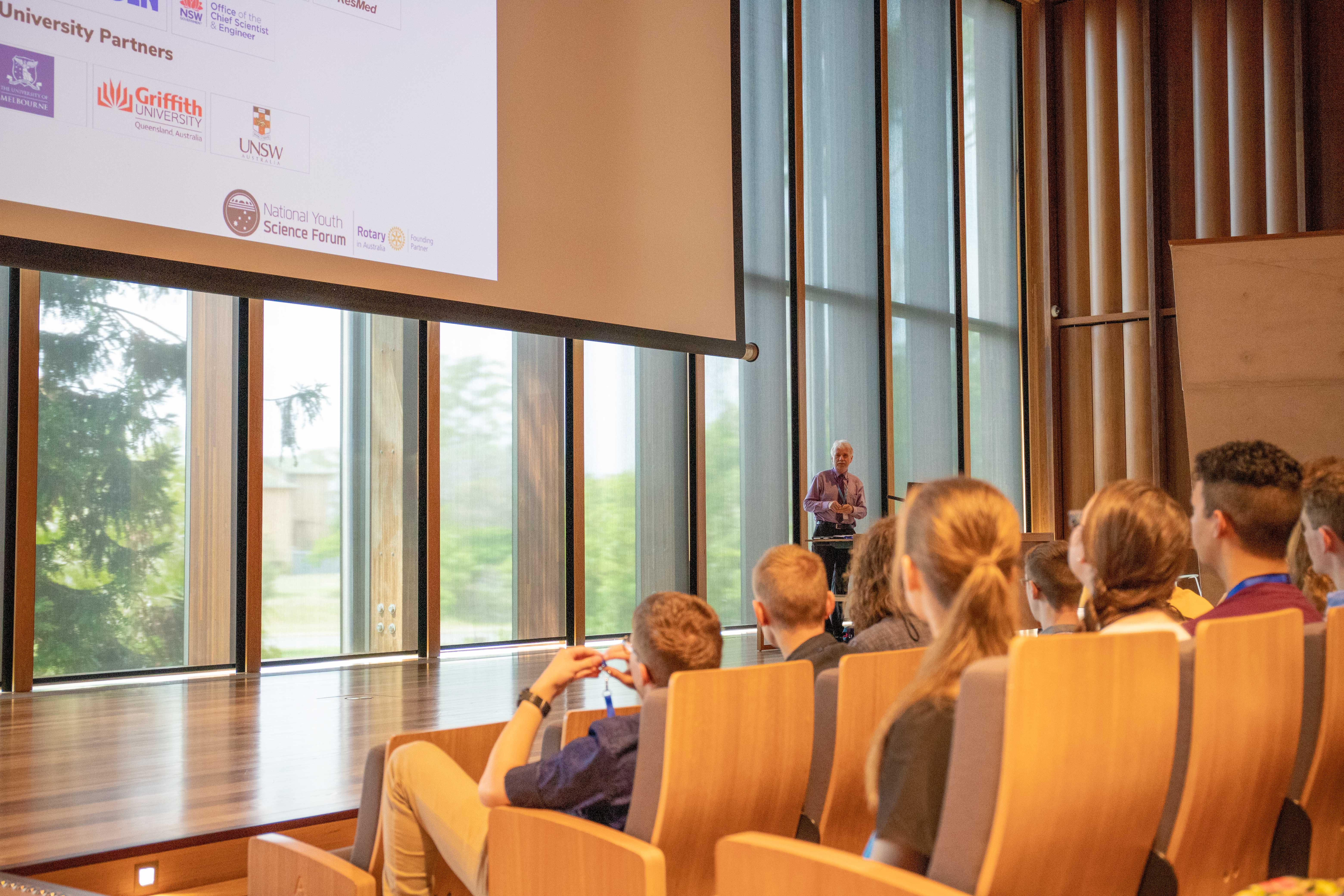 Without the support of Rotary Australia throughout the years, the NYSF wouldn't have evolved into the highly impactful experience it is today. Rotary District 9600 Chair, Mr Tino Babao spoke about the phenomenal work done by the organisation and its involvement in founding the NYSF. He went on to thank Professor Byrne for his contribution in bringing Session B to Brisbane.
"I'm really happy to be here and I'm really proud of you all being here today"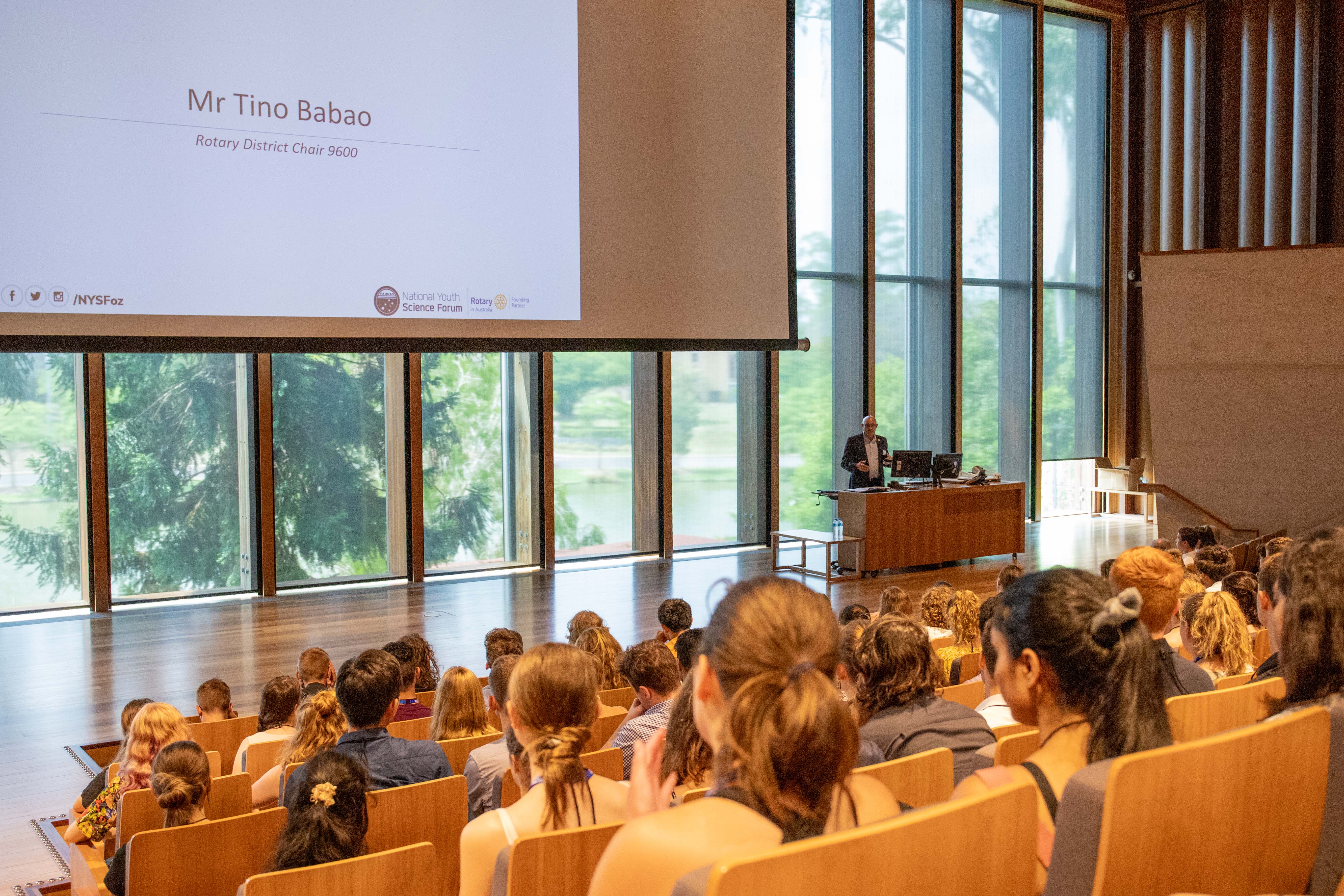 Queensland's Chief Scientist Professor Paul Bertsch, drew the ceremony to a close with an inspiring introductory lecture where he spoke of embracing life-long learning. He described his career journey; how studying the relationship between the lycopod plant group and earthworms triggered an interest in soil science, which lead him down a pathway of countless opportunities.
Focusing on his interdisciplinary work with other scientists, he spoke about working in Chernobyl studying the effect of nuclear radiation on the soil, his connection to the Human Genome Project (1990-2003) and his involvement in pioneering the development and application of micro-focused beam lines in a synchrotron.
"Science literacy is key to maintaining a healthy society... as a society we face enormous challenges, but they bring with them enormous opportunities for the next generation of young scientists"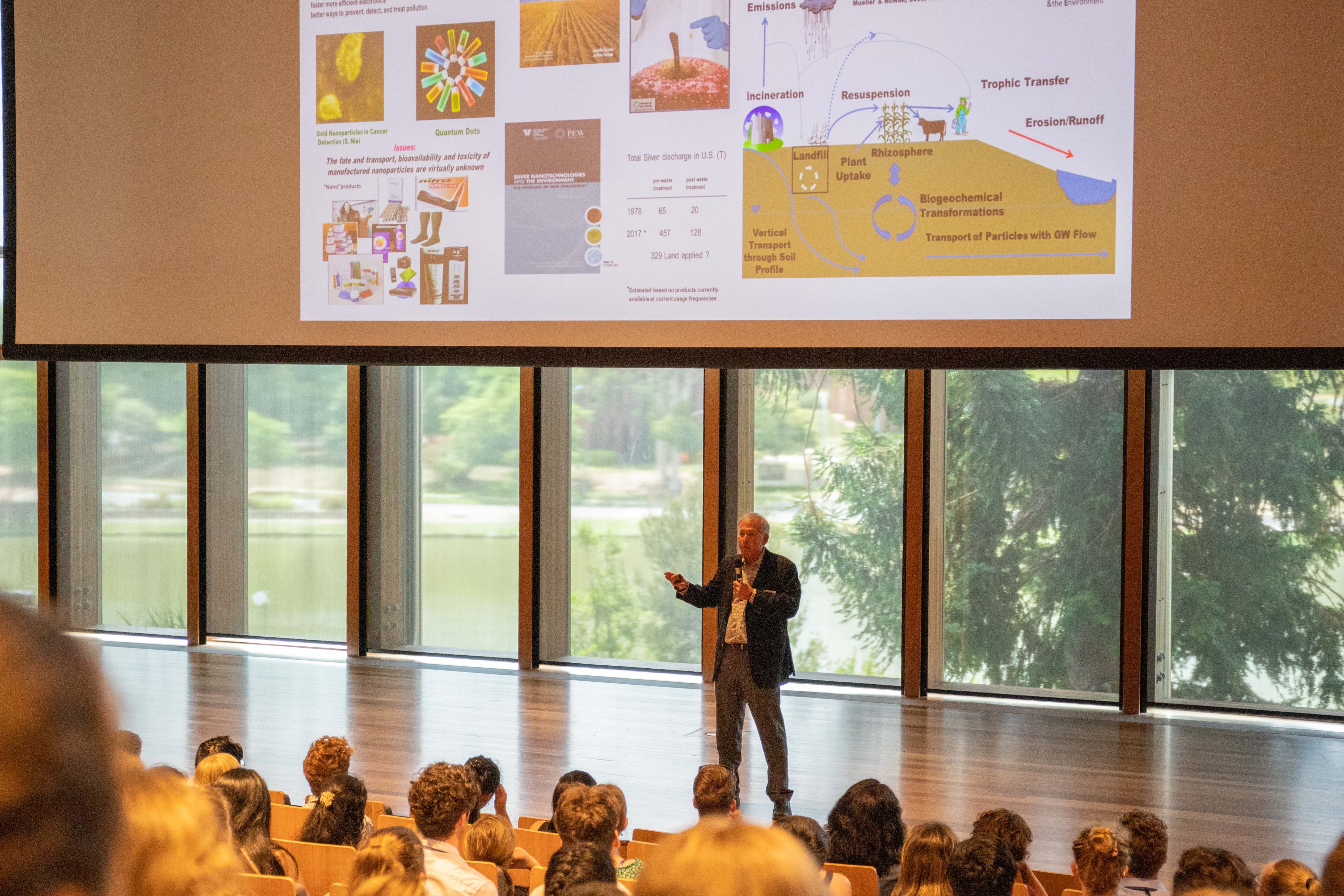 Professor Bertsch's lecture focused on grand challenges faced by science and the value of sustainability on an ever-urbanising planet. He explained that the consensus of recent studies indicate the reduction of emission rates to near zero is almost impossible, and that nuclear is integral to decarbonisation. A lecture shaped around the theme of progress, he wrapped up the Opening Ceremony by reminding the students of the value of being impact driven, being able to think critically and of the importance of collaboration; necessities to solve these grand challenges.
His years of experience and passion for the field enabled Professor Bertsch to receive questions from the students following his lecture, and they showed a keen interest in his work and the values he communicated to them. A student asked what he wants to have on science? Professor Bertsch's response was simply:
"I don't want to impact science so much, but I want to achieve impact from science"
Hearing from these four speakers and seeing their passion and motivation firsthand was an incredible way to officially open Session B of the NYSF 2020 Year 12 Program and provided the students with great insight into the vast potential their futures could hold.
Written by Maddy Thompson, Session B Communications Intern