"My advice is to never stop learning. Keep asking questions and surround yourself with others who want to do the same."
Without volunteers, the National Youth Science Forum would simply not run. With Session B kicking off in Brisbane, it was nice to spend time chatting with two returning volunteers, Griff and Peter, whose passion for the NYSF is palpable.
Trip down memory lane
Griff Rose is a retiree from Canberra however he will always describe himself as an Electrical Engineer. Passionate about his career past and a continued love for science, Griff is a big supporter of the NYSF.
Griff attended the University of Queensland in 1974 and finds being back on campus for the NYSF a trip down memory lane. This year is Griff's third time volunteering at the NYSF and he said that he values giving his time to help the next generation.
"The energy of these young people is boundless," shared Griff.
"In the past, I have found the NYSF activities just as valuable as the participants. I return home recharged and absorb the love of life that young people possess," added Griff.
Griff's role as a volunteer includes helping out with first aid. Griff is also a friendly face for participants to see if they need any reassurance, in fact, many students are greeted by him in the mornings coaching them on their runs!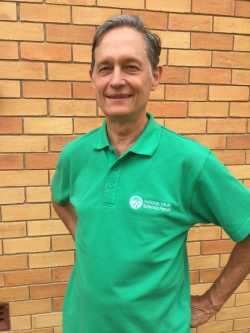 Agriculture has my heart
Peter Long is a Rotarian from Yeppoon in Queensland, and this is his second time volunteering at NYSF. Peter worked for 35 years for the Department of Agriculture and possesses post-graduate studies in science, studying at UQ Gatton campus.
Peter now juggles an agricultural consulting business, is treasurer for the Capricorn Coast Rotary Club and also loves to tinker with wood in his spare time.
For the Department of Agriculture, Peter valued mentoring staff and new employees throughout his career, and took it upon himself to develop others.
"I really enjoyed guiding people in building rewarding careers and training others," said Peter.
Volunteering with the NYSF allows Peter to continue this love by guiding young people at the NYSF, particularly in his passion area of agriculture.
"It is wonderful to go on trips with students and share their love of science."
Whilst Peter also is on hand for first aid, he too enjoys chatting to students and broadening their minds on the importance of agriculture.
"My advice is to never stop learning. Keep asking questions and surround yourself with others who want to do the same," said Peter.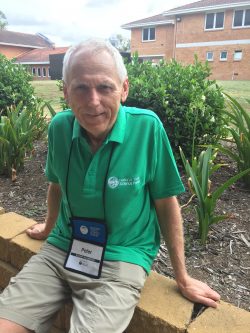 Thank you to Griff, Peter and the remaining volunteers. We applaud you!