NYSF STEM CHALLENGE: NET ZERO BY 2050
Appy now! Are you a Year 11 student in Australia or know someone who is? Early bird applications for the 2023 NYSF Year 12 Program are open and close 24 July 2022. Apply now to challenge yourself in 2023 and be immersed in science, technology, engineering and maths experiences (STEM) from all over Australia!
The National Youth Science Forum (NYSF) connects young Australians with study, training and career options in STEM. Our NYSF Year 12 program gives participants a unique opportunity to network, brainstorm, and critically tackle some of the world's toughest problems.
The second STEM Challenge for the 2022 NYSF Year 12 Program was set by Nobel Laureate and Vice-Chancellor of the Australian National University, Professor Brian Schmidt AC FRS FAA with winners going on to be presented to the Prime Minister through the National Science and Technology Council.
IN 100 WORDS OR LESS, WHERE SHOULD AUSTRALIA INVEST MONEY NOW, TO FILL THE 15% GAP IN EMISSIONS REDUCTION IN THE TECHNOLOGY ROADMAP TO NET ZERO GREENHOUSE GAS EMISSIONS BY 2050?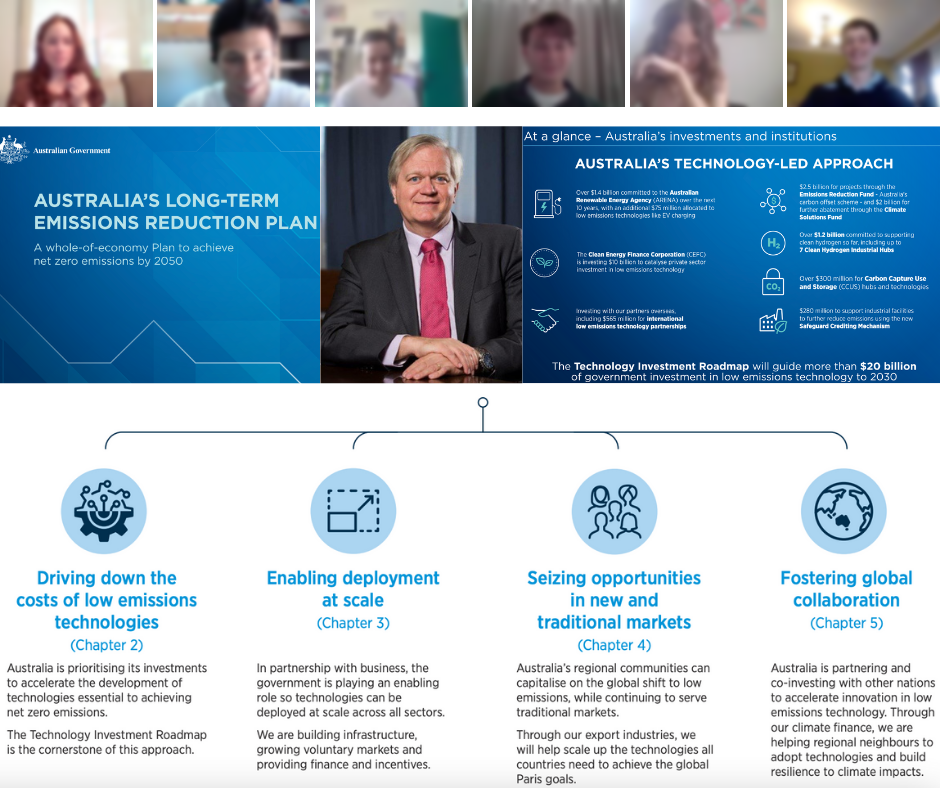 NYSFers had just over two weeks to work together in teams and pitch their innovative ideas to solve this tough challenge using innovative STEM ideas.
And we were impressed!
NYSFers came together from around the country and worked collaboratively to come up with innovative solutions to Professor Schmidt's challenge and covered everything from new nuclear energy sources to microalgae farming to artificial photosynthesis!
Participants judged each other's submissions to narrow down the many entries to a People's Choice Top 10. Prof Schmidt and Australia's Chief Scientist, Dr Cathy Foley AO PSM FAA FTSE, then selected the 5 most impressive ideas to present to the Prime Minister through the National Science and Technology Council.
Professor Schmidt and Dr Foley took great pride in selecting the winning pitches and reflected on the incredible difficulty of the challenge, but the equally incredible quality of submissions.
"The idea that our youth can identify and create ideas to solve a major challenge is good news for our future. I was impressed with the breath of creativity and inventiveness in how NYSF participants responded to the challenge we gave them this year. New technologies to address climate change are urgently required and we need everyone to realise they each have a role to play – whether they are creating the new tech, starting a business to manufacturing cool tech, or just adopting its use in their personal or work lives. 2022 NYSF alumni showed us they have what it takes," said Dr Foley.
"It was wonderful to see our future scientists so engaged with how research can help Australia meet its obligations on Climate Change Prevention. The participants identified areas of great research opportunities including novel carbon sequestration, creation of renewable liquid fuels, and sources of large-scale energy generation. I'm hoping we can find ways to support these types of projects in the years ahead in Australia – they are the type of new ideas that will help us live in a prosperous and sustainable world," said Professor Schmidt.
We can announce the Top 5 submissions of the 2022 NYSF Year 12 Program STEM Challenge – Net Zero by 2050. These submissions have already been presented in poster form at the Australian Parliament House in March and will gone to the National Science and Technology Council later this year.
Top 5 (in no particular order):

Artificial photosynthesis – Chloe Beruola
The solution to reaching net zero emissions by 2050 is investing in technology that mimics natural photosynthesis. Photosynthesis is the most effective way of converting CO2 emissions into more useful forms. This technology already exists, however is not widely known. The technology uses sunlight energy to convert carbon dioxide into high-value compounds such as ethylene, methanol, and ethanol. This will be most useful in the larger cities in Australia, where there is a large lack of plants to naturally photosynthesise the amounts of CO2 emissions being produced by all the vehicles constantly swarming the city.
Microalgae: an extremely effective carbon sink – Sophie Castles
If autotrophic microalgae farms were placed in close proximity to power plants, effective direct carbon air capture systems could be designed to offset the CO2 to such microalgae farms. Algae, supported by AI bioreactors, is approximately 400x more effective than trees when sequestering CO2 from the atmosphere. For a 200-megawatt-hour natural gas power plant, a 14.5 km2 algae farm (vertically farmed in unused arid land) is estimated to capture 80% of the plant's CO2. Microalgae is a cheap, manageable, and profitable solution as it can be harvested for biofuel, food, fertiliser, desalination and water purification.
Thorium-based energy – Momo Zhou, Georgia Watson
Disasters like Chernobyl have given nuclear energy an unjustified image. Drastically safer technology exists in thorium, an alternative to uranium. Thorium is not solitarily fissile, making it easier to control and therefore less likely to result in disasters. Furthermore, per ton, thorium produces 35 times more energy than uranium. We are uniquely suited to thorium-based energy as Australia holds one-fifth of all thorium! Also, when used in molten salt reactors, energy is created without the need for water cooling (the salt acts as coolant), perfect for the arid Outback. Thorium-based energy is still in its infancy. Investing in this promising technology now could put Australia at the forefront of clean energy.
Mushrooms! – Ayman Miazi
Mushrooms will be integral in a sustainable future, and investment will help reach net zero in an economical way. Integrated into carbon capture and agriculture, they can sequester up to 75% of all carbon sequestered and provide soil nutrients for less fertilizer-intensive farming. They can be a high protein, low carb food crop that can be grown from agricultural waste, and the waste they produce can be used for fertiliser, biogas, and other foods. There are endless possibilities in using mycelium as insulation or construction material, furniture, and packaging. No doubt, mushrooms will aid us in reaching net zero.
CO2 to sustainable fuel – Joshua Dodd, Rebeccah Leishman
Australia needs to invest in creating carbon-capturing machines for planes to reach net zero by 2050. In 2019, tourism accounted for $60.8 billion, 3.1% of the Australian GDP. Out of this, aviation added $10.73 billion, roughly 17% of all tourism profits. The GACA model of 2019 estimated total emissions from aviation to be 920 million tonnes (Mt) of CO2, out of this total, Australia contributed 23.8Mt CO2 . Through investing in projects such as the 'Zenid initiative', CO2 is directly captured and is changed into sustainable aviation fuel. Australia should either invest or build these plants to sustainably fuel the aviation economy.
THANK YOU TO ALL THE ENTRANTS AND CONGRATULATIONS TO THE TOP 5 TEAMS!
Keep an eye on your email throughout the year for an update on what the Prime Minister thinks of your ideas… Watch this space!
Full list of entrants:
Lorenzo Scarpellino
Bryson Millichamp
Brendan Pospischil
Natasha Muttoo
Rosco Jones
Eve Tsolakidis
Joshua Dodd
Rebeccah Leishman
Chloe Bertuola
Emily Ashford
Tessa Chancellor
Justin Chew
Marco Norman
Trisha Chari
Sophie Castles
Liah Jones
Isabella Coombs
Wendy Shan
Nicole Thwaites
Aadvika Singh
Heramb Dayananda
Hamish Pearce
Tobias Gautam Devilla Cherukuru
Taylor Randall
Sophie Johnstone
Eddie Rowlands
Thomas Vasilio
Sean Sargeant
Tavjot Singh
Ayman Miazi
Toby Prothero
Lily Wilson
Amy Van der Linden
Monique Andjelic
Linda Lin
Zhuominna Ma
Piyumi De Zoysa
Isabelle Douglas
Natpalin Lertprasertwech
Elizabeth Ween
Pragnya Gupta
Lara Miletic
Oliver Payne
Sahar Alzahrani
Momo Zhou
Georgie Watson
Ellen Keogh
Sienna Spencer
Mannix Showell
Mac Rogers
Inika Weber
Nat Teasdale
THE 2022 NYSF YEAR 12 PROGRAM STEM CHALLENGE – NET ZERO BY 2050
In December, the Commonwealth Government put out a document entitled Australia's Long-Term Emissions Reduction Plan: A whole-of-economy Plan to achieve net zero emissions by 2050. This document details how Australia will achieve its goal of net zero emissions by 2050.
On page 51, it is shown that Australia must come up with new ideas (equivalent to 10-20% of our current emissions budget) that go beyond the current technology roadmap.
How do we create infrastructure to support the deployment and execution of Australia's critical pathways to net zero by 2050? What do these pathways look like, and where/how will they be deployed?
Low emissions technology
Energy storage
Electrification of major sectors
Energy efficiency
Alternative fuel sources
Carbon sequestration
Land-based solutions
Emerging technologies
The answers to these questions, we do not fully understand yet. However, we cannot continue our current emissions trajectory if we are to meet our goal of net zero by 2050. This requires novel thinking, fresh ideas, and innovative solutions to guide Australia to a prosperous and sustainable future.
That is why we call upon Australia's youth and future STEM leaders for help!
IN 100 WORDS OR LESS, WHERE SHOULD AUSTRALIA INVEST MONEY NOW, TO FILL THE 15% GAP IN EMISSIONS REDUCTION IN THE TECHNOLOGY ROADMAP TO NET ZERO GREENHOUSE GAS EMISSIONS BY 2050?