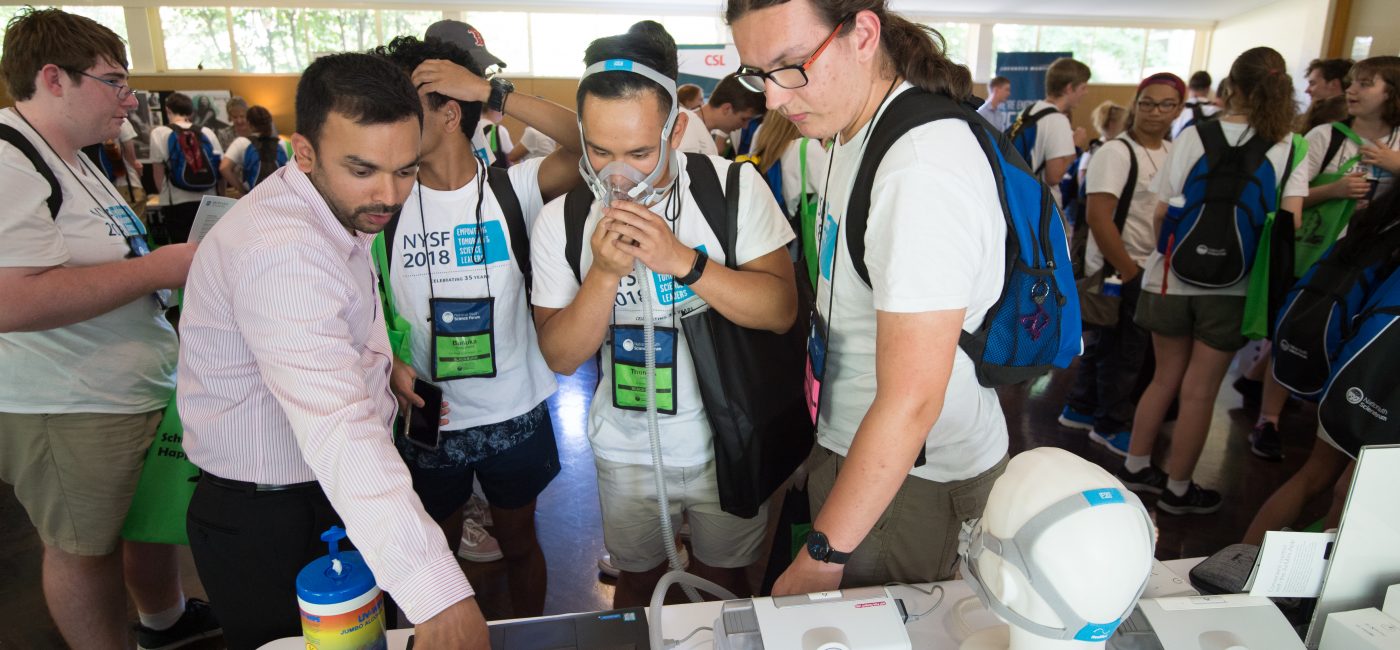 "We gain so many benefits from diversity in our workplace, and managing that means continuing to bring younger generations into the mix and truly valuing their unique perspectives, skills, and contribution." Liam Holley, Lead Research Engineer, ResMed.
ResMed changes lives with award-winning medical devices and cutting-edge cloud-based software applications that better diagnose, treat and manage sleep apnea, chronic obstructive pulmonary disease (COPD) and other chronic diseases.
First founded in 1989, ResMed has since grown to be a global leader in connected care, with more than 2 million patients remotely monitored every day.
ResMed's vision is to be the global solutions leader for sleep-disordered breathing (SDB), COPD and other major chronic diseases with a mission to improve the quality of life for patients, prevent progression of chronic diseases, and reduce overall healthcare system costs.
The company was born out of something of a revolution in sleep medicine, when Colin Sullivan's research at Sydney University in the 1980's showed that what was at the time a little known disease, Obstructive Sleep Apnea (OSA), could be treated with Continuous Positive Airway Pressure (CPAP).
OSA is a condition where the respiratory airways of a patient either partially or completely obstructs during sleep causing the patient to wake up gasping for air potentially hundreds of times throughout the night. It completely disrupts sleep and exerts enormous stress on the sufferer. It's now an active area of research to understand the strong links between sleep apnea and the increased risk of heart disease, diabetes, stroke, insomnia, cognitive impairment, a host of mental health issues, as well as daytime sleepiness, and traffic accidents.
CPAP is a therapy that consists of a device that provides air pressure to the nose or mouth of a patient in order to hold their airways open throughout the night. This enables the patient to get a more normal type of sleep, and has been shown to reduce the risk of many of the comorbid conditions as well as improving quality of life - not just for the patient, but also for the people around them. The treatment usually completely eliminates snoring too.
ResMed is now a global leader in the manufacturing of OSA therapy and diagnostic equipment like CPAP machines, and have also expanded into treating other respiratory disorders with products such as mechanical ventilators and oxygen delivery systems.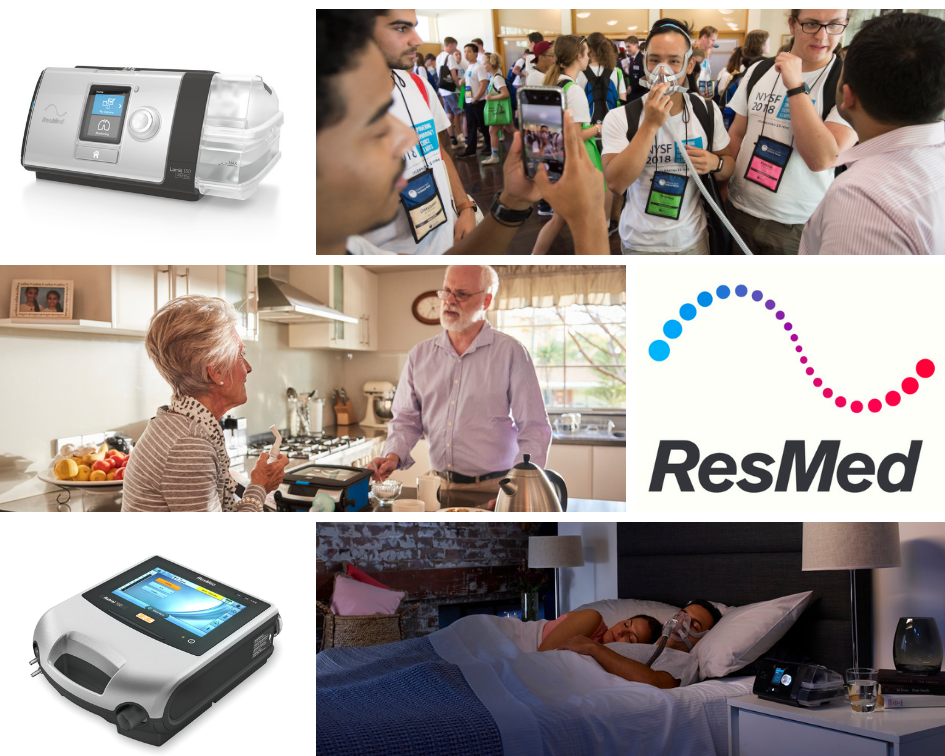 We asked Lead Research Engineer, Liam Holley a few questions about ResMed.
Why is research and innovation important to ResMed?
"Striving to keep ahead of competition is crucial to maintaining our leading position. For example, we now have the most connected medical device in the world, and that enables us to gather data about how patients are being treated and helps healthcare providers manage disease in a way that was almost unimaginable a decade ago."
"Innovation related to scientific disciplines has been critical to our success. We operate at the intersection between research and technology development, engineering, manufacturing, big data analytics, and medical science. Thanks to continued visionary thinking we are now in a very exciting and unique position not just for treating sleep apnea and respiratory diseases, but also for understanding the impact on patients and global healthcare. There is an enormous flow-on effect to making healthcare more efficient, both economically and at societal level. We are only at the beginning of a long journey."
What type of people work for ResMed?
"The more than six thousand people who work at ResMed are bright and enthusiastic, and we are going to continue to need people like this to carry out our mission. We recently collaborated with some great scientists to develop a model to estimate the global prevalence of sleep apnea, and we discovered that the disease effects nearly one billion people worldwide! It's very rewarding knowing that the work you do can have real impact on so many lives across the globe. We are going to need people who are excited to solve the problems we face and curious to find the ones we don't even know about yet."
"Young people are enormously important to the future of ResMed, we are going to continue to need to employ and collaborate with bright people interested in working in science and engineering. Putting the best people into positions where they can have maximum impact takes years of education and training. Raising awareness early on for how rewarding a career in science can be is a powerful influence for the right person. We want to attract these types of people to consider a career that involves using science to benefit the world we live in. Early on our founder Peter Farrell instilled an attitude into the company of employing the best people and giving them the tools they require to do their job."
"We gain so many benefits from diversity in our workplace, and managing that means continuing to bring younger generations into the mix and truly valuing their unique perspectives, skills, and contribution."
Why does ResMed support the NYSF?
"Supporting the National Youth Science Forumis a great way for us to share what we do with an amazing group of students at a time in their lives when they are well placed to consider what sort of career they might like to have, and how they could enhance their options with the next steps in their education and work experience."
"If you'd like to know more ResMed often sends representatives to attend NYSF Partner Days where students can learn about their work. ResMed also hosts site visits to their research, development and manufacturing facility in Bella Vista, Sydney. Keep an eye out for these if you are interested."
"For those who go on to study engineering ResMed has an internship program for engineering students, and a graduate program for engineering graduates. They are often looking for graduates of engineering and other degrees for various roles. They have a diverse range of skills in the company and offices and collaborations with many research and commercial organisations all around the world. It's an exciting and rewarding place to work. "
Is there any current research and/or projects you would like to tell us about?
"ResMed is involved in all sorts of exciting research and commercial work. We run and collaborate in clinical trials all around the world. This is a traditional way we have advanced medical science and demonstrated effectiveness of our therapies. We gain great insights into disease and treatment from data our devices collect monitoring things like usage hours and respiratory patterns. We have recently announced a joint venture with Verily – the life sciences arm of Google's parent company to study the health and financial impacts of undiagnosed and untreated sleep apnea," says Liam
If you would like more information about ResMed go to their website – www.resmed.com
The NYSF acknowledges the financial and strategic support of ResMed and all of our funding partners and thanks them for their commitment to the development of Australia's future. If you would like to find out more about how to become a NYSF Partner click HERE.