"Science is so important to the future of society, and motivating young people to study science is vital."
Over the next few months, the National Youth Science Forum (NYSF) will feature our Partner organisations.
Funding from the corporate, research, and university sectors is vital to ensure financial sustainability for the NYSF and our ability to meet our mission of delivering transformative STEM experiences to young Australians.
Beyond financial support, our partners provide students with information, access and insights into the worlds of tertiary study, research, and the many employment opportunities and career pathways that are evolving in our rapidly changing society. Many alumni go on to study at and work for these organisations.
Monash University is our first featured partner.
Monash University in Melbourne is one of Australia's largest universities with an international reputation for research and teaching excellence. Ranked in the top one per cent of the world's universities, Monash is ranked the highest in engineering and technology, and chemistry.
The Faculty of Science is a key contributor to the university's research reputation, and home to some of the world's best scientists. In recent years the Faculty has undergone a period of great change which has resulted in many outstanding achievements, including enhanced learning and teaching spaces, state-of-the-art laboratories, and a dynamic new Science precinct.
Monash research is at the forefront of innovation and discovery. From environmental sustainability and global biodiversity, to human, animal and plant health, and from the development of transformative new materials and technologies, to a deeper understanding of the building blocks of our planet, their researchers are tackling issues of global significance.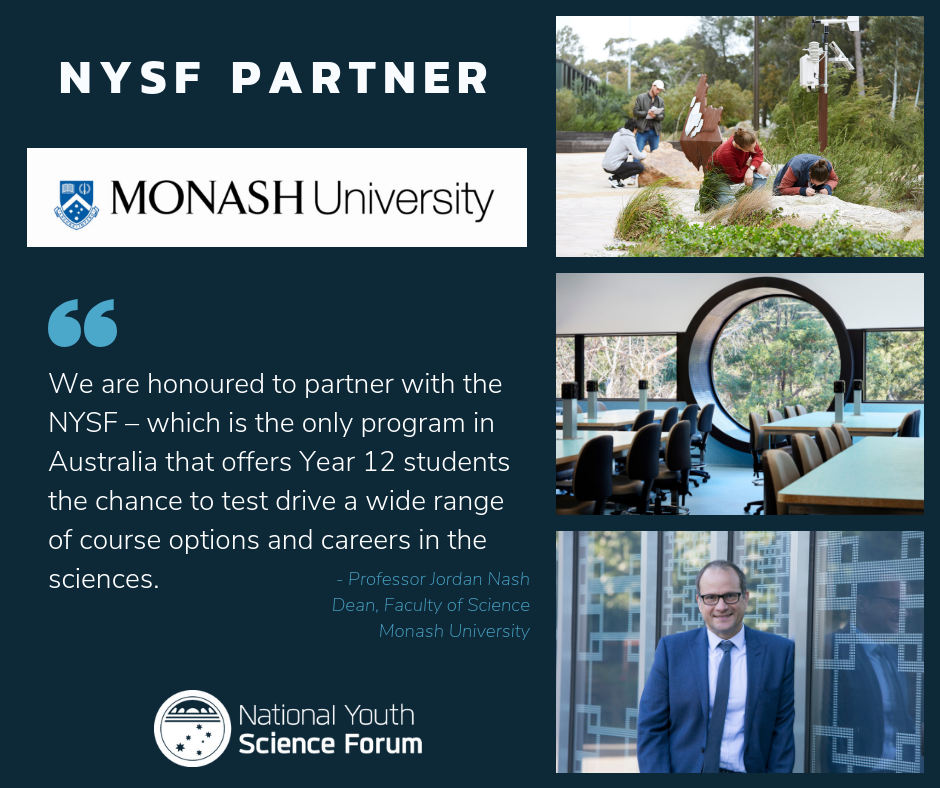 Professor Jordan Nash, Dean, Faculty of Science says there are many options for students wishing to study STEM at Monash.
"One of our exciting new degree offerings will be a truly interdisciplinary advanced program in Applied Data Science. We will offer a degree that combines Science and IT, and a broad range of majors across all faculties in Monash. We have developed this course to meet the needs of graduates and employers to deal with the many new sources of data and information that industry and government now have to cope with to make informed scientific judgements on the meaning of the data."
"We also recognise the importance of industry-based experience and knowledge to prepare our students for the future. We offer internships, industry and research projects and the opportunity to build employable skills with a work-related unit designed specifically for Science students. During our annual Science Industry Week, we host over 30 industry representatives that provide our students the opportunity to meet with employers, discover the available graduate programs and hear about the diverse range of careers in the different Science disciplines," he said.
Visit the Monash website for further information on industry engagement, and you can meet students undertaking an overseas internship HERE.
As a NYSF Partner, Professor Nash, sees the value in Monash University supporting the NYSF Year 12 Program.
"Science is so important to the future of society, and motivating young people to study science is vital. One of the ways that young people can be engaged in science is by taking part in the National Youth Science Forum (NYSF). We are honoured to partner with the NYSF – which is the only program in Australia that offers Year 12 students the chance to test drive a wide range of course options and careers in the sciences," says Professor Nash.
The NYSF acknowledges the financial and strategic support of all of our funding partners and thanks them for their commitment to the development of Australia's future.
If you would like to find out more about how to become a NYSF Partner click HERE.