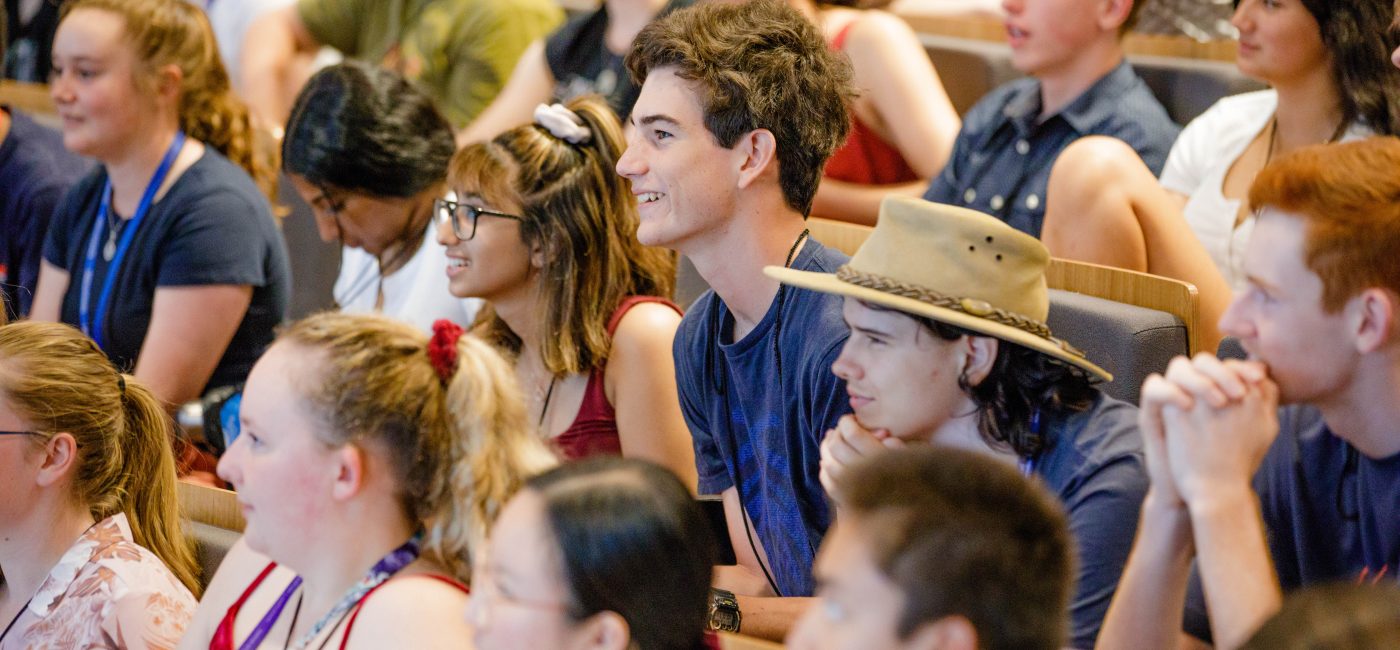 It seems like most of the facts our friends tell us these days start with "You know I was actually listening to this podcast and...". As we begin to settle into socially distancing and working or studying from home, what better time to download a new podcast and broaden your general knowledge, impressing your friends and family on that next zoom session.
We asked members of the NYSF/ NSSS Alumni Facebook Page and NYSF Instagram followers to recommend their favourite STEM or general knowledge podcast. With alumni located across Australia, working and studying across a range of STEM fields, they came up with quite the broad list of recommendations.
Please enjoy our NYSF Alumni Recommend - Podcast edition!
STEM Podcasts
A Piece of String- The podcast that brings together comedians and scientific minds to answer the biggest questions ever. Each person brings a question. Someone secretly has an answer. Before each answer is revealed, the cast try to figure it out.
Artificial Intelligence - Artificial Intelligence podcast is a series of conversations about technology, science, and the human condition hosted by Lex Fridman.
Breaking Maths - A podcast that aims to make math accessible to everyone, and make it enjoyable. Every other week, topics such as chaos theory, forbidden formulas, and more will be covered in detail.
Daniel and Jorge Explain the Universe - A fun-filled discussion of the big, mind-blowing, unanswered questions about the Universe. In each episode, Daniel Whiteson (a Physicist who works at CERN) and Jorge Cham (a popular online cartoonist) discuss some of the simple but profound questions that people have been wondering about for thousands of years, explaining the science in a fun, shorts-wearing and jargon-free way.
Darknet Diaries – An investigative podcast created by Jack Rhysider, chronicling true stories about hackers, malware, botnets, cryptography, cryptocurrency, cybercrime, and Internet privacy, all subjects falling under the umbrella of "tales from the dark side of the Internet.
Dr Karl Shirtloads of Science - Dr Karl's a curious optimist – a great combination for a science lover. Join him and his guests for weird facts, amazing conversation and remember, it's never too late for a happy childhood.
Getting Hot in Here - Your shortcut to understanding the facts of the climate crisis and what we can all do to make positive changes in our homes, workplaces and communities.
Health Report - Specialist and mainstream audiences alike rely on The Health Report to bring clarity to health and medical issues from social, scientific and political points of view.
In Defense of Plants - Plants are everything. They are also incredibly interesting. From the smallest duckweed to the tallest redwood, the botanical world is full of wonder. This podcast celebrates everything botany.
Infinite Monkey Cage - A BBC Radio 4 comedy and popular science series. Hosted by physicist Brian Cox and comedian Robin Ince, The Independent described it as a "witty and irreverent look at the world according to science.
MIT energy initiative - Conversations at MIT about the future of energy.
Neuroscientist Explains - Former Observer columnist Dr Daniel Glaser delves into topical culture as seen through the lens of a neuroscientist. Each episode, he takes one of his weekly columns and digs a little deeper, all with the help of former colleagues and neuroscientists from his research days.
Non-Peer Reviewed - Every episode the hosts cover recent science news, newly released science fiction movies, current research, and topical questions people have about science.
Ockham's Razor - A soap box for all things scientific, with short talks about research, industry and policy from people with something thoughtful to say about science.
Ologie with Alie Ward - Take away a pocket full of science knowledge and charming, bizarre stories about what fuels these professional -ologists' obsessions. Humorist and science correspondent Alie Ward asks smart people stupid questions and the answers might change your life.
SciShow Tangents - The lightly competitive knowledge showcase from the geniuses behind the YouTube series SciShow.
Skeptics Guide to the Universe - The Skeptics' Guide to the Universe is dedicated to promoting critical thinking and science literacy through insightful content and resources including an award-winning weekly podcast.
StereoChemistry - We're sharing the voices of chemists worldwide to tell stories that will surprise, inform, and inspire everyone who loves the central science.
StarTalk -Host Neil deGrasse Tyson chats with scientists and movie artists about how the science of the cosmos has amalgamated with popular culture.
The Anthropocene Reviewed - This podcast is all about the Anthropocene, being the current geological age in which human activity has profoundly shaped the planet and its biodiversity.
The Common Descent Podcast - Two paleontologists-turned-science-communicators chatting about the diversity of life: past and present!
The Modern Medic - A podcast produced by medics, for medics. The Modern Medic team brings together clinicians and first responders from all over the world to discuss topics in the tactical medical, austere and complex environments.
The Wholesome Show - Every week Dr. Will Grant and Dr. Rod Lamberts explore a topic from the world of research - and say the things you always wanted to say out loud in class!
This Podcast Will Kill You - This podcast might not actually kill you, but it covers so many things that can. Each episode tackles a different disease, from its history, to its biology, and finally, how scared you need to be.
This Week in Parasitology- Each week Daniel presents the symptoms and signs of an interesting case that he has investigated during his work, without identifying the infectious agent. Listeners are encouraged to send in their guesses to this weekly infectious disease mystery.
Trained by Nike - This podcast explores the cutting-edge of holistic fitness to help make you a better trainer and athlete.
GENERAL KNOWLEDGE & LIFE STORIES PODCASTS
99% Invisible - All the thought that goes into the things we don't think about — the unnoticed architecture and design that shape our world.
ABC Conversations - Conversations draws you deeper into the life story of someone you may, or may not, have heard about — someone who has seen and done amazing things.
Freakonomics - Freakonomics Radio tells you things you always thought you knew (but didn't) and things you never thought you wanted to know (but do) — from the economics of sleep to how to become great at just about anything
In Our Time -a live BBC radio discussion series exploring a wide variety of historical topics, presented by Melvyn Bragg.
No Such Things as a Fish – A weekly British podcast series produced and presented by the researchers behind the BBC Two panel game QI. In it each of the researchers, collectively known as "The QI Elves", present their favourite fact that they have come across that week.
Planet Money - The economy explained. Imagine you could call up a friend and say, "Meet me at the bar and tell me what's going on with the economy." Now imagine that's actually a fun evening.
Radiolab - Radiolab has been devoted to investigating a strange world.
Stuff you Should Know- If you've ever wanted to know about champagne, satanism, the Stonewall Uprising, chaos theory, LSD, El Nino, true crime and Rosa Parks, then look no further. Josh and Chuck have you covered.
The Way I Heard It - Tune in for a different take on the people and events that you thought you knew, from pop culture to politics, Hollywood to history… The Way I Heard It is a series of short mysteries for the curious mind with a short attention span.
Very Bad Wizard - A podcast featuring a philosopher (Tamler Sommers) and a psychologist (David Pizarro), who share a love for ethics, pop culture, and cognitive science, and who have a marked inability to distinguish sacred from profane.
Without Fail - Candid conversations with people who have done hard things: what worked, what didn't and why. Hosted by Alex Blumberg.