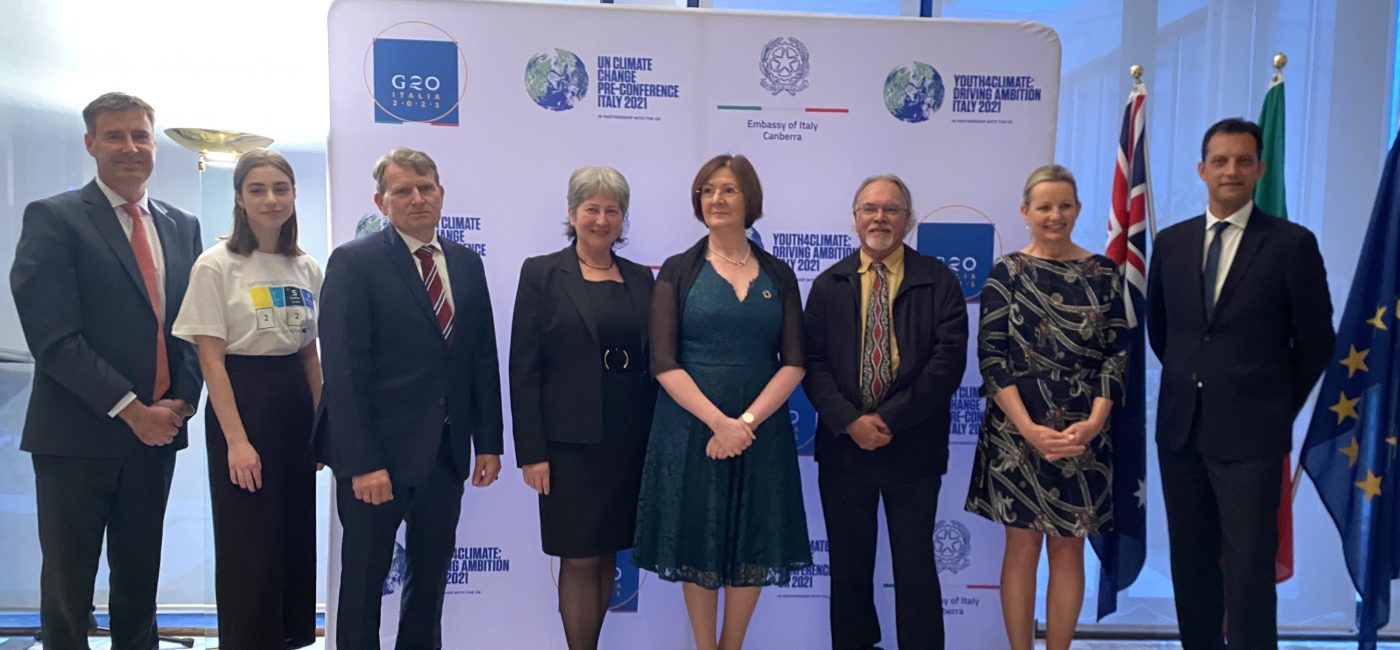 "Progress does not come from the ideas of one people, it follows from the accumulation of varying ideas and countless perspectives."
This week three of our Canberra-based 2021 Year 12 Program alumni were invited to attend a special reception hosted by the Italian Embassy in Canberra: Towards COP26: Building on ambition.
The National Youth Science Forum (NYSF) remains committed to providing international and global opportunities for young people despite the NYSF International Programs being on hold due to the Covid-19 pandemic. See below for another opportunity, NYSF alumni aged 18-29 may apply to attend the Youth4Climate: Driving Ambition Conference in Milan (all-expenses paid, COVID-19 permitting).
This week NYSF Alumni Naomi, Tristan and Rhea attended "Towards COP-26: Building on ambition" a special reception organised by the Embassy of Italy in Australia, in partnership with the British High Commission. One of the main events of the 2020-21 action plan developed by the two diplomatic missions in Canberra, the goal was to raise awareness about climate change by engaging a wide range of global stakeholders.
The reception was a precursor to the 26th United Nations Conference on Climate Change (COP-26) in Glasgow, Scotland, November 2021. COP-26 will address the challenges related to global warming and build on the achievements of the 2016 Paris Climate Agreement (COP21), the first legally binding international treaty to combat climate change.
The official part of the evening commenced with a heartfelt Welcome to Country by Ngunnawal Traditional Custodian, Mr Wally Bell.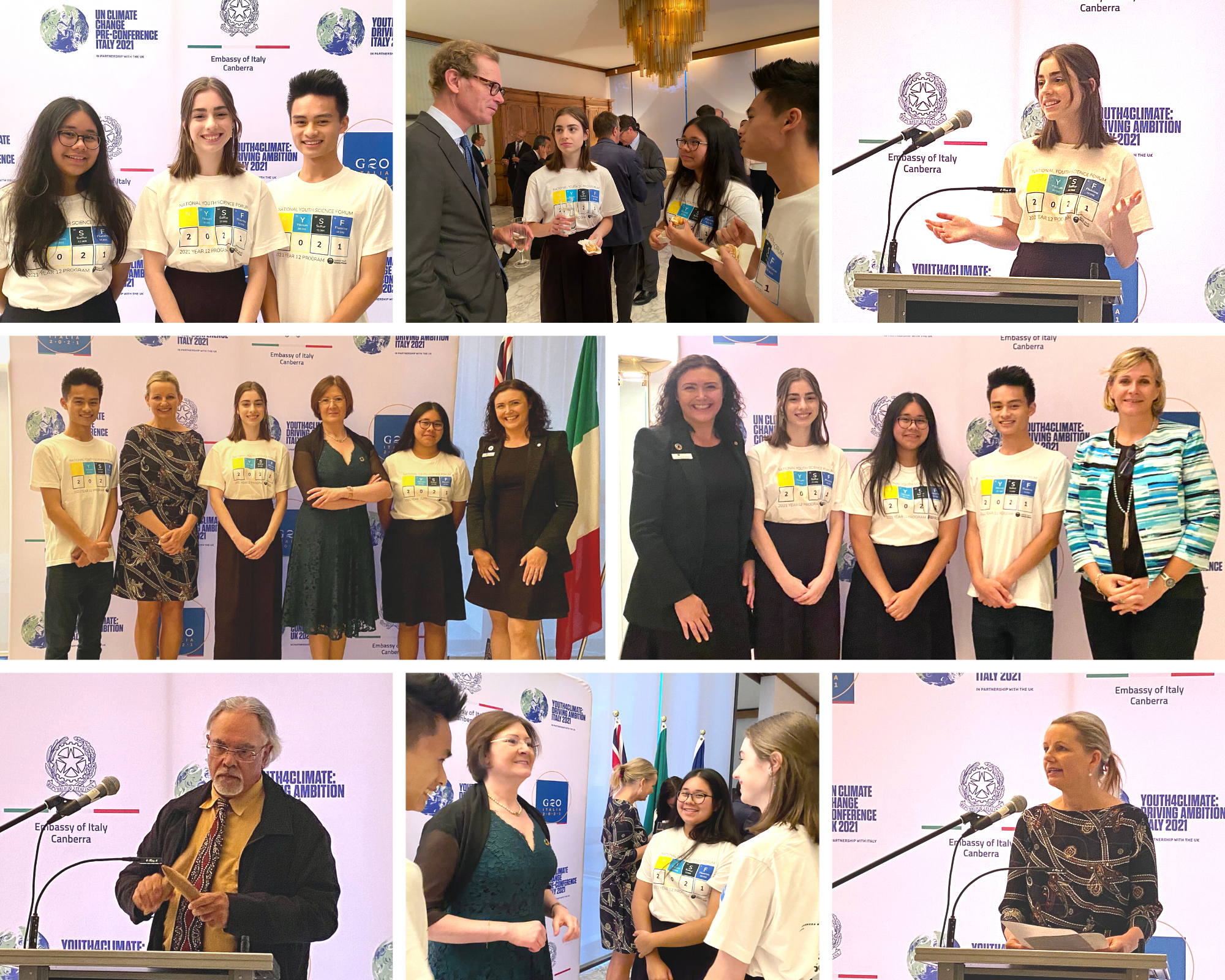 HE Francesca Tardioli, Ambassador of Italy welcomed guests and said the Italian Presidency is promoting a green approach to post-pandemic recovery plans to align the recovery with climate action.
"Each country, each of us has a great responsibility in implementing concrete and lasting solutions, including a firm commitment to respond to climate change, land degradation, biodiversity loss and the achievement of the sustainable development goals enshrined in the UN 2030 agenda"
"We need a planet where all people can live a prosperous life. That's what we need, a planet, people and prosperity."
"We need to act quickly and decisively."
Australian Minister for the Environment, the Hon Sussan Ley MP, spoke next noting that as the driest continent on earth Australian's understood better than most the importance of adapting to harsh climatic conditions.
Minister Ley outlined Australian innovations and projects as part of the government's $15 billion commitment to building our resilience to a changing climate side-by-side with the economy.
"Australia's commitment to the Paris Agreement has not wavered that we will meet our 2030 target and reach net zero as soon as possible," Minister Ley said.
"As a former farmer, I do know what is at stake and I do know what needs to be done. As the Environment Minister, I'm determined to do my bit to help us all adapt to a changing world."
Representing Australia's youth, NYSF 2021 Year 12 Program alumna, Naomi Lesczynska, from Gungahlin College then spoke of her vision for a sustainable future.
A STEM enthusiast and self-confessed 'dreamer', Naomi, said attending the 2021 NYSF Year 12 Program taught her that "it's that the consideration of diverse ideas in solving ongoing societal issues that leads to futuristic and championed solutions."
All over the globe, communities have come to this conclusion and it's leading them to remarkable places, previously unconsidered," Naomi said
"It is time for the next step, to leap from promoting awareness to gathering the necessary enthusiasm, commitment and support for planned action. This is where science is key, using innovation to further society."
Other distinguished speakers included HE Micheal Pulch, European Union Ambassador, HE Vicki Treadell, British High Commissioner, Mr Jamie Isbister, Australian Ambassador for the Environment, DFAT and Mr Werther Esposito, Country Manager, Enel Green Power. Amongst the audience were key decision-makers from the government, other Embassies in Australia, STEM and science policy organisations plus many more. NYSF students were delighted to meet with the Hon Sussan Ley, Minister for the Environment, the Hon Zali Steggall MP and the Hon Helen Haines MP to discuss their concerns and the way forward.
The formalities were followed by an opportunity for our alumni to network with Ambassadors from all over the globe and learn about worldwide opportunities in STEM.
The event also provided the opportunity for the alumni to reflect on their learnings from this year's NYSF Year 12 Program. National resilience and climate change, in particular, were extensively explored, given these young people are the ones who will solve the world's challenges. Indeed, students were lucky enough to hear from Nobel Laureate and VC of the ANU, Professor Brian Schmidt who spoke about the challenges of addressing climate change. Professor Schmidt challenged the 500 students to come up with an idea of what the world should invest in with the COVID-19 stimulus to have the biggest impact on climate adaptation. He shared the top five ideas with the Prime Minister and mentioned the winning idea in his presentation at the UN's 2021 Climate Adaptation Summit in January where he addressed many world leaders.
Amazing Opportunity for NYSF alumni aged 18-29 to attend the Youth4Climate: Driving Ambition Conference in Milan!
"Youth4Climate: Driving Ambition" Milan (28-30 September 2021).
Italy will support the travel and accommodation expenses of 400 young people from the 197 member-countries (including Australia) of the United Nations Framework Convention on Climate Change (UNFCCC) that will meet in Milan to elaborate concrete proposals on topics that are part of the negotiation process of Pre-COP26 and COP26.
Apply HERE
Hurry Applications close 1 March 2021.