Participants of the 2022 NYSF Year 12 Program have been busily attending visits in STEM Hubs all around Australia. These visits involve behind-the-scenes tours and insights into research centres and industry employers. It's not just the buildings that are impressive - it's the people. From senior figures who lead research groups and large-scale projects to early career STEM professionals who can give just the right advice at the right time to our up-and-coming STEM leaders, NYSF participants soak it all in.
However, science does not just stay with the researchers as NYSF participants at the STEM Hub in Canberra found out at a special event to meet some key decision-makers in government and research.
Our guest speakers included Chief Defence Scientist and NYSF patron and alum, Professor Tanya Monro AC FAA FTSE FOSA FAIP GAICD, newly elected ACT Senator, David Pocock, ANU's Dean of College of Science, Professor Kiaran Kirk FAHMS, NYSF Board Chair, Kerri Hartland, NYSF CEO, Dr Melanie Bagg GAICD, and NYSF Alum, Ari Moloney.
Addressing students at the John Curtin School of Medical Research at the Australian National University (ANU), Senator Pocock discussed his own career path in Agricultural Science and how it touched on so many of the challenges we face today. Senator Pocock also addressed that while it is an incredibly exciting time in science for many students, it is important to acknowledge that the last three years have seen students adapt to new ways of learning and not without challenges.
"As young people looking at science, I would really encourage you to find something that you find fascinating and something that feels meaningful and just go all in. We need young people that are committed to solving the big challenges we face... For me, the best way to manage the way we look at the future and the anxiety we have about the future is to get involved."

The resonating theme of the event echoed by our guest speakers was the importance of NYSF in inspiring students and young people to pursue careers in STEM. The NYSF Year 12 program enables our future STEM leaders to brainstorm solutions to some of the world's toughest challenges and forge networks of like-minded peers to debate and present their ideas. They are, indeed, the STEM leaders of our future.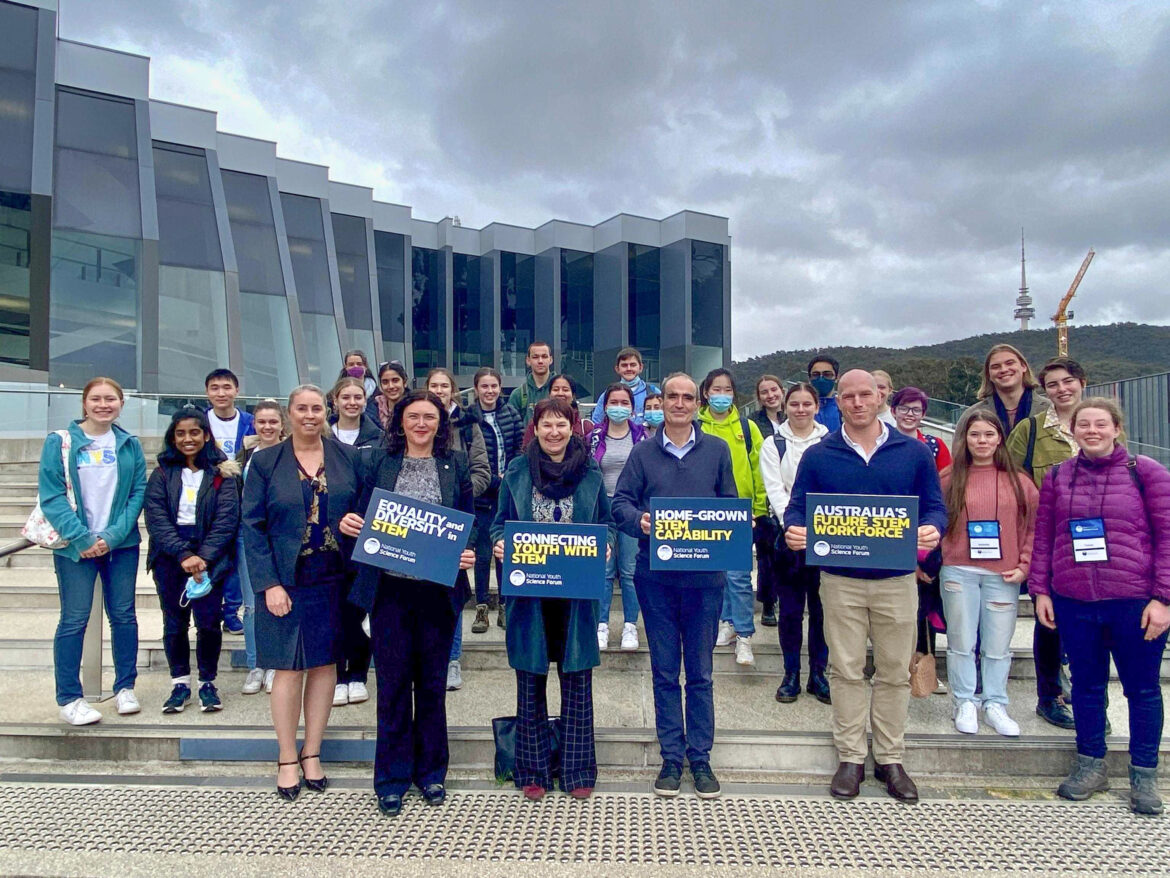 This event is one element of our NYSF Year 12 Program student experience. Students not only had the opportunity to directly hear from one of Australia's political leaders but from some of Australia's most dedicated and inspiring STEM leaders.
As Senator Pocock so aptly described, "You find something where you can get involved and tangibly contribute with the human element, which you get to do over the next few days. You get to talk to people about these issues and about your hopes and dreams and fears and figure it out."
On behalf of the NYSF, we thank the ANU for hosting us and our special guests and students for taking part in this inspiring program.