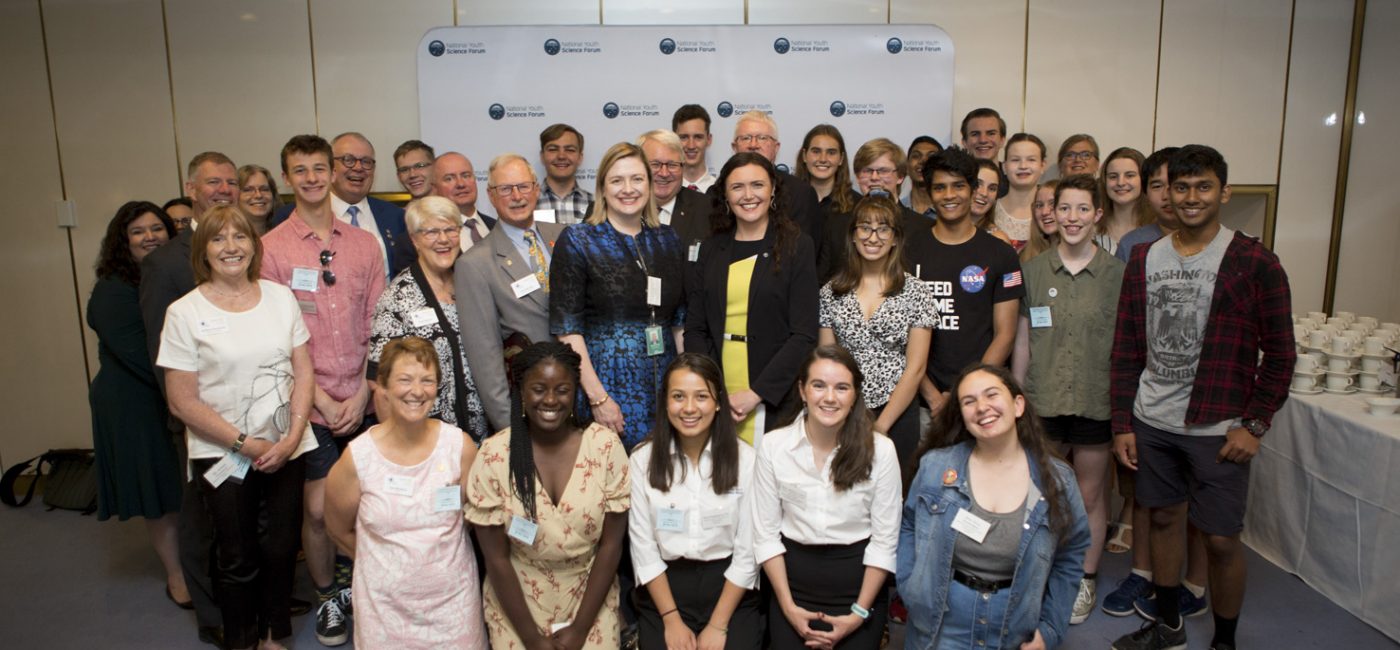 "Since starting as a small program in 1984, the NYSF has enabled over 12,000 students to realise STEM literacy and understand why STEM is crucial for their future."
28 November 2019
Media Release
NYSF Year 12 Program 2020 Launch: Inspiring future STEM leaders across Australia.
The National Youth Science Forum (NYSF) is pleased to announce the launch of the NYSF Year 12 Program for 2020. One of the best-known STEM experiences in Australia, the NYSF Year 12 Program has run for 36 years and has helped over 12,000 alumni realise life-long STEM literacy. Designed to give students a broader understanding of the diverse study and career options available in science, technology, engineering and mathematics (STEM) and to encourage continued studies in these fields.
Around 90% of NYSF participants go on to study STEM at University and the majority enter into later postgraduate study and STEM jobs in academia and industry. Run by youth for youth, participants return and receive leadership training to help run the program the year after they first attended. Deeply connected to the community, 20 local Rotary districts and over 1,100 Rotary Clubs across Australia work with us to champion the program locally, run student selections and participate in the NYSF Year 12 Program.
The official launch of the NYSF Year 12 Program for 2020 will take place on 28 November 2019 at Australian Parliament House. Attendees will hear from Chief Defence Scientist of Australia, Professor Tanya Monro FAA FTSE FAIP FOSA GAICD, who is an Alumna of the NYSF Year 12 Program and the Science Patron of the NYSF. Professor Monro will reflect on her career in STEM and share her advice with Australia's future STEM leaders.
Minister for Industry, Science and Technology Karen Andrews congratulated participants on their selection to the 2020 NYSF Year 12 Program and encouraged them to have fun while making the most of their experience.
"Australia needs young people who are passionate about science, technology, engineering and mathematics (STEM) studies and careers," Minister Andrews said.
"Science, research and innovation, are an important part of the Government's plan for a stronger economy and creating local jobs."
"We know around 75 per cent of the jobs of the future will require STEM skills, that's why it's so important we make sure our young people continue their STEM education and encourage them into future STEM jobs."
Chair of the National Youth Science Forum Board, Mr Andrew Metcalfe AO, said approximately 90% of the program's participants go on to study STEM in higher education. In 2020, 65% of the participants selected are female and 38% are from remote and regional areas of Australia.
"Since starting as a small program in 1984, the NYSF has enabled over 12,000 students to realise STEM literacy and understand why STEM is crucial for their future."
"Students will live-in on a University Campus, be exposed to cutting-edge research facilities and industry sites, learn entrepreneurial and science communication skills and become more informed about real-life study and career options," Mr Metcalfe said.
"Importantly, students will build their first professional network with other participants, from all over Australia, who are also passionate about STEM."
"Support from the Australian Government through the National Innovation Science Agenda (NISA), our Major Partner, Lockheed Martin Australia, our host universities and other partners ensures the NYSF can continue to deliver these unique and high quality, immersive STEM programs in Australia."
Further Information: Here
Contact Information:
Leonie Keogh, Partnerships and Alumni Manager, leonie.keogh@nysf.edu.au,
Ph:02 6125 2777
Dr Melanie Bagg, CEO