What they will experience here is real research
Lockheed Martin Australia's STELaRLaB hosted 15 NYSF 2017 participants as part of the Melbourne Next Step program in March.
This was a unique opportunity to see what a world-leading R&D facility is like and learn about the kinds of work being undertaken by the researchers there.
The STELaRLaB is the first such facility to be established by LMA outside of the United States. The research being conducted there is in projects of interest to LMA, as well as R&D funded by the Australian Government through grants, PhD funding, advanced R&D contracts and other programs, such as the New Technology Fund. Established in 2016, it aims to hire more than 20 researchers in the first three years, to work on projects in hypersonics, autonomous systems, robotics and command, control, communications, computer, intelligence, surveillance, and reconnaissance (C4ISR).
STELaRLaB is headed up by Dr Tony Lindsay, who welcomed the NYSF students to the facility, before they headed off to tour the labs and talk with the researchers about their work.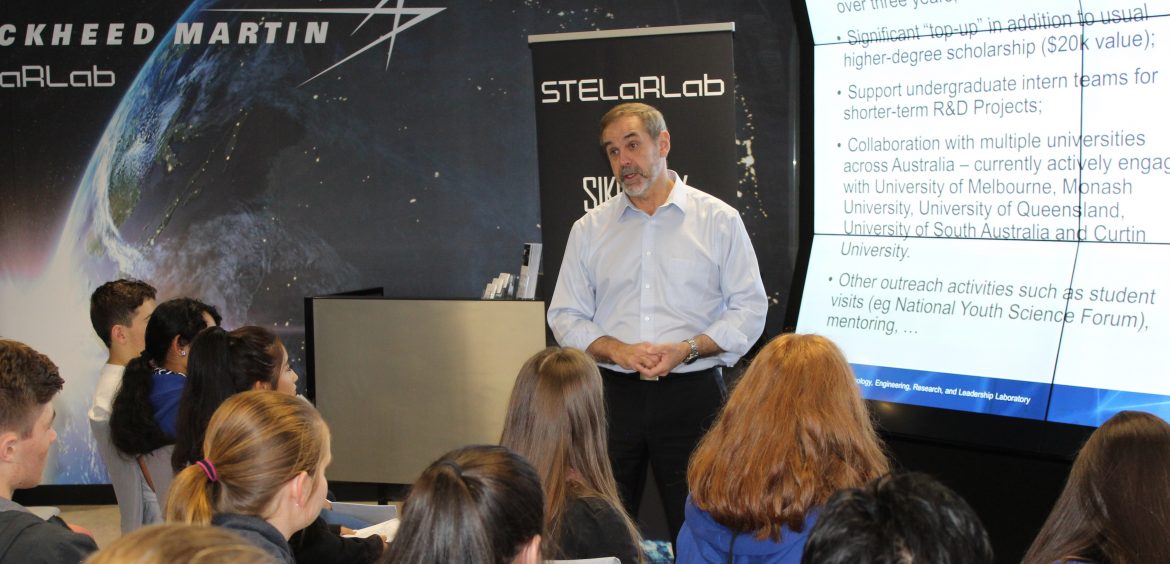 "We're really excited about this opportunity to show the NYSF students some real world, really cool and complex things here at STELaRLab. What they will experience here is real research, applying all those equations we learn, all those hours of sitting in a lecture – this is what it's all about."
"Lockheed Martin Australia is very proud of being a major sponsor of the National Youth Science Forum; working to get the next generation understanding and appreciating the excitement of a career in science and technology, the fact that you can do it here in Australia and have a global influence. That's important."
Feedback on the visit from the students was very positive:
"It was an incredible experience, being able to interact with engineers in the field, doing their job. It was great."
"It was really good to see R&D in action. It was also good that university students talked to us about their work throughout their studies."
"The STELaRLab visit is the kind of career path I wish to follow, and getting some insight into that was an incredible experience."
Further information on STELaRLab.