"The tent has made us feel independent and safe after all the bad conditions we faced during the displacement."
ShelterBox is an international disaster relief charity supplying emergency aid to people affected by disaster worldwide. In partnership with Rotary, aid is generally supplied as a ShelterBox or ShelterKit that contains essential items that assist in turning shelter into a home.
In January 2017, NYSF raised over $1000 in January through the sale of snacks – enough for us to buy our own ShelterBox. (You can read our original article HERE). Each box is given a unique tracking number so that its progress to the recipient family can be tracked. And then … we waited.
Recently, we were advised that the NYSF 2017 ShelterBox has been delivered. It has travelled nearly 14,000 kilometres from Australia to Syria and has been dispatched to a family with young children.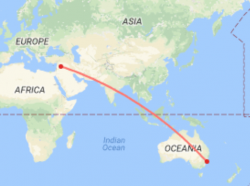 The war in Syria is now in its sixth year and has resulted in thousands of families fleeing to safety. Ibrahim, his wife and three children (one of them disabled) now live in an emergency camp in Syria.
Shelterbox provided us with the following story about 43 year old Ibrahim and his family:
Before he moved to the camp, Ibrahim worked as a farmer, relying on seasonal farming to provide his family's needs.
Ibrahim said, "The crisis caused the destruction of the infrastructure in Syria. My financial situation was very badly affected and I became unemployed as a result.
Living under the control of so-called Islamic State was very difficult, because of the fear and terror that dominated us in their presence."
When asked about the journey from their hometown to the refugee camp, he said, "During the journey, we faced a lot of risks. We paid huge sums to the smugglers in order to reach a safe area, and we were robbed by bandits. My children were also hit by the harsh weather because of the high heat and burning sun."
Ibrahim was asked about the most important thing he was lacking when he arrived at the camp. He said, "The one thing we needed when we arrived here was to get some shelter for my children so they could hide from the hot sun."
"Fortunately, your organisation was distributing tents on the same day that we arrived. The distribution team was the one who noticed us first and they immediately recorded our data and set up a tent for us."
He told us that the tent was now our property and they asked us to put our things in it, they were really good people.
Ibrahim added, "The tent has made us feel independent and safe after all the bad conditions we faced during the displacement. The main things we need now is fuel for heating in anticipation of winter cold, winter clothes for our children and some medicines."
As an expression of his hopes for the future, Ibrahim said, "I hope that my children will live in dignity, and that they can make their children in the future live in better conditions than the conditions we have made them live in."

The NYSF is pleased that our ShelterBox has helped a family in need. It just goes to show that small things can make a huge difference in people's lives.
If you would like to find out more about ShelterBox or how you can help follow the link https://www.shelterboxaustralia.com.au