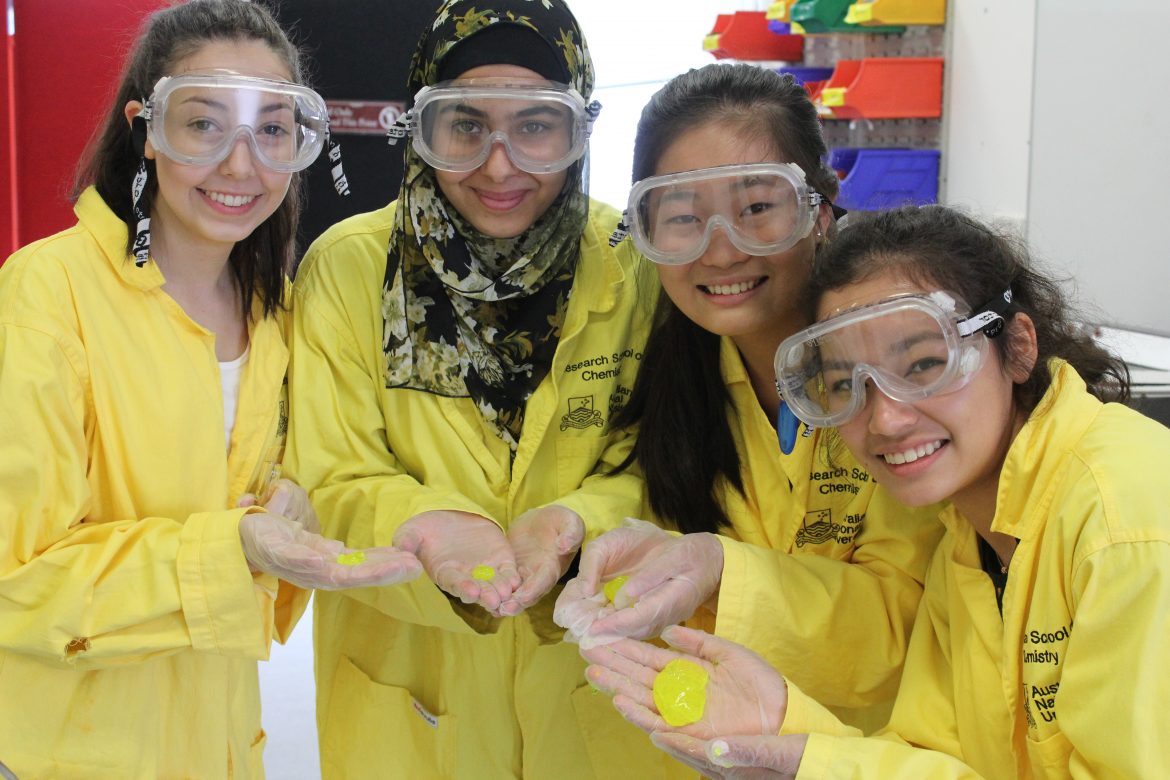 Did you know that the level of vitamin C legally defines the difference between a fruit drink and a fruit juice? Well you do now. The purpose of this definition is to prevent manufactures from watering down their juices, and that's what some of our students investigated first NYSF lab visit at the Research School of Chemistry at ANU.
The students used a technique called a titration to experimentally determine the concentration of vitamin C in a particular orange juice (to keep those sneaky juice manufacturers in check).
The students added an indicator to their sample of orange juice, then very carefully, drop by drop, added another liquid which consumes the vitamin C and causes a colour change. By monitoring how much liquid they add, they can accurately calculate the vitamin C content.
Measuring vitamin C is cool, but you can't have a chemistry lab without some Frankenstein-style experiments. So next our students synthesized some fluorescein – a substance which gives off an eerie green glow when struck with ultraviolet light.
Here the students learned how to use several new pieces of lab equipment, including analytical scales and oil baths used to heat samples to over 200oC. After several involved steps they added the final ingredient and produced a gooey green substance, which after much poking and prodding on the benches and inside the ultraviolet cabinet, they managed to produce several masterpieces:
The students had a blast on the benches and all learned a thing or two about chemistry and skills in the lab. Knowing the concepts and calculations on paper is one thing, but as they found, performing the experiments and learning the ins and out of the laboratory environment is a whole other can of worms.
The demonstrators at the Research School of Chemistry did an incredible job exposing the students to real bench work in a real lab environment, and each of the students came away not only with huge smiles on their faces, but with a new bag of tricks in the lab and some important bricks to add to their wall of knowledge.
But that's not the end - they even left with buckets of liquid nitrogen ice-cream. How cool is that?
By Jackson Nexhip, NYSF 2017 Session A Communications Intern and NYSF 2013 Alumnus