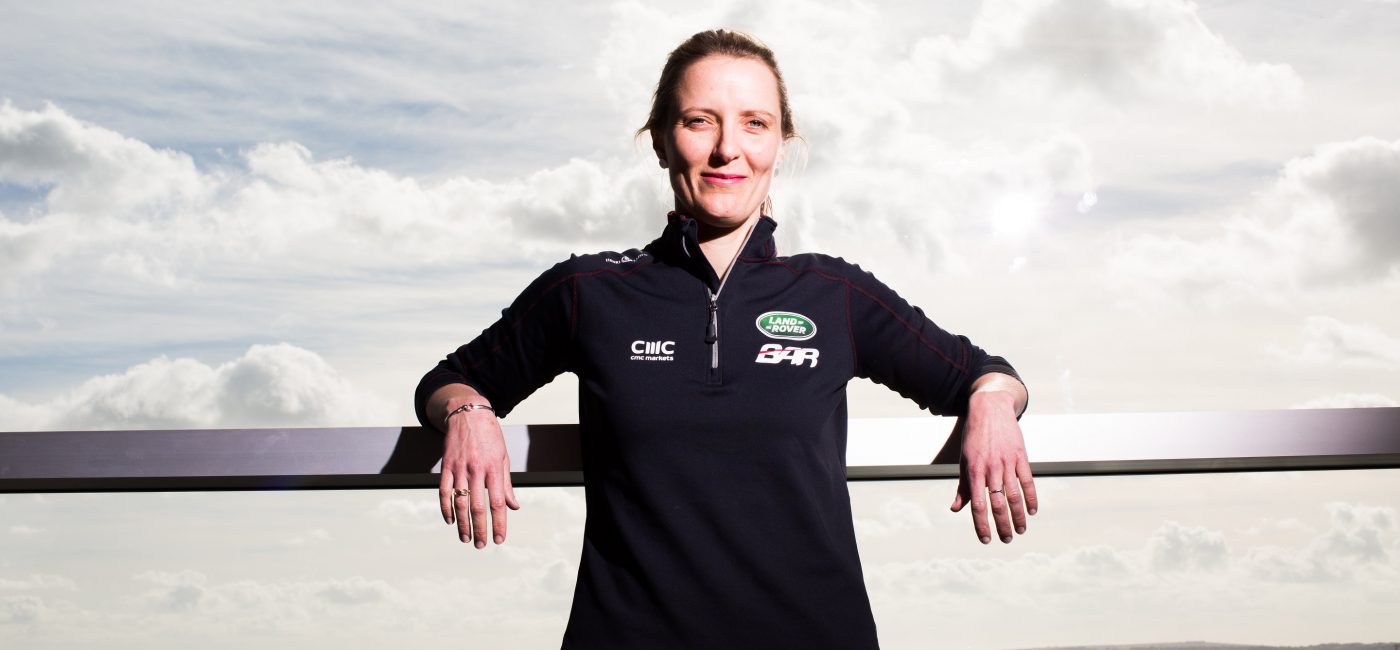 "The world is crying out for scientists to get their hands dirty in discovery."
From the depths of the ocean to sailing the high seas, NYSF 1999 alumna Jessica Sweeney tells us how she has navigated her career to combine her love of science and her passion for sailing.
"As the Chief Meteorologist for the British America's Cup sailing team I am responsible for all wind forecasting, weather research and racing tactical playbooks. The job involves scientific research, operational intensity, and blue-sky creativity! It is exciting work within a passionate and highly-talented group of people from all around the world. The team is based in the UK but we also lived on the mid-Atlantic island of Bermuda for seven months earlier this year, training and racing in the 2017 event. We are now designing a new boat for the next campaign in Auckland, New Zealand, in 2021.
My journey here was not a straight line.  I credit my NYSF experience in 1999 for helping me understand that science can take you wherever you want to go, even when you aren't sure what it is at first.
After school, I studied a Bachelor of Science, majoring in Applied Mathematics and Physics, and a Bachelor of Arts, majoring in Literature and Political Science. After receiving first class honours in Applied Mathematics I worked for a couple of years modelling submarine combat for the Defence Science and Technology Organisation. However, sailing is my real passion and in 2007 I flew to Spain with no other intention than to 'just go sailing'. For the next two years I raced on superyachts in Europe, the USA, and the Caribbean. I quickly realised that I wanted to do more than pull ropes. My natural bent towards numbers led me towards ocean navigation, which then led me towards training in meteorology.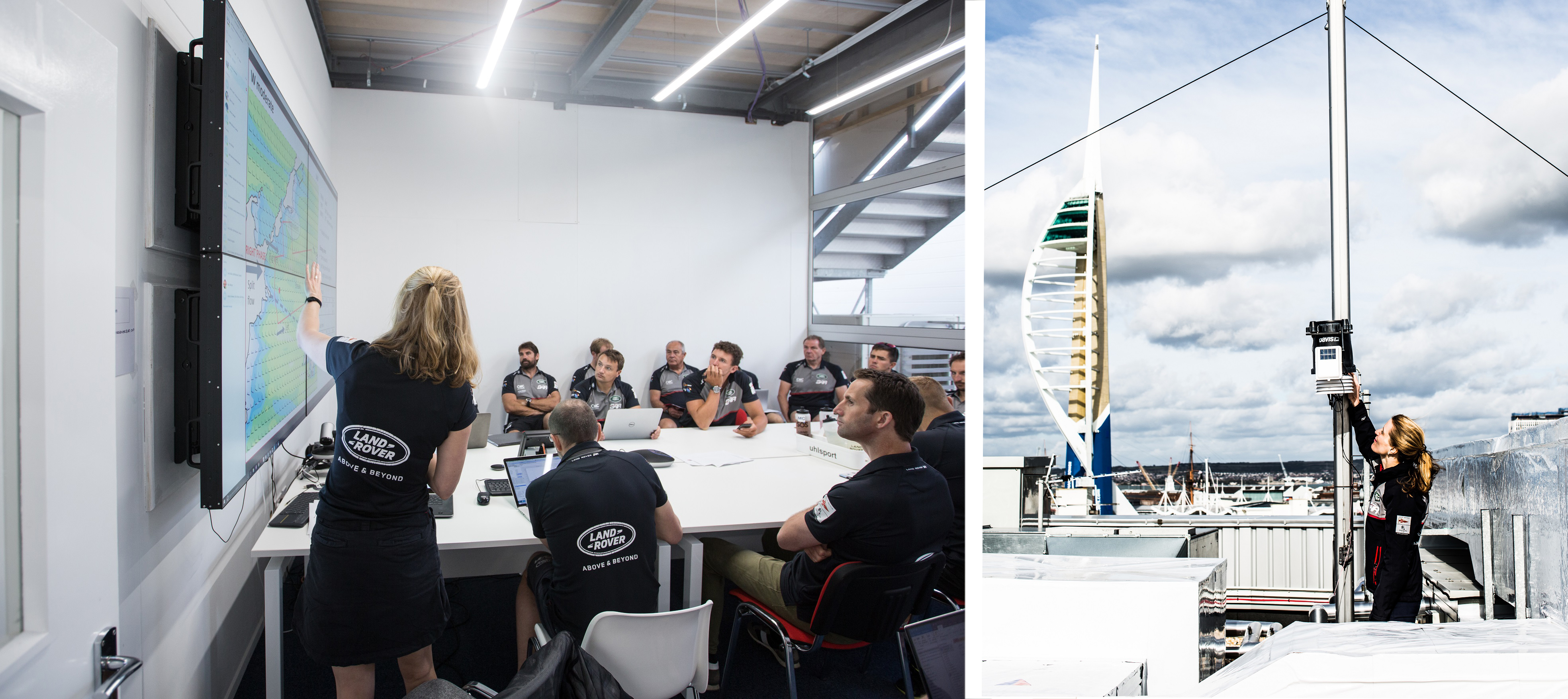 Jessica presenting to the Land Rover Bar team and checking her weather station.
In 2010, I studied a Masters of Meteorology at the University of Reading in the UK, widely thought to be the best meteorology department in the world. I topped the class by sheer hard work, probably assisted by some over-the-top enthusiasm! My first job out of that degree was to work for Team New Zealand in the CAMPER Volvo Ocean Race campaign as the onshore weather and navigation support. My job was to fly to each stopover and write the 'road books' for the race legs that would help the navigator make tactical decisions based on the weather patterns in each ocean. Following that I moved to San Francisco, USA, to support the Kiwi America's Cup campaign in 2013. I learnt all about fog and wind gusts and how intense the sporting world can be. After a short stint back in Australia modelling tropical cyclones off the northwest shelf, I was headhunted by the British America's Cup team 'Land Rover BAR' in 2015.
The NYSF in 1999 opened the world of science to me. I always enjoyed maths and science at school, but it wasn't until I was exposed to the huge variety of applications in university and industry during those two weeks that I realised how diverse STEM was. I saw that I could do anything I put my mind to! The world is crying out for scientists to get their hands dirty in discovery.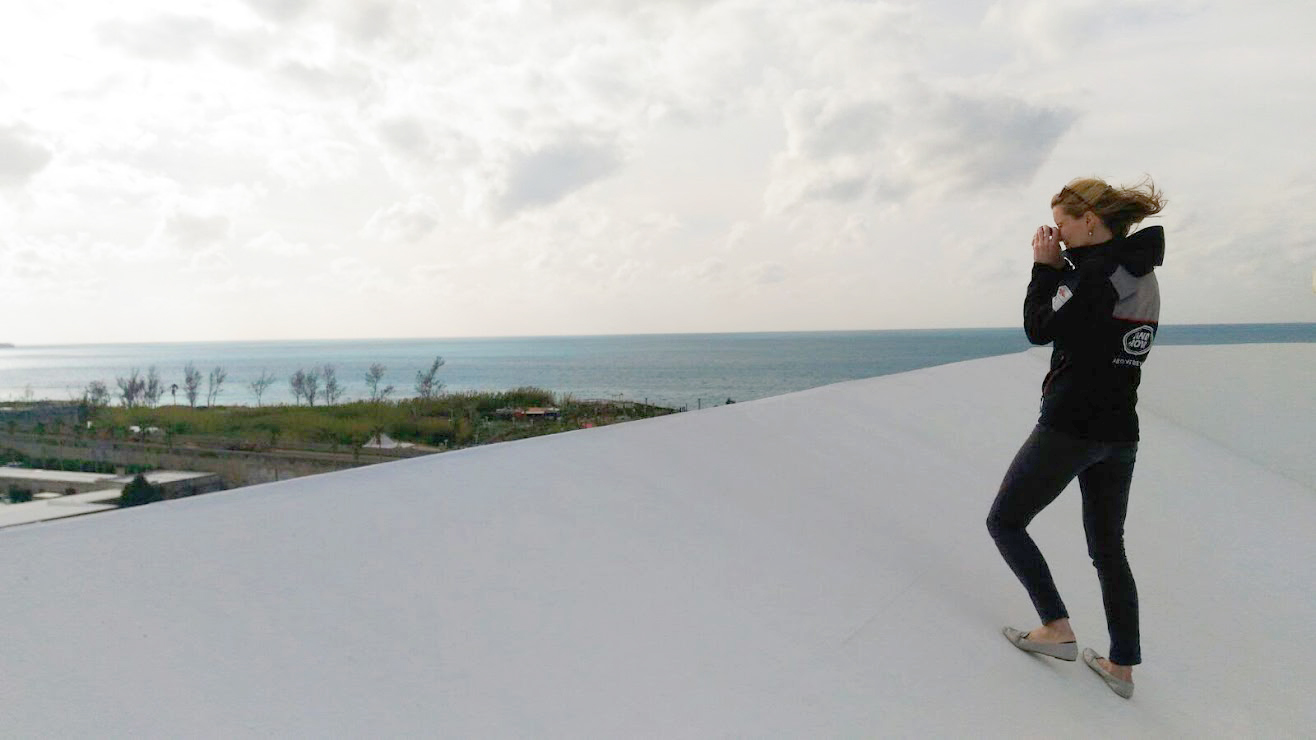 Jessica measuring the wind direction
NYSF was incredibly social and I made many friends. On the very first bus on the way to forum from Sydney to Canberra, I met a guy called Faisal Ghani, and we've been good friends ever since. He now researches solar engineering in Scotland, which I bet he also never thought he would be doing back in 1999.
My advice to new students is to follow what you love. Opportunities you could never anticipate will open up down the track if you follow your passions and get groundings in the core skills of science: logic, creativity and endless curiosity."
Jessica is not the only one in her family passionate about STEM and the NYSF.  Her father Ross Sweeney, is the current District Chair of D9465 and has supported the NYSF through his work with Rotary for over 25 years.  The NYSF would like to thank Ross and Jill Sweeney for the hundreds of hours they have volunteered to ensure young people interested in STEM have the same opportunities as their daughter Jessica.
Ross has played a vital role in the selection of the 45 WA students who will attend the forum in January 2018.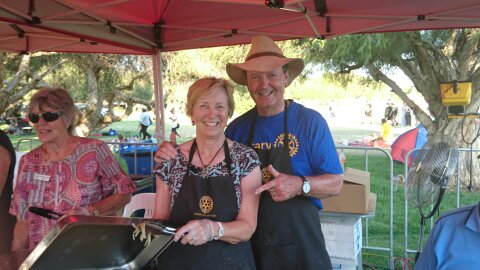 Ross & Jill Sweeney volunteering for Rotary
"My association and support of NYSF goes back over many years (at least 25) as a teacher of mathematics, head of maths and school principal (encouraging every year for at least one student to apply/be accepted). Also, for several years in WA, I was the convenor of the Australian Mathematics Competition whilst leading curriculum reform in senior secondary mathematic," Ross said.
"My Rotary experience covers 20 years and includes numerous club director positions, club president and assistant district governor. Rotary sponsorship of NYSF brought together two streams of my voluntary activities; and after witnessing my daughter Jessica's amazing NYSF experience in 1999, I am more than happy to contribute to the ongoing success of NYSF as District 9465 Chair."
Images of Jessica were taken by Land Rover BAR team photographer Harry Kenney-Herbert.