The NYSF is delighted that Professor Tanya Monro AC FAA FTSE FOSA FAIP GAICD has been appointed a Companion of the Order of Australia (AC) in the 2022 Queen's Birthday Honours List.
The NYSF congratulates Professor Tanya Monro AC FAA FTSE FOSA FAIP GAICD on receiving the Companion (AC) in the General Division for eminent service to scientific and technological development, to research and innovation, to tertiary education, particularly in the field of photonics, and to professional organisations.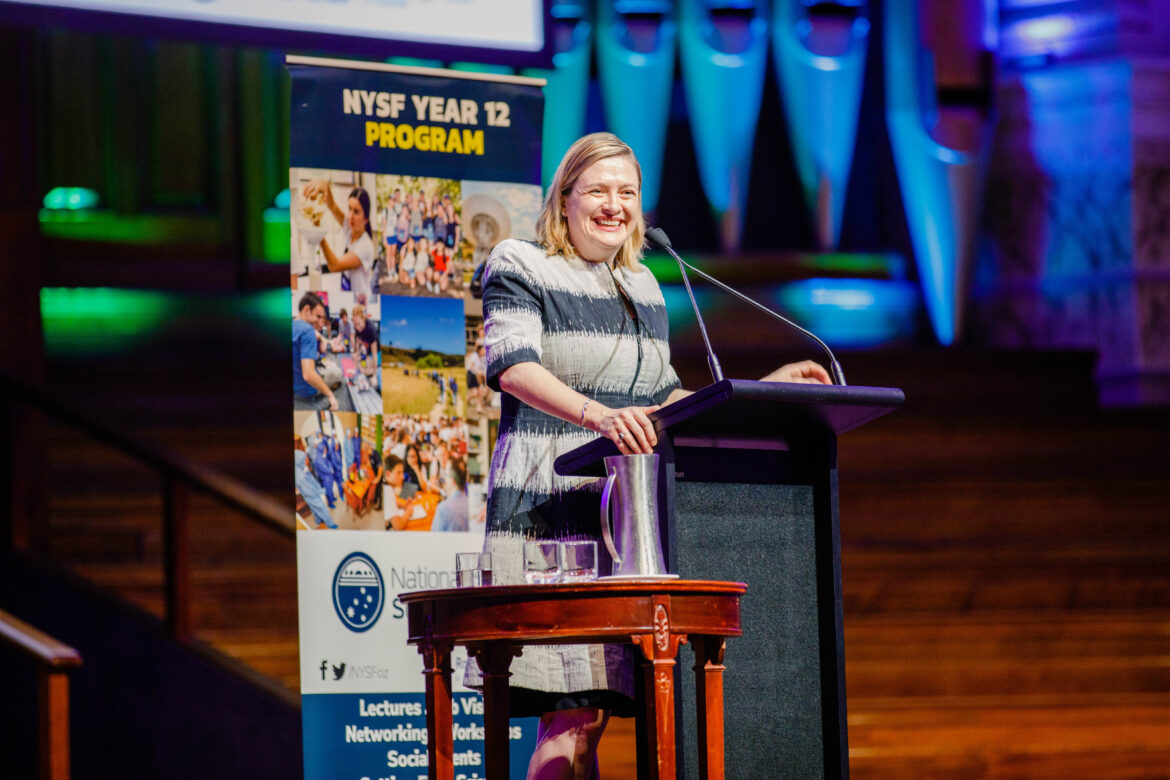 Tanya has been involved with the National Youth Science Forum (NYSF) since 1990 when she was selected for and attended our flagship experience, the NYSF Year 12 Program (then called the National Science Summer School). She has continued her advocacy for and involvement in the NYSF throughout her career and was appointed as Chair of the Board between 2014 and 2016. Her tremendous commitment to the NYSF and phenomenal achievements in science and technology saw her appointed to the ambassadorial role of NYSF Science Patron.
As Science Patron, Tanya has enthusiastically shared her personal insights and passion to inspire thousands of young Australians. Today's honour is so very well deserved given her significant contributions to inspiring others to pursue study, training and careers in science, technology, engineering, and maths (STEM).
Australia's Chief Defence Scientist since March 2019, Professor Monro has been at the forefront of achievement in STEM. As the first woman in the role, she has helped increased the number of women at a chief-division level while leading Australia's defence and national security through providing specialist advice and innovative technology solutions that are grounded in research.
Professor Monro has pursued an impressive career in photonics and STEM leadership, including winning the Bragg Gold Medal for the best physics PhD in Australia and her later leadership roles at the University of Adelaide and as the Deputy Vice-Chancellor of Research and Innovation at the University of South Australia. Tanya's passion for supporting women in STEM and other under-represented groups has seen her deeply involved in NYSF's commitment to equity, diversity and inclusion.
CEO of the NYSF, Dr Melanie Bagg GAICD, congratulates Professor Monro and other members of the NYSF community awarded in the Queen's Birthday Honours List, thanking them for their contributions to their communities and the nation.
"It is an honour to thank and acknowledge Professor Tanya Monro, NYSF Science Patron and alumna, on her Companion of the Order of Australia (AC) on behalf of the NYSF. I can't think of anyone more deserving of this honour. Personally, she has been an incredibly inspiring mentor and role model to me. Professionally, I have watched her engage so many people, from so many different backgrounds, on the importance and real-life applications of Science and Technology. She has helped bust so many stigmas around "hard" subjects and who real STEM professionals really are, her enthusiasm and energy for STEM is contagious."