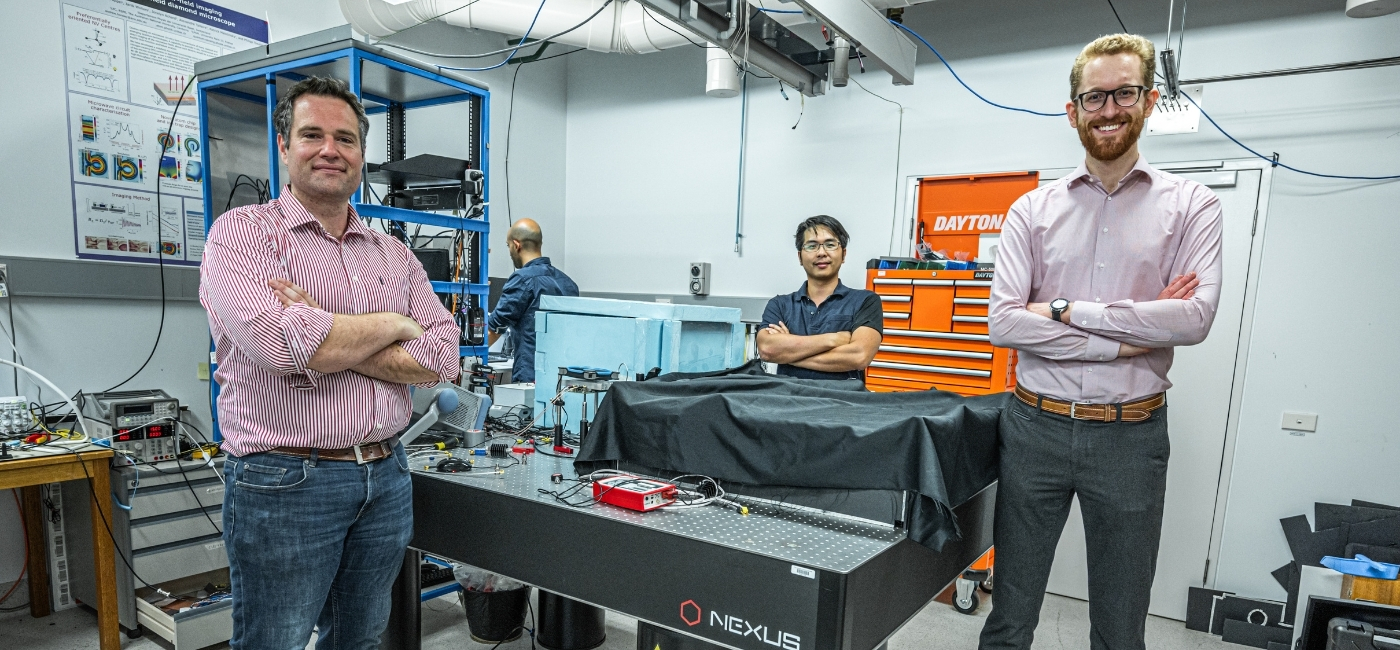 The National Youth Science Forum (NYSF) is thrilled to welcome Australian-German company Quantum Brilliance as a new partner.
Quantum Brilliance spawned from the Australian National University's leading research group in diamond quantum science and aims to create computational power that will enable the technologies of tomorrow.
Chief Scientific Officer at Quantum Brilliance, Dr Marcus Doherty (pictured above on the left, with co-founders COO Mark Luo and CEO Dr Andrew Horsley), knows only too well what a difference the NYSF programs can have – he's an NYSF alumnus who attended the 2000 NYSF Year 12 Program.
"As a venture-backed Australian-German quantum computing hardware company, we are always looking for ways to innovate and deliver new products and technologies. We need skilled people who are driven to push our current understanding of quantum computing to its limits and beyond," Dr Doherty said.
"As an alumnus of the NYSF I know first-hand the importance of programs like the NYSF play in expanding students' career horizons and keeping them engaged in science. Supporting NYSF's flagship STEM outreach program is a way for us to showcase the exciting side of quantum computing and help develop Australian skills in the field.
"As a private company, it's also our chance to pay it forward to the next generation," he said.
The NYSF seeks to form partnerships with organisations passionate about supporting young people to engage with careers in STEM and keen to foster life-long STEM literacy, which Quantum Brilliance represents.
NYSF CEO Dr Melanie Bagg welcomed the support of our new partner and is excited to work with Quantum Brilliance.
"This partnership recognises our aspiration to connect our participants with entrepreneurial STEM organisations who are bringing the latest technology advances to Australia," said Dr Bagg.
"We are proud to partner with technology pioneers such as Quantum Brilliance to bring their ground-breaking research directly to participants of the NYSF Year 12 Program and our broader alumni," she said.
"We look forward to working with Quantum Brilliance to showcase the exciting directions an industry career in STEM can take our participants," said Dr Bagg.
We thank Quantum Brilliance for their multi-year support and look forward to collaborating on the 2022 NYSF Year 12 Program and much more.