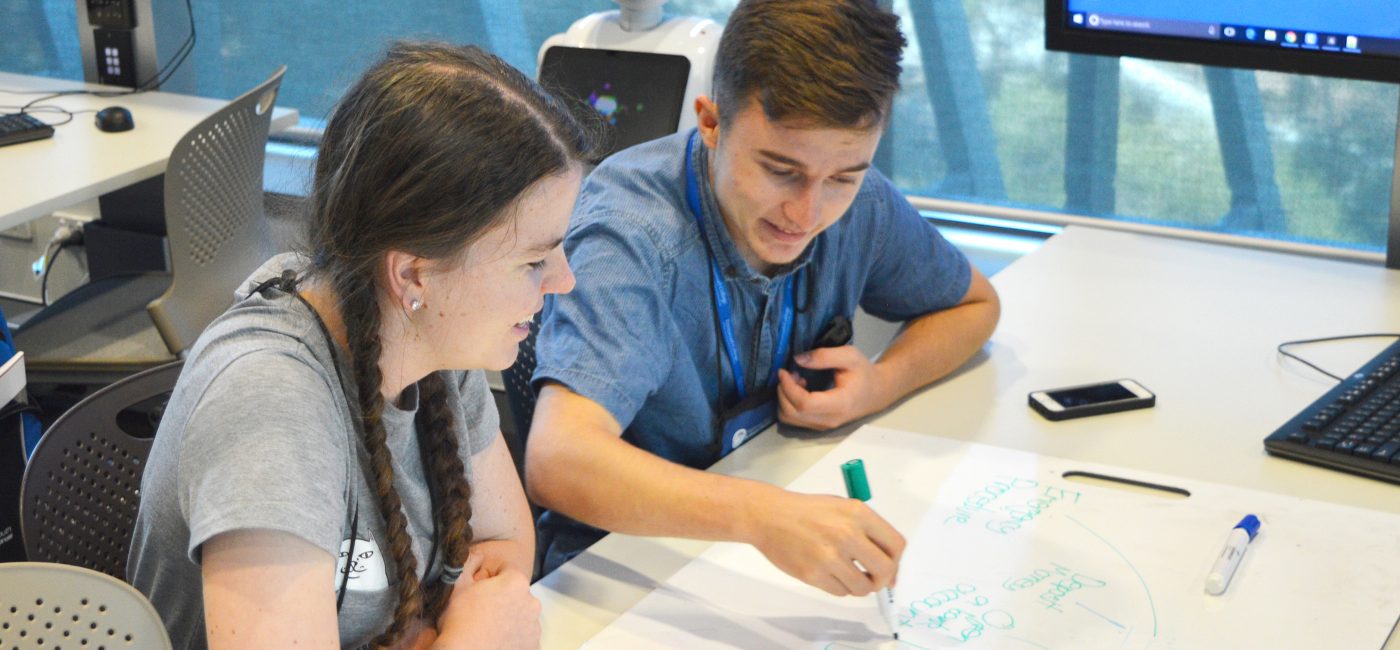 The National Youth Science Forum (NYSF) is delighted to announce that defence technology and innovation company, Lockheed Martin Australia, has continued its strong commitment to the NYSF, signing a new two-year deal as our major partner.
A major partner of the NYSF since 2014, Lockheed Martin Australia's renewed partnership provides vital support for the NYSF and its programs.
Through our relationship with Lockheed Martin Australia, the NYSF has been able to showcase the kinds of study paths, careers, and opportunities that are available to young people interested in all fields of science, technology, engineering, and mathematics (STEM).
Speaking on behalf of the NYSF Board, Chair Kerri Hartland emphasised the important role that companies such as Lockheed Martin Australia play in ensuring there is a developing cohort of qualified professionals and skilled workforce to support future economic growth.
"There is a clear current and future need for STEM-skilled talent in Australia's workforce. STEM skills are already in high demand and growing at 1.5 times faster than other jobs. Students need programs like NYSF to take their STEM learning out of the classroom and demonstrate the opportunities available to them in a range of different industries."
"Our strong relationship with Lockheed Martin Australia helps students connect with a myriad of training and work opportunities they might otherwise not know exist. It really helps them think about a variety of options and meet real people who are now working in engineering, technology and the defence industry," Ms Hartland said.
"Investing in STEM education will help us nurture a diverse, globally competitive, and innovative workforce and ensure industry gets the skills they need, creating a better future for all of us."
NYSF CEO, Dr Melanie Bagg, welcomed Lockheed Martin Australia's renewed partnership commitment as the NYSF celebrates 38 years' continuous delivery of its flagship Year 12 Program in 2022.
"The NYSF Year 12 Program makes a huge difference in helping young people understand the many options that are possible after year 12, and how furthering their STEM studies and getting tangible experience can lead to an extremely interesting and fulfilling career.
We are proud to have a record number of over 620 participants joining us for the NYSF Year 12 Program this January. It shows the demand for students to be able to explore their future STEM jobs in a variety of fields. The NYSF strongly advocates for diversity and inclusion in STEM with 65% of participants young women and 42% from remote and regional areas for the 2022 NYSF Year 12 Program."
"We are so grateful for the vital support from long-time and deeply supportive partners such as Lockheed Martin Australia. Funding is vital to support not-for-profit organisations like the NYSF that inspire youth to pursue STEM and help ensure our future workforce is as diverse and innovative as possible." Dr Bagg said.
In addition to funding, Lockheed Martin Australia supports the NYSF by participating in the NYSF Year 12 Program and alumni activities. Lockheed Martin Australia's Chief Executive, Air Marshal (Retd) Warren McDonald AO CSC, will join a star-studded panel discussing STEM futures for the 2022 NYSF Year 12 Program Opening Event, they will open their doors to STELaRLab, their Australian R&D operations centre in Melbourne and early career engineers will share their experiences and knowledge to over 620 participants online during Careers Day event.
Lockheed Martin Australia Chief Executive Warren McDonald said advancing STEM is a priority for Lockheed Martin Australia.
"We are pleased to continue our partnership with the NYSF. Lockheed Martin Australia acknowledges the importance of inspiring the next generation to pursue STEM careers by showing today's students how exciting and rewarding these jobs can be," he said.
"Advancing STEM is a critical focus area. Our future success depends on a constant supply of highly trained capable talent for the nation. Together with the NYSF we are committed to growing the future STEM workforce here in Australia."
Additional Information:
The National Youth Science Forum (NYSF) is a not-for-profit charity that has been operating since 1984 to provide STEM outreach experiences for young people. The NYSF Year 12 Program is one of Australia's foremost and best-known STEM experiences for high school students. It is run by youth, for youth, each January for over 38 years, with over 13,000 alumni participating in the program to date. The primary aim of the program is to give students a broader understanding of the diverse study and career options available to them in the fields of science, technology, engineering, and mathematics, and to encourage continued pursuits in these fields. The Student Staff Leadership Program gives alumni the chance to return to the program as leaders following their Year 12 Program experience and to contribute their ideas, experience, and enthusiasm to the next cohort. The NYSF maintains deep connections to the community across Australia through our partnership with Rotary Australia; 20 local Rotary Districts and over 1,100 Rotary Clubs across the country work closely with us to promote the program locally, run student selections, and then to run the NYSF Year 12 Program itself.
Website: www.nysf.edu.au
Media Contact: Dr Catherine Wheller, catherine.wheller@nysf.edu.au