At the start of 2020, like many of us, Associate Professor Asha Bowen couldn't have foreseen how the world would change.
As an infectious disease expert with two pandemics under her belt already when COVID-19 hit, she said that it was somewhat inevitable that we'll see more of this in the future when she joined us for our September NYSF Connect webinar.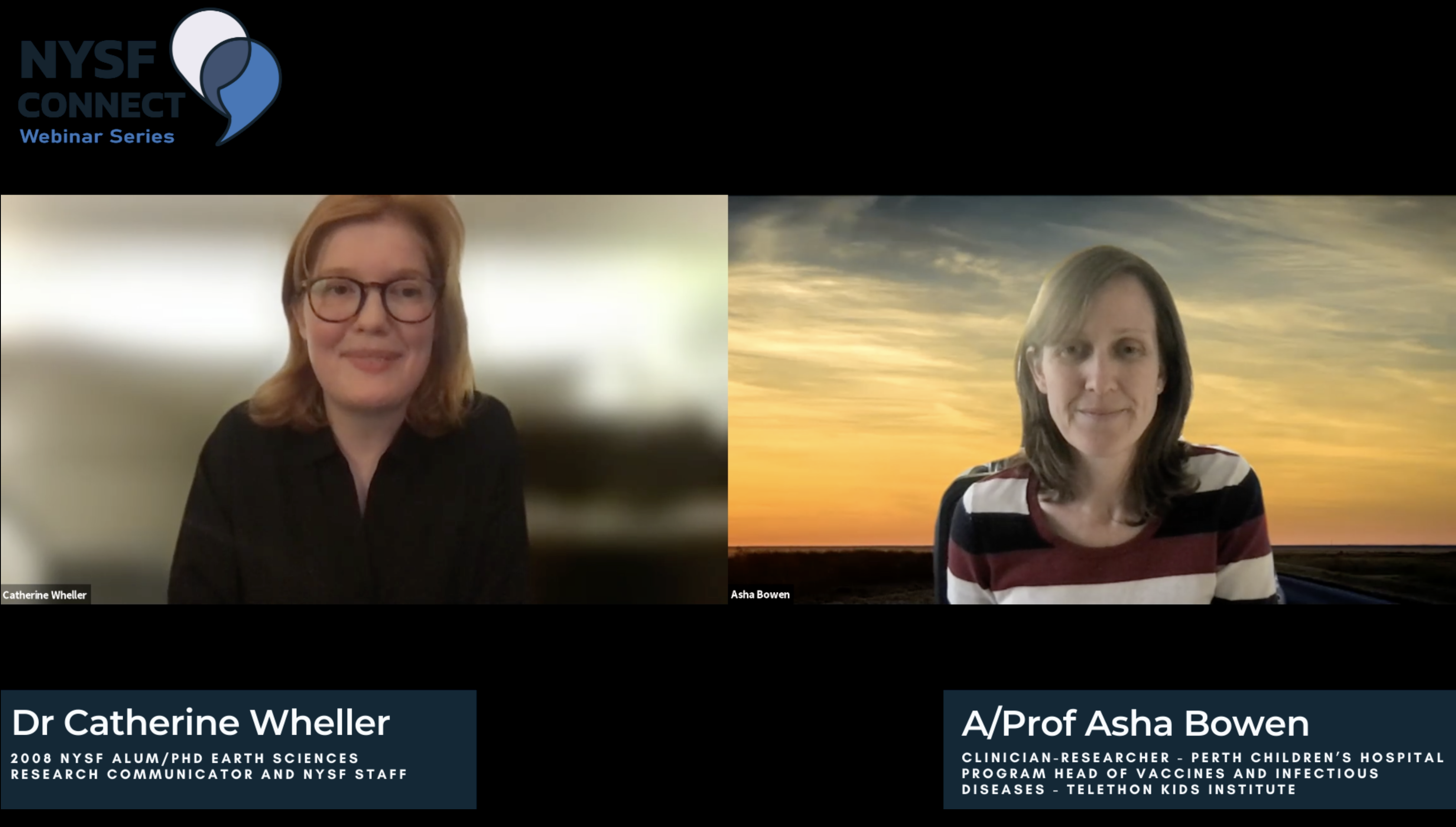 "I do think that the way in which our world is so globally connected and that there are so many human beings and living so close with different types of animals, we will see new viruses emerge," she said.
A/Prof Bowen is a clinician-scientist working at Perth Children's Hospital and is the Program Head of Vaccines and Infectious Diseases at the Telethon Kids Institute. She's also the lead investigator for the SToP trial to 'see, treat and prevent' skin infections, a large, randomised trial in the Kimberley, Western Australia.
In what is a somewhat familiar story in STEM (science, technology, engineering, and mathematics), her career journey wasn't always straightforward.
Before deciding on medical studies as her career path, A/Prof Bowen completed an arts degree. "I really loved the arts as much as the sciences, and I think that actually creates a really great nexus for clinical care because communicating with patients is just as important as the scientific decisions that you need to make."
Having a broad range of skills, especially in communicating STEM information, has helped A/Prof Bowen through her career, and she advised our webinar participants to take this approach as well.
"I strongly encourage everyone who's pursuing a career in science to get skills in presentation, communication, and advocacy to make sure that you're ready for questions that come from the media because you do need to be able to talk about your science," A/Prof Bowen recommended.
Our alumni watching the webinar enjoyed A/Prof Bowen's interview, with one viewer saying it was "genuinely one of the highlights of my lockdown!"
Another viewer said, "Asha was absolutely incredible to listen to, and I loved hearing about science in the community – from the communication challenges to the need for culturally sensitive scientific practice."
We want to thank A/Prof Bowen for speaking to alumni at September's NYSF Connect webinar series. This series is exclusive to our alumni as a part of the NYSF Connect program, and to invited guests. If you're an NYSF Year 12 Program alum and didn't get an invitation, please get in touch with us by emailing communications@nysf.edu.au.