Every year, the NYSF offers places for alumni to return as volunteer Communications Interns. The role is fairly wide-ranging – to attend various program activities, and report on what occurs during the NYSF, filing stories for the NYSF Outlook blog.
Our NYSF 2017 interns provided an overview of their experience in January:
Jackson Nexhip
Returning to the NYSF triggered some strange emotions; something akin to returning home.
On the surface it seemed as though it should have been an entirely different experience; I was a few years older, I was in Canberra this time rather than Perth, and was returning somewhat as staff rather than student. But despite the differences, the NYSF spirit was alive and well.
You learn so much at the NYSF that you can almost feel your mind expanding. Just like in 2013, the presentations and institution visits were of an extremely high calibre – it was humbling and inspiring to be so out of my depth in so many different fields.
The intellectual side was great, but I think the best part was the opportunity to hang around with and get to know the NYSF 2017 students. I think that as the years go on you lose sense of the impact the NYSF can have, and having the chance to chat and get to know the students brought back all kinds of nostalgia.
I really admired the energy, curiosity, and sheer determination of some of the students, and it left me feeling somewhat inspired to go and do bigger things in my own life. It's a huge privilege to meet these young scientists and future leaders, and I look forward to seeing them do all kinds of crazy things as the years roll on.
The media intern position is a sweet gig, and I'd highly recommend it for any students with an interest in writing and/or science communication (I don't think I need mention the longing to return to the NYSF). The media team are very supportive, you'll have a lot of fun, and you'll learn a lot.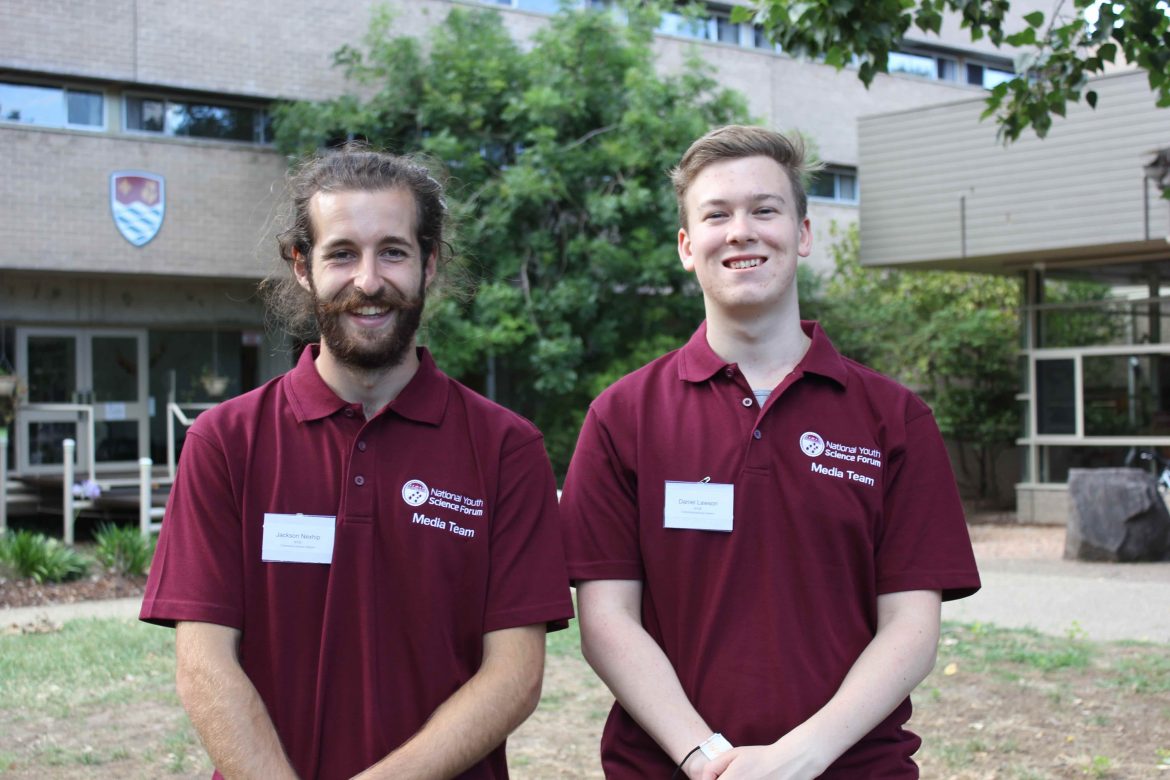 Daniel Lawson
"Writing about the NYSF experience was an amazing opportunity and I'd definitely recommend it to any NYSF alumni interested in science communication and science education. Most of all, attending the NYSF 2017 as a communications intern confirmed my confidence in the future of Australian science. To see 200 young scientists build lifelong friendships reminded me of my own session, and I realised that although the names and faces had changed, the students' attitudes and passion for science had remained just as strong.
Being a communications intern also gave me a unique perspective on the NYSF, as I was able to chat with students and academics about their interests and goals in science, I was also able to observe how being there changed the students. When you attend the NYSF, the experiences and moments you share with 200 other passionate science students changes you. Personally, I didn't realise this until my local Rotary club of Murgon mentioned how much more confident I was after attending the NYSF. It was an amazing opportunity to be able to witness these transformations in students at the NYSF 2017 as they grew into (more) confident young scientists.
Megan Stegeman
The NYSF science communications internship was an amazing two weeks. Being back at the NYSF was exciting enough, but witnessing how it is organised, and the amazing work that went on behind the scenes, gave a real appreciation for my own session.
My own NYSF experience meant that I understood and knew what to expect in the program, which I think is an advantage when trying to work in such an exciting and (as all alumni remember) unique environment. The work was fun, going to lab sessions and lectures and writing them up, and the environment was supportive and friendly. I was encouraged to take lots of photos, and especially to develop my own style of writing, which I'm sure is not common across all internships.
Watching the participants learn new things, and witnessing some of them in their first professional labs was rewarding in itself. I saw students in a pathology lab use the mechanical pipette for the first time, and it occurred to me that that participant could go on to be a great scientist, and it was here that they got their first lessons.
I would recommend this internship to anyone and everyone, I think it's an amazing opportunity, that I hope others will realise and take advantage of as well.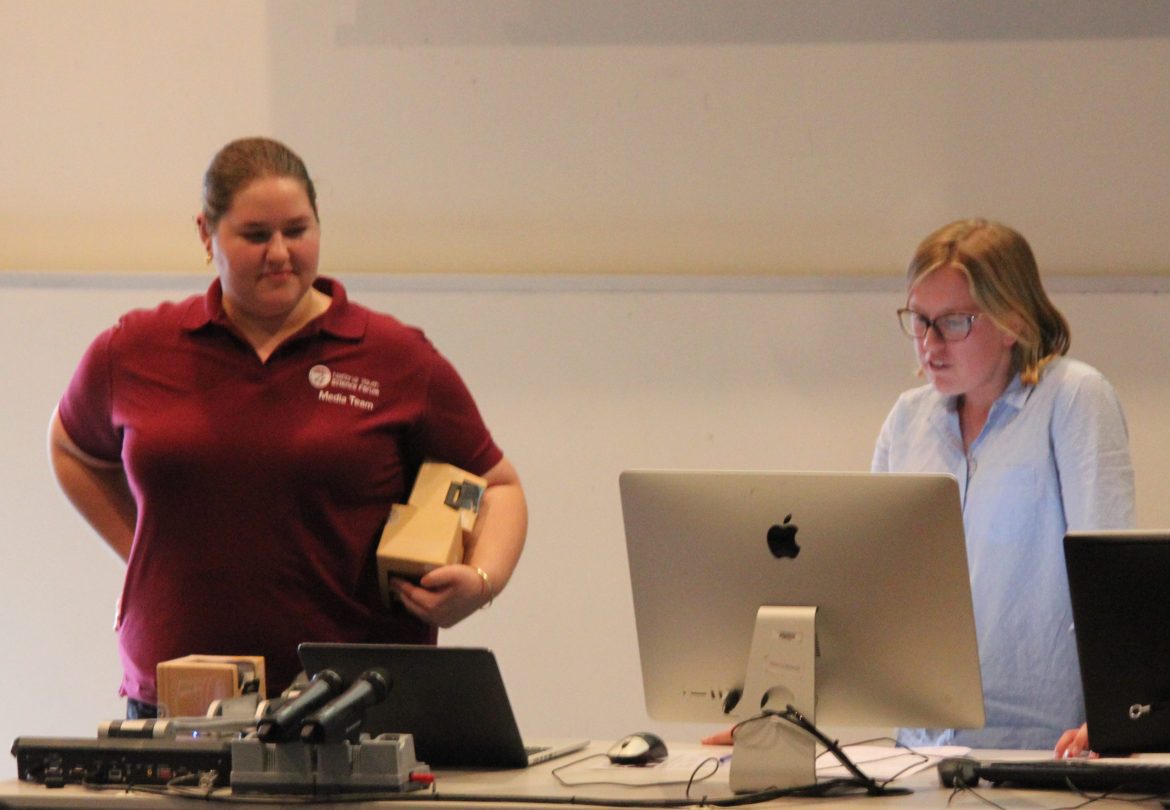 Veronica O'Mara
Coming back to the NYSF as a Communications Intern in January 2017 was a wonderful experience. It was incredibly useful hearing similar things to what I heard three years ago but without the HSC looming over my head. Coming back reaffirmed my decision to study science and major in genetics and molecular biology and made me much more sure of my choices and of myself.
My favourite event on session was the Science Dinner with Professor Emma Johnston's address. It was incredibly encouraging as a woman studying in STEM and definitely demonstrated to me that many people such as Professor Johnston who have achieved incredible things and are doing so well in their chosen field still have doubted their ability in themselves. I think this was definitely something that also resonated with the participants, leaving them with an important message, "To believe in those who believe in you," when you are doubting yourself.
Being an NYSF Communications Intern provided us with a unique opportunity to experience the NYSF again as well as to gain some valuable skills in science communication. It was wonderful to be given a lot of freedom in our writing styles and what and how we wanted to record the session.
It gave me a chance to develop my communication skills which is extremely important in any career in STEM. Without good communication skills, there is little point in research. You have to be able to effectively communicate your ideas to others in an accessible way.
My experience at the NYSF this year has definitely shown me that studying a science degree was the right path and reaffirmed my goal of completing a PhD in medical research, but has also opened up more possibilities in science communication and outreach.
If you are an NYSF alumni and would like to register your interest in returning to the NYSF in 2020, where there will be four positions on offer, email communications@nysf.edu.au.