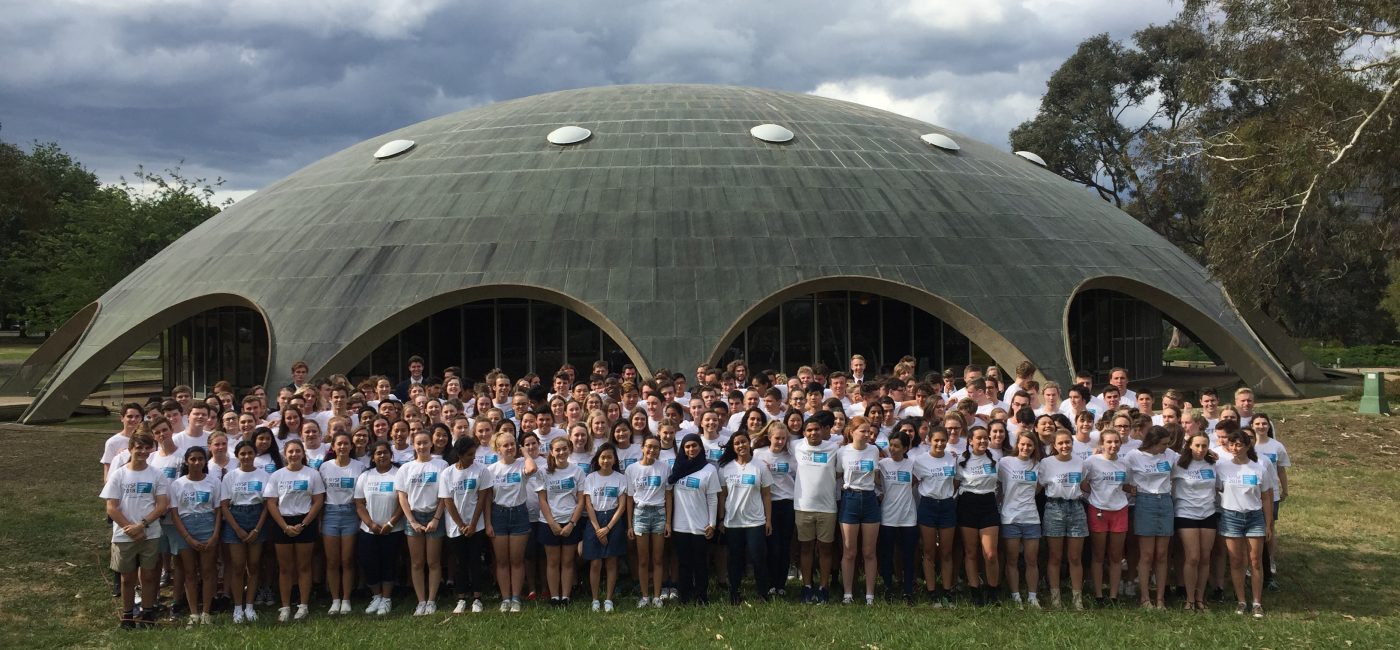 Spirits were high and smiles were wide after the opening day
After a busy morning at Parliament House on the first day of NYSF Session A, the students attended an opening lecture at the Australian Academy of Science - in the iconic Shine Dome building itself! The session was opened by another NYSF Alumnus, Dr Chris Hatherly, the Director of Science Policy at the Academy. He gave the students an introduction to the history of the Shine Dome and the important work of the Academy in bringing science into the lives of all Australians. The students learned about why Durian fruit smells so bad through a social media video, and through this learned about the evolution and importance of effective science communication. Check out @AustralianAcademyofScience on Facebook to watch these videos!
Dr Hatherly then went on to give insight into his experience being involved in developing Science Policy, advising students that:
"You don't have to 'do' science, in order to influence it."
He believes that science is an amazing area to be in, having had the opportunity to make great things happen, including $70 million investment in a supercomputer, improvements to policy and regulations around gene therapy or stems, looking at policies around marine ecosystem management and a framework for a new Australian space agency. Dr Hatherly told the students that, "Scientists don't come in "one size fits all" lab coats… But they are all professional problem solvers, that's probably what defines being a scientist; people who have learned to ask difficult and probing questions and to use scientific methodologies to come up with answers and well as more questions."
"Remember that as scientists in training, you're also developing a critical life skill, the ability to critique information and to sort out what has a factual basis and what doesn't."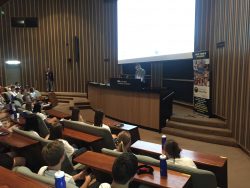 Following Dr Hatherly's introduction, the students were given an insight to the journey and research done by Professor Ben Eggleton, an ARC Laureate Fellow and Professor of Physics at the University of Sydney. Obtaining a Bachelor's degree (with honours) in Science in 1992 and Ph.D. degree in Physics from the University of Sydney in 1996, Professor Eggleton's research is now focused on applied optics and photonics.  
Students learned about some of the key global challenges uniting scientists and the 'big science' that will be needed for a solution. Touching on exciting projects including nanoscience, quantum computing and the brain, students were inspired to see future projects and possibilities in the field. Professor Eggleton went on to explain how the process of doing science is evolving, discussing multi-disciplinary approaches, big industry investment and the importance of demonstrating how research will be translated into the marketplace.
"It used to be enough to publish high quality papers, to be cited, to be elected to the Academy… But now, you're expected to demonstrate your impact, you're expected to demonstrate the benefit of your research to society."
This was followed by a speedy introduction to the fascinating world of photonics. Did you know that the record for capacity in one optical fibre cable is about 10 petabytes per seconds? How much is that even? A typical USB drive or camera card holds in the order of gigabytes, and a petabyte is a million gigabytes. All in a cable the size of a human hair! This record was set only last year, so students were given appreciation for the value and scale of such developments for important communication and sensing applications. Through sharing details about his own research, Professor Eggleton inspired students with exciting possibilities, demonstrating the need to collaborate to make significant impact.
After a great Q&A opportunity, the students finished the afternoon with a group photoshoot outside of the Shine Dome. Spirits were high and smiles were wide after the opening day of the NYSF 2018 Session A, with students excited and inspired for the jam-packed 10 days ahead!
Brooke Krajancich, Communications Intern NYSF 2018 Session A and NYSF Alumna 2013