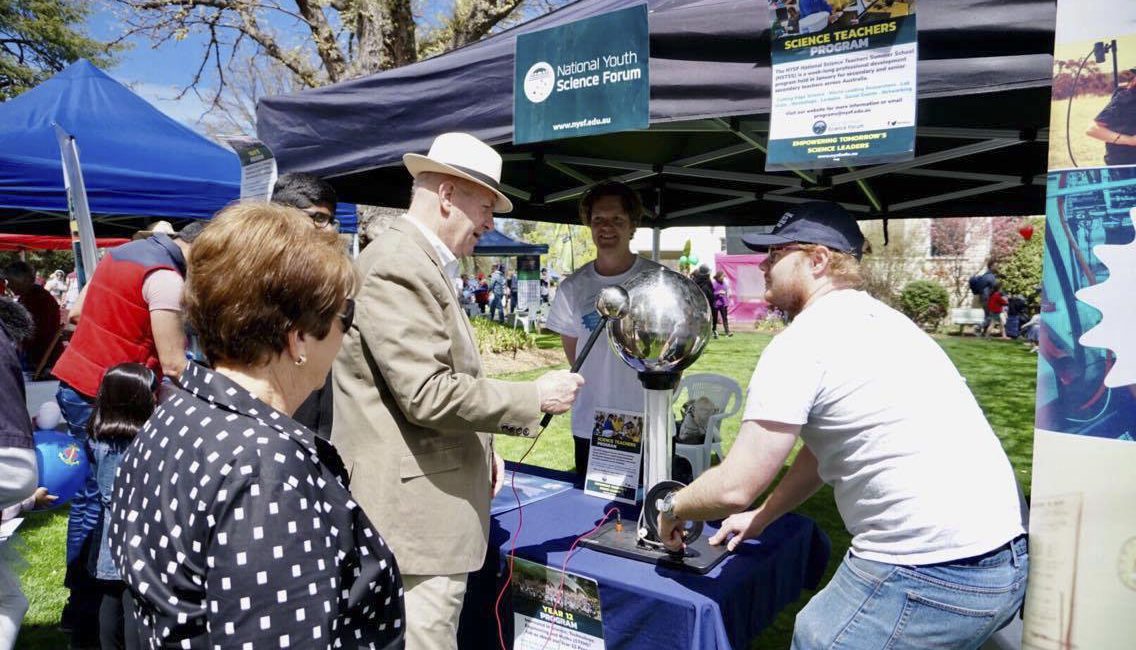 "Helping out was a great opportunity to see Government House and meet our Governor-General."
It's not every day that you get to teach the Governor-General a lesson in physics … but that's exactly what happened to one of our National Youth Science Forum (NYSF) alumni at Government House Open Day on the weekend.
Along with the other organisations of which the Governor-General is Patron, the NYSF was invited to participate in the Government House Open Day in Canberra in October last week.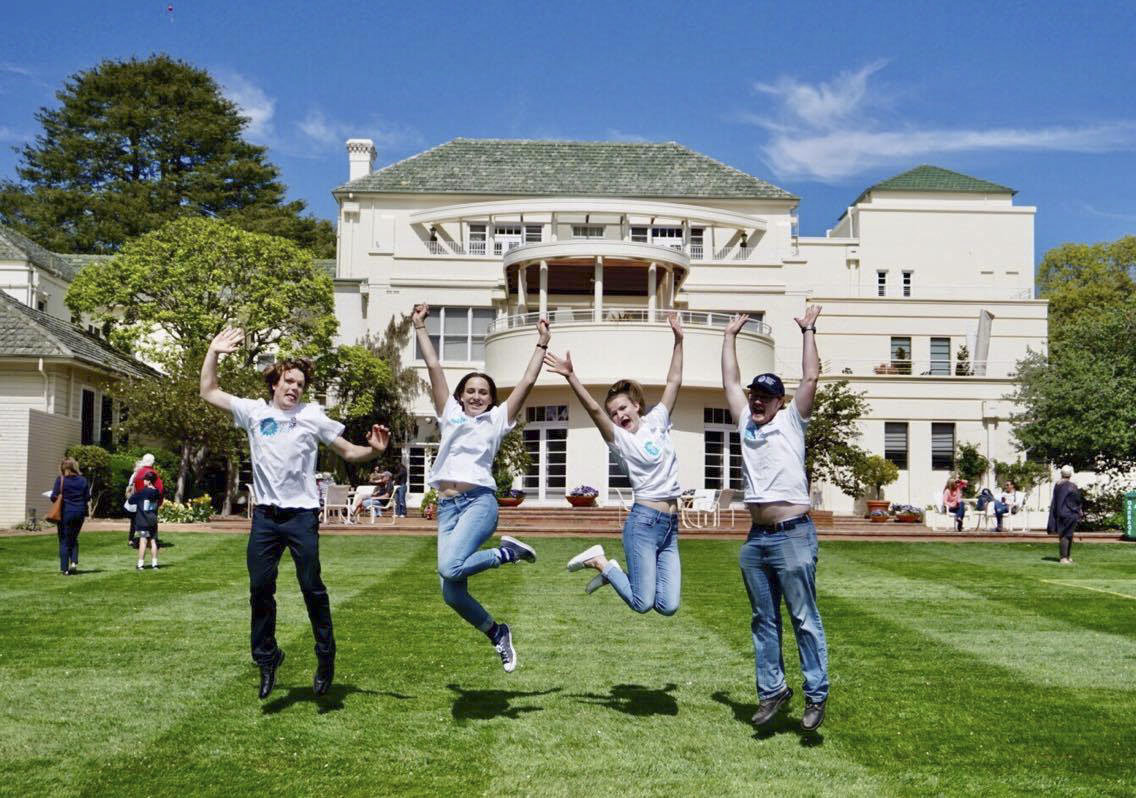 And the NYSF was honoured when the Governor-General, His Excellency, General the Honourable Sir Peter Cosgrove AK MC (Retd) and Mrs Lynne Cosgrove visited our stand to generate some hand-cranked electricity from the Van de Graaff generator, kindly loaned by the Australian National University's Department of Quantum Science Physics Education Centre.
The Open Day is an annual event and the perfect spring weather led to record crowds lining up to gain a peek inside the spectacular Residence and explore the magnificent 54 hectares of gardens.
Our fabulous alumni volunteered to help out at the NYSF stand, talking to the public about their NYSF experience, sharing their passion for science, making NYSF badges with the visitors, and doing their own fair share of electricity generation with the Van de Graaff generator.
NYSF 2011 alumnus, Mitchell de Vries welcomed the Governor-General to our stand, giving His Excellency an impromptu physics lesson.
"It was such a lovely day for it (Open Day) and it was really refreshing to be meeting people from toddlers to seniors who were all as equally excited to learn about science."
"Giving the Governor-General a crash course on the physics was also quite heartening, he was interested in understanding."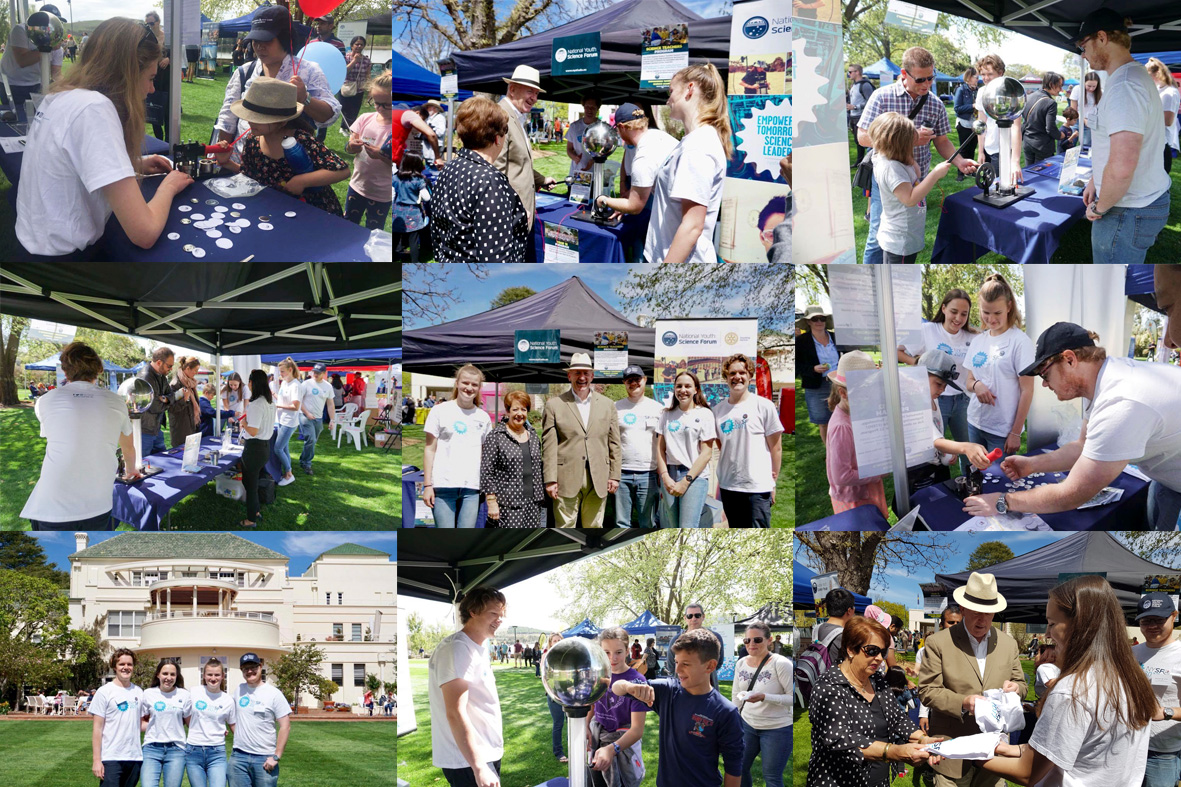 Isabel Beaumont, a 2017 NYSF alumna also volunteered at the NYSF stand.
"Helping out was a great opportunity to see Government House and meet our Governor-General. Volunteering for the NYSF, and being an alumni of the program, provides so many exciting opportunities such as this and I love being able to promote science to so many people. Volunteering for the NYSF allows you to meet many interesting people."
The NYSF thanks His Excellency and Mrs Cosgrove, and the staff at Government House for inviting the NYSF to participate in the Open Day event, and the alumni for their support on the day: Mitchell de Vries, Vivienne Wells, Joe Kacsmarski, Jaslin O'Connell and Isabel Beaumont.