"It's not just about the new discoveries or the understanding, it's about connecting people with the process of science."
One of the challenges scientists face is the ability to share their research with people from non-STEM backgrounds in a way that is easy to understand. This is why it is vital that STEM professionals hone their communication skills.
Participants of the 2021 NYSF Year 12 Program will use science, technology, engineering and mathematics (STEM) to tackle societies future challenges, and they will need to effectively communicate their work to create the change they want to see. Communication is a fundamental skill Australia's STEM professionals need regardless of their chosen field.
During the 2021 NYSF Year 12 Program, our students participated in two STEM Communication workshops, designed to develop their communication skills and introduce them to STEM careers and studies they might never have considered. Each workshop began with a panel discussion featuring expert science communicators from corporate and research backgrounds followed by a Q&A session.
Participants learnt how essential it is to effectively communicate science and technology to the general public, colleagues, the media, and political and industry leaders to develop an understanding that leads to change. Participants learnt how to engage different audiences effectively and discovered that STEM communication is more than just a practice but a research field too!
Both workshops featured top communication professionals, at all different stages in their careers with expertise in different areas. Some started in a technical STEM or research area, and others started in communications, marketing and journalism then found their love for STEM communication. It was interesting to hear about the varied path each panellist had experienced.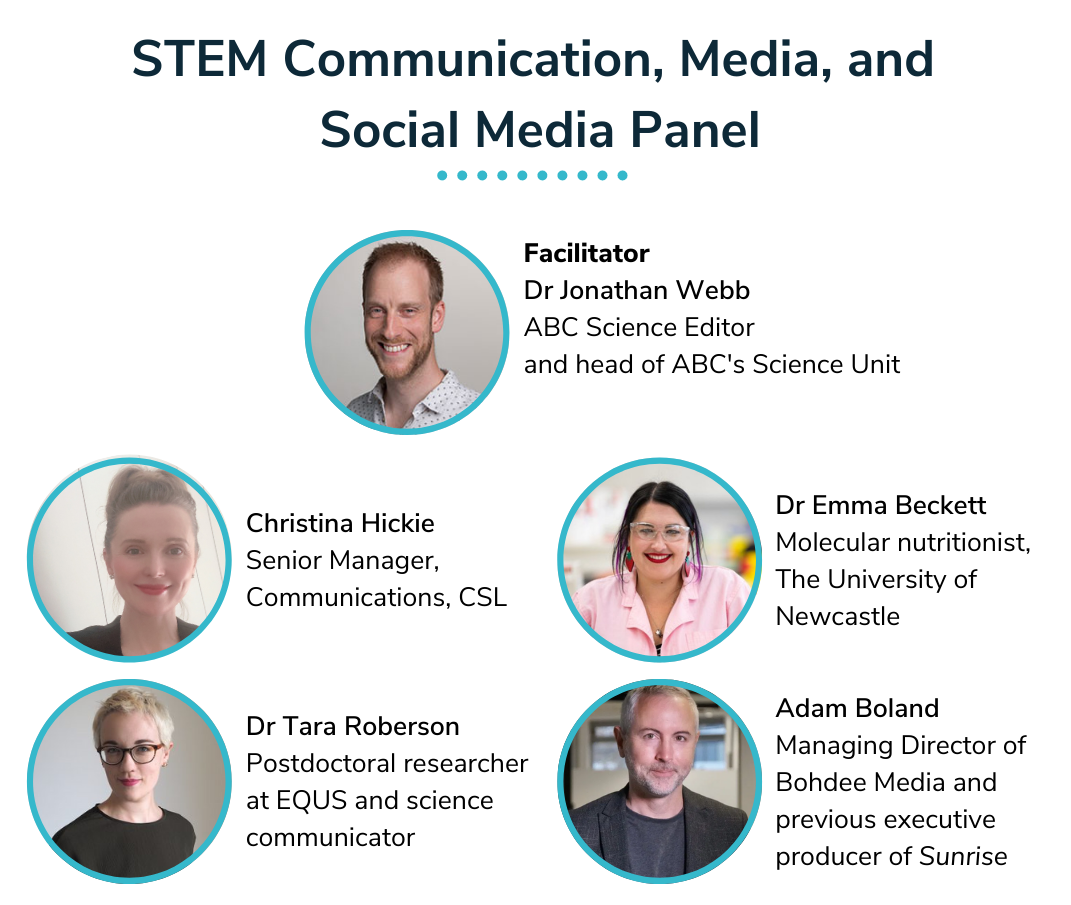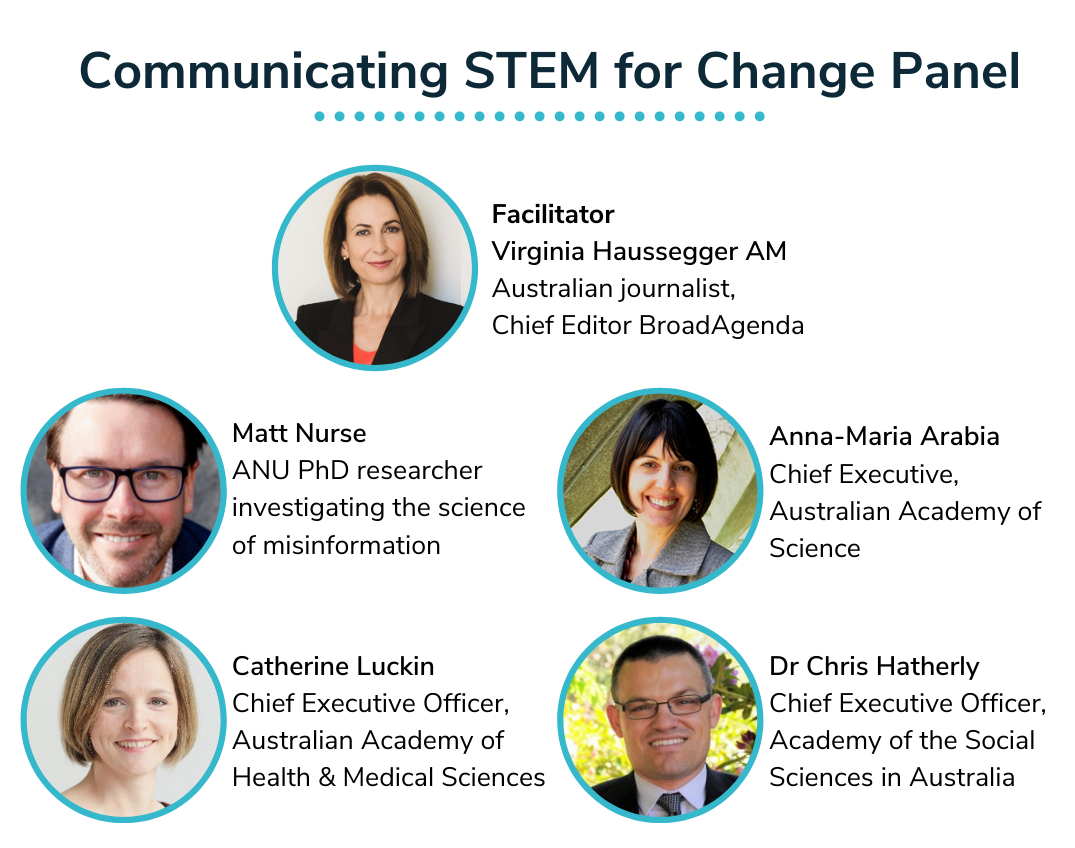 Facilitated by ABC Science Editor, Dr Jonathan Webb, the first workshop introduced participants to STEM communication foundations. It sparked a thought-provoking discussion about scientists' roles in combatting scientific misinformation in mainstream and social media. Each panellist offered a unique perspective on navigating the media to communicate STEM with a variety of audiences.
Dr Jonathan Webb began by asking why STEM communication is so important, to which Senior Communications Manager at CSL, Christina Hickie, had the perfect answer, "STEM communication affects everything we do, from personal decisions about healthcare to which political party to vote for based on their environmental policies."
Nutrition scientist at the University of Newcastle, Dr Emma Beckett, expanded on Christina's answer, saying "It's not just about the new discoveries or the understanding, it's about connecting people with the process of science."
Dr Beckett used an example from her work communicating nutrition sciences where continuously changing and conflicting advice on our diet can lead to frustration and doubt amongst public audiences. Communicating STEM as an evolving process and teaching others how it works to improve trust is as important as communicating the latest discoveries.
Adam Boland spoke about his mission to engage the unengaged during his time at the Australian Academy of Science through short, fact-checked videos. He provided tips to create engaging content on Facebook. "All the videos were in square aspect because they had 33% higher engagement. We knew that 85% watched videos without audio so we captioned everything. But most extraordinarily, the research shows you have exactly 2 seconds to secure engagement with a video."
The panellists agreed that overhyping can greatly undermine the STEM communication process. When asked about hype, Dr Tara Roberson from the University of Queensland discussed how participants could avoid the mistake of overhyping during science popularisation. "The problem is when there is jargon that doesn't work, so you take it out then things become a little inaccurate or if you're trying to be too interesting and that is when we fall into hype territory."
During the Q&A portion of the workshop, panellists were asked about how they talk to people resistant to science, to which Dr Jonathan Webb suggested finding common ground, "Try sitting alongside someone instead of talking at them because it is all about connection. If you find that place where you do connect with them, then gradually work from there to the difficult science topic that you want to get across."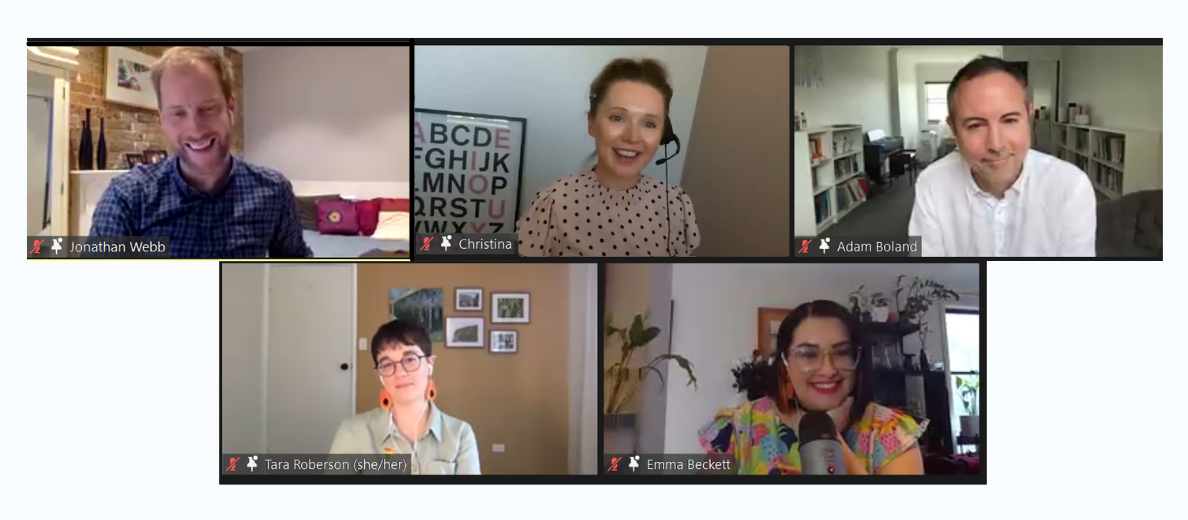 Award-winning journalist, broadcaster and gender equality advocate, Virginia Haussegger AM, facilitated the second workshop and asked the highly experienced panel how NYSF participants could use the skills they learnt during the first workshop to communicate STEM for change. They unpacked the basics of what science policy is and the connection between research and informing and designing policy.
Virginia began the discussion by pointing out what was clearly evident after the panellist introductions, "Everyone has arrived at their current role through many different means. The one thing I take from all four panellists is that their careers are continuously evolving. I'm still wondering what I'll do when I grow up!"
CEO of the Academy of the Social Sciences in Australia and NYSF Alumnus, Dr Chris Hatherly, shared his take on science interacting with policy, highlighting that science interacting with the policy is about trying to influence policy decisions based on what the science says, "The challenge is to get science to the table in a way that it is respected and heard without being thrown out altogether."
Catherine Luckin, CEO of the Australian Academy of Health and Medical Sciences, highlighted the part NYSF participants can play in the policymaking process. "You can think about how you might call upon decision-makers to be transparent in the decisions they're making and call upon them to explain why they're making these decisions."
Combatting misinformation was a common theme across both panels. When asked what scientists can do to combat misinformation and ensuring policies are created based on evidence, Chief Executive of the Australian Academy of Science, Anna-Maria Arabia, highlighted the role of scientists in influencing other leaders to value science and the relationships the Academy has with various ministers to achieve this. "It is incumbent on all of us – scientists and policymakers – to encourage decision-makers to inform their policy proposals with reliable expertise."
Matt Nurse, science communicator and researcher from the Australian National University echoed Dr Jonathan Webb's sentiments from the first workshop and gave advice for participants to shift someone believing misinformation to science-backed information while introducing participants to some science communication theory. "It's the continued influence effect. The first time you come across information, you're more likely to believe it even if it's corrected later. The way to counter this is by providing explanations to the best of your ability and describe why they should update their mental model to believe the new information."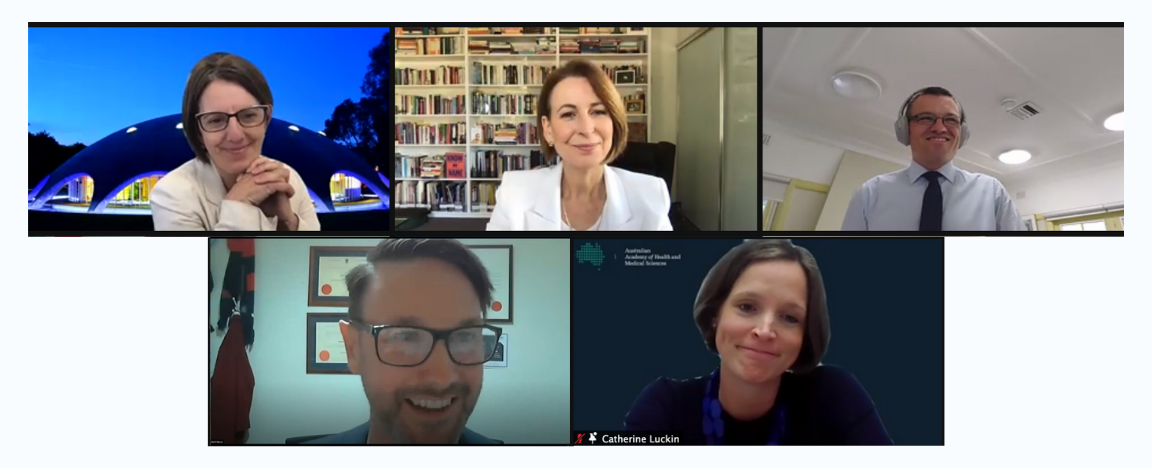 With a wealth of insights and tips to assist our young scientists of the future, it's no wonder these sessions were well-loved by participants!
"Brilliant panel from so many different backgrounds, highly relevant and engaging! :) They offered so many great insights into their fields and perspectives on science communication." – 2021 NYSF Participant
"I LOVED this session. I never knew how important AND prominent STEM communication is in the lives we lead today." – 2021 NYSF Participant
"It was really interesting to hear about how science can be communicated and to hear from so many different viewpoints gives a large scope of the different aspects that play a role in the communication of science and STEM." – 2021 NYSF Participant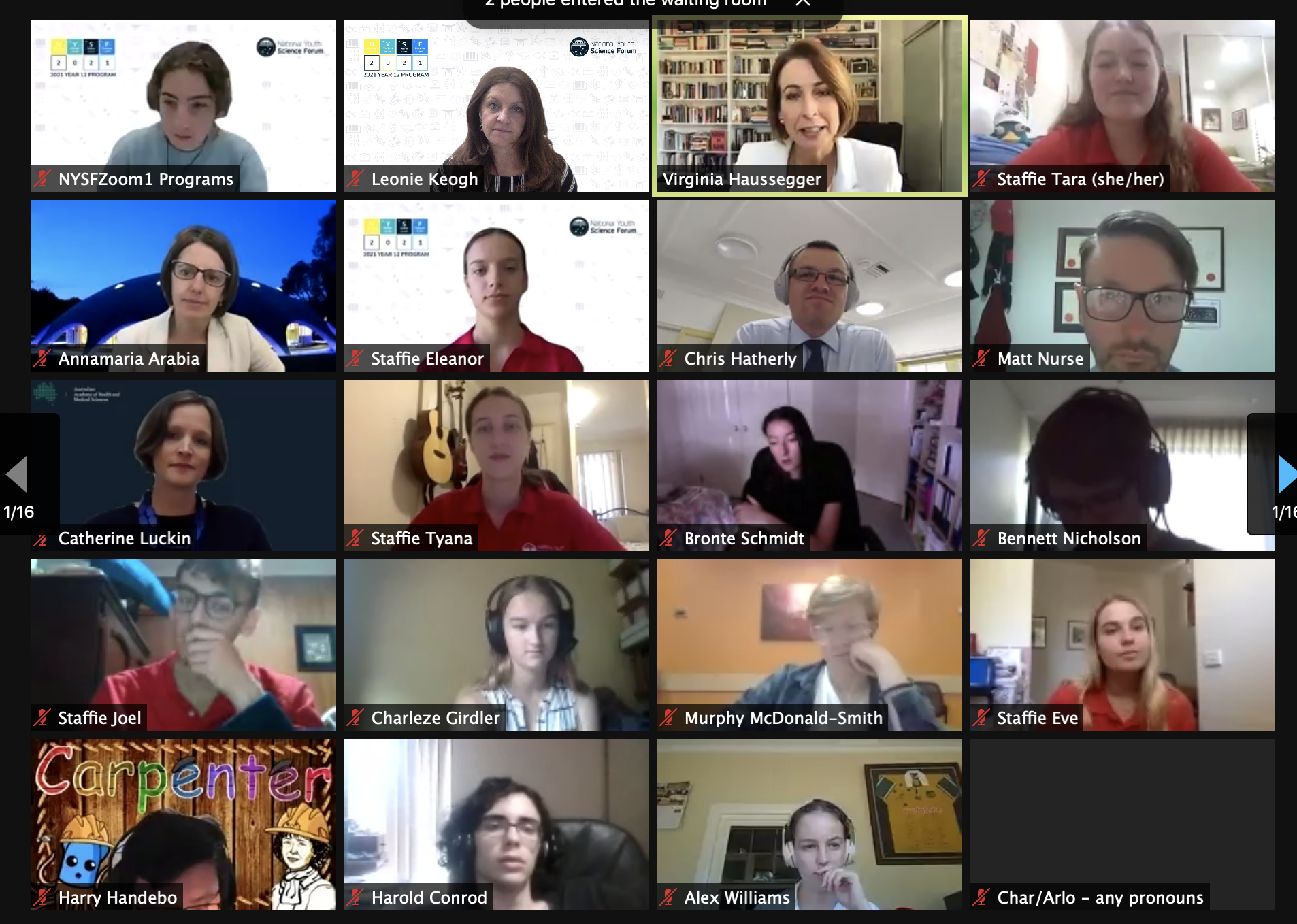 Thank you to all the panellists who generously donated their time to discuss the ever-important topic of STEM communication, helping prepare our participants for whatever future STEM career they choose, which now includes the newly discovered STEM communication field.