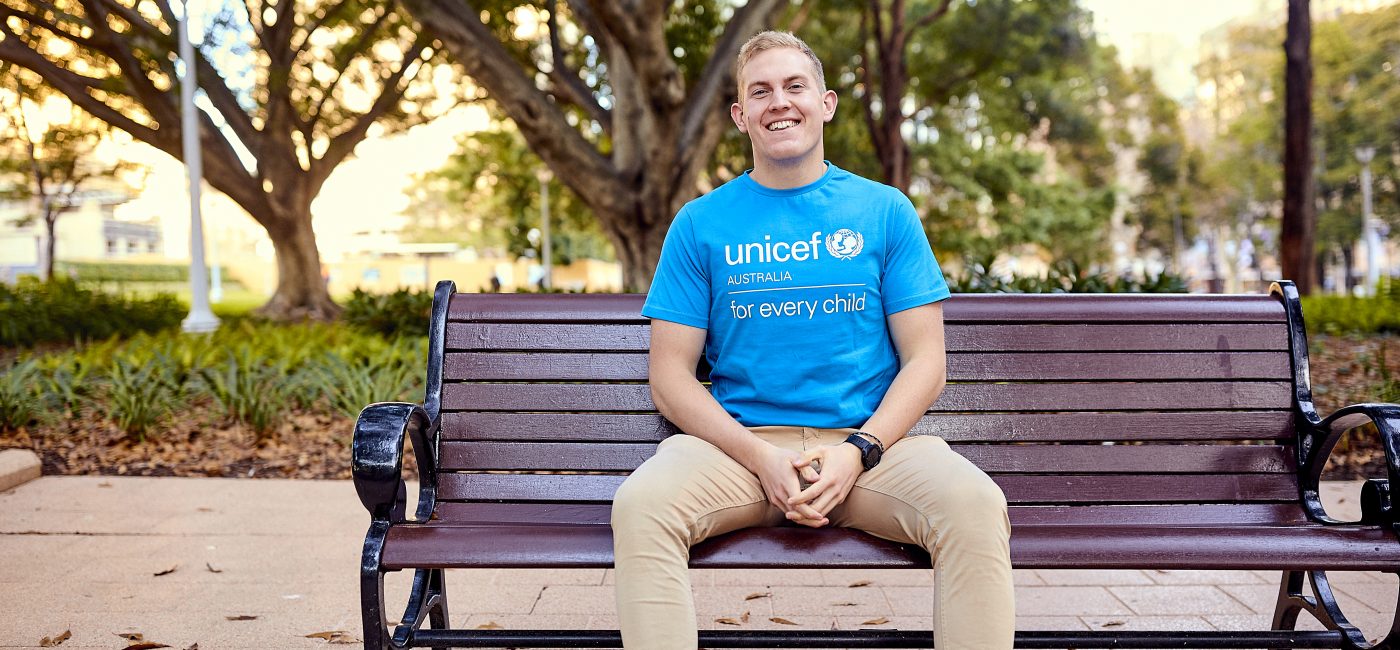 "NYSFers use their backgrounds in science in so many ways to do amazing things, and I have certainly had an incredible time as a young ambassador. However, a new group of young ambassadors is needed to take over once my stint ends in June 2019, so if you also think children and young people are really, really important, I encourage you to apply to be a UNICEF Australia Young Ambassador for 2019/20!"
UNICEF recently called for applications from young Australians to be involved in their Young Ambassador program. NYSF 2013 alumnus and Tuckwell Scholar, Lachlan Arthur, who has recently completed honours in the PhB program (Biological and Medical Sciences) at The Australian National University (ANU), was successful in his application.
"Earlier this year I saw UNICEF Australia's Young Ambassador Program advertised on my Facebook newsfeed. I am just about to graduate with a degree in medical research, so initially, I was unsure if I fit the bill for the position. I have not studied international law, participated in Model UN or interned in Geneva like I assumed most other candidates would have. I did not even know that the Convention on the Rights of the Child (the document UNICEF is mandated by, and also the most rapidly and widely ratified human rights treaty in world history!) existed. However, I do have a passion for child health and education, particularly in Australia and the Asia-Pacific region, so I decided to apply.
After being selected as a young ambassador and arriving at the UNICEF Head Office in Sydney for training, I was relieved to find that none of the 8 other ambassadors fit the criteria I had imagined. We are an eclectic bunch, ranging from a Year 9 student from Coffs Harbour to university students studying a variety of subjects. However, the one thing we all have in common is that we all believe children and young people are really, really important.
As the United Nations Children's Fund, UNICEF's role is to uphold child rights in whatever way is needed. As young ambassadors, our role is to be a link between UNICEF and the young people of Australia. Our major project is to get issues that matter to children on the agenda at the next federal election. To do this, we are currently conducting a National Consultation which involves speaking to young people across the entire country. Following the National Consultation, we will take the findings from our conversations to politicians in Canberra before next year's election in the hope of getting politicians to discuss children in the lead-up to the election.
My 5 months as an ambassador has given me a crash course in government relations and policy. Especially as I start my medical degree next year, the knowledge and connections I have gained during my time with UNICEF will be invaluable as I pursue a role in public health policy alongside my clinical career.
The young ambassador program is open to people aged 15 to 25 with a passion for child rights, so it is a great program for the incoming NYSF Class of 2019 or recent NYSF alumni to be involved with. The best way to know when applications open and keep up to date with what myself and the other young ambassadors are doing is to follow UNICEF Australia on Facebook, Twitter and/or Instagram.
NYSFers use their backgrounds in science in so many ways to do amazing things, and I have certainly had an incredible time as a young ambassador. However, a new group of young ambassadors is needed to take over once my stint ends in June 2019, so if you also think children and young people are really, really important, I encourage you to apply to be a UNICEF Australia Young Ambassador for 2019/20!"