And we're back. The January Sessions of the NYSF2015 are done and all of our young people are home and hitting the books for their final year at high school.
Both Session A and Session C were successful, with individual highlights that the students and those of us involved in delivering the program will remember for a long time to come.
Session A will be remembered for being the first NYSF session to host 200 students on campus at the Australian National University – an increase of about 50 students who were able to be accommodated by our friends at Burgmann College. Finding additional lab visits for this cohort wasn't anywhere near as difficult as we might have imagined, thanks to all of the wonderful providers without whose support the program could not exist.
We were delighted to have our new council Chair, Professor Tanya Monro, Deputy Vice Chancellor Research and Innovation at the University of South Australia and an Australian Research Council Georgina Sweet Laureate Fellow – an alumni of the NYSF herself, – officiate at our Opening Ceremony for Session A. Professor Monro was joined by Professor Ian Young AO, Vice Chancellor of the ANU, and Rowley Tompsett, NYSF Council member and District Governor of Rotary District 9710, Senator the Hon Kate Lundy, who hosted our visit to Parliament House for the Opening Ceremony and the Parliamentary Education Office session that followed. Senator Lundy steps down from the Senate soon, and we would like to thank her for her support over the years in hosting and welcoming our students to Parliament House.
The next two weeks were a blur of visits, chants, forums, photos and special dinners, including the Rotary Dinner, where alumni (1997) Peter Nixon regaled the students with stories of his rich and varied career, leading to his role as Manager Core Architecture Evolution at Vodafone Hutchison Australia.
And at the Science Dinner for Session A we hosted UNSW Australia's Scientia Professor Veena Sahajwalla as she launched the Science 50:50 Project, which is funded by the Australian Research Council.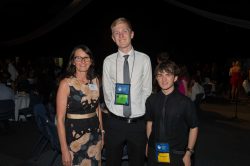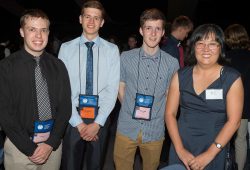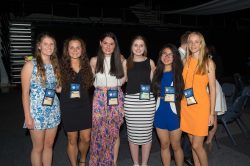 Our panel discussion members comprised representatives from industry – Ms Laura Frank, Vice President and Chief Operating Officer, Lockheed Martin Australia, Ms Gillian Burrowes, Chief Executive Corporate Affairs, Arrium Mining and Materials; and academia and research – Professor Aidan Byrne, CEO of the Australian Research Council, Dr Deanna D'Alessandro, an NYSF alumni (1996) and ARC Queen Elizabeth II research fellow from the University of Sydney, and Mr Geoff McNamara, winner of the Prime Minister's Prize for Excellence in Science Teaching in 2014.
Together they nutted out some of the key issues relating to engaging and continuing young women's involvement in science after high school, including different funding models, mentoring, flexible working arrangements. They also touched on the key role that young men have in encouraging women into their circle and supporting and delivering social change.
Session A garnered some media attention as well, with West Australian student Peggy Atkinson interviewed live to air on ABC News 24, and David Steketee (another WA student) and Sachini Perera (from Victoria) also being interviewed live along with academic Jeremy Smith from ANU Engineering, about their hands-on workshop run by Engineers without Borders. You can engage with these and other media stories from both of the January sessions here.
Needless to say, our volunteer Rotary parents, aunts and uncles joined our Session A staff in waving off the students, sadly on the Saturday morning, with sounds of the banana chant fading into the distance.
And yet ... there's more.