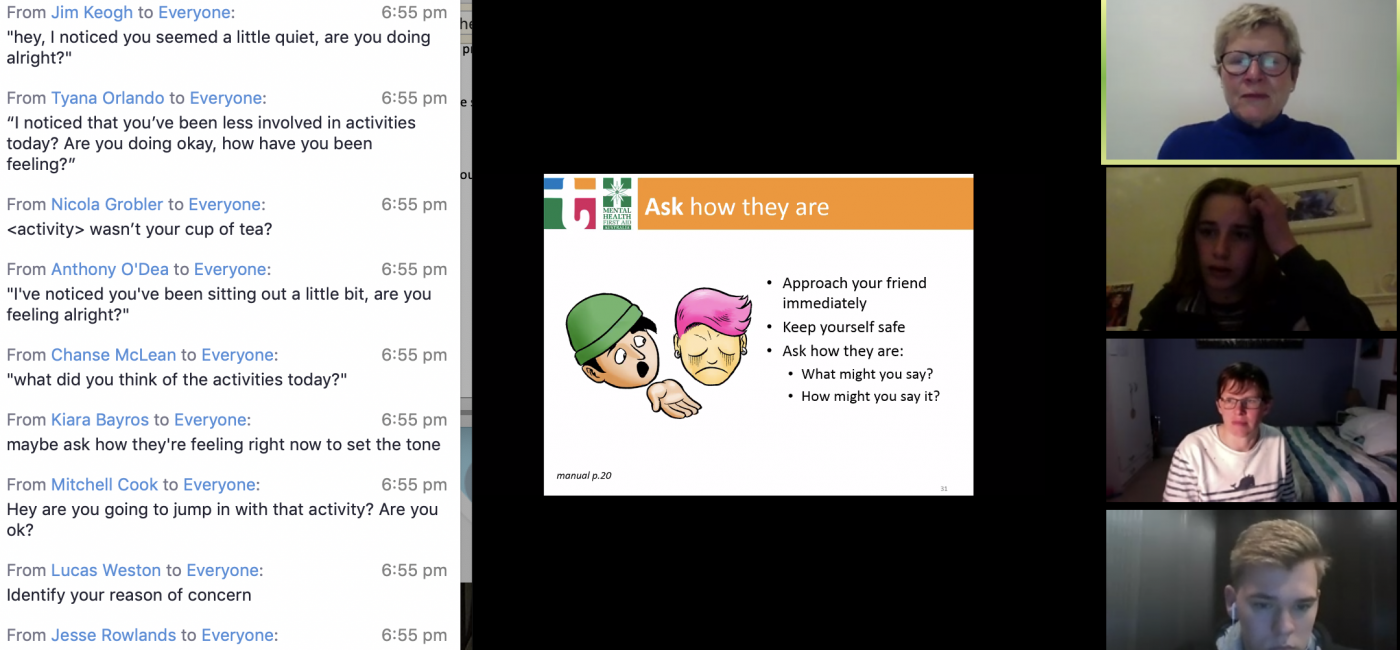 "The most valuable thing I learnt was the teen MHFA action plan, which is similar to the DRSABCD for physical first aid, providing 5 steps to follow when there is a mental health crisis."
Did you know 26% of young people struggle with some type of mental illness, with the most common being anxiety, closely followed by depression? Participants of the NYSF Year 12 Program attend at a time filled with change, pressure, and decision making about their future. With this in mind, the NYSF offers support to all students facing mental health issues whilst on the session.
Each year, participants from the NYSF Year 12 Program are selected to take part in our NYSF Student Staff Leadership Program (SSLP). These participants then return to the NYSF Year 12 Program the following January to help deliver the program as Student Staff Leaders. Whilst on the session, Student Staff interact with students in both small and large groups. While NYSF staff and Rotary volunteers are primarily responsible for the health and well-being of our student participants, creating these unique and in many instances long-lasting friendships build a level of trust between students and student staff. When any concerns arise around the well-being of a student, it enables efficient communication of relevant information to the right people. As Student Staff Leaders, understanding their role as Mental First Aid responders on session ensures the wellbeing of participants and the Student Staff team.
As part of the 2020 Student Staff Leadership Program, the Student Staff Leaders were recently joined by Catherine McCarthy to discuss Mental Health First Aid, and how to offer assistance to someone in a mental health crisis on the program and beyond. As a Principle Master Trainer at Mental Health Frist Aid Australia, Catherine McCarthy has worked across all sectors of the community, from large corporations to community groups. With training in Psychology and Family Therapy, as a Family Therapist and Advanced ACT therapist, Catherine specialises in the delivery of Mental Health Frist Aid Training for youth and teens. The NYSF worked with Catherine to design a session tailored to the Student Staff Leaders' group, delivered over zoom. We thank Catherine for her time and flexibility to deliver the session in the new online format.
To introduce the session Catherine discussed the definition of mental health and a healthy mind, what can change a person's mental health mind state, the impact of mental health problems, the ongoing stigma of mental health issues, and how to help someone suffering in a mental health crisis. Participants were broken into smaller groups which allowed for discussion with peers on their mental health experiences, to discuss techniques for helping a friend, and who to approach during the program if they are concerned about a student or fellow volunteer.
Throughout the training session participants were introduced to and put into action, the Teen Mental First Aid Action Plan (MHFA), comprising of the following steps; Looking for the warning signs, asking how the person is, listening up, helping to connect them with an adult and remember that their friendship is important.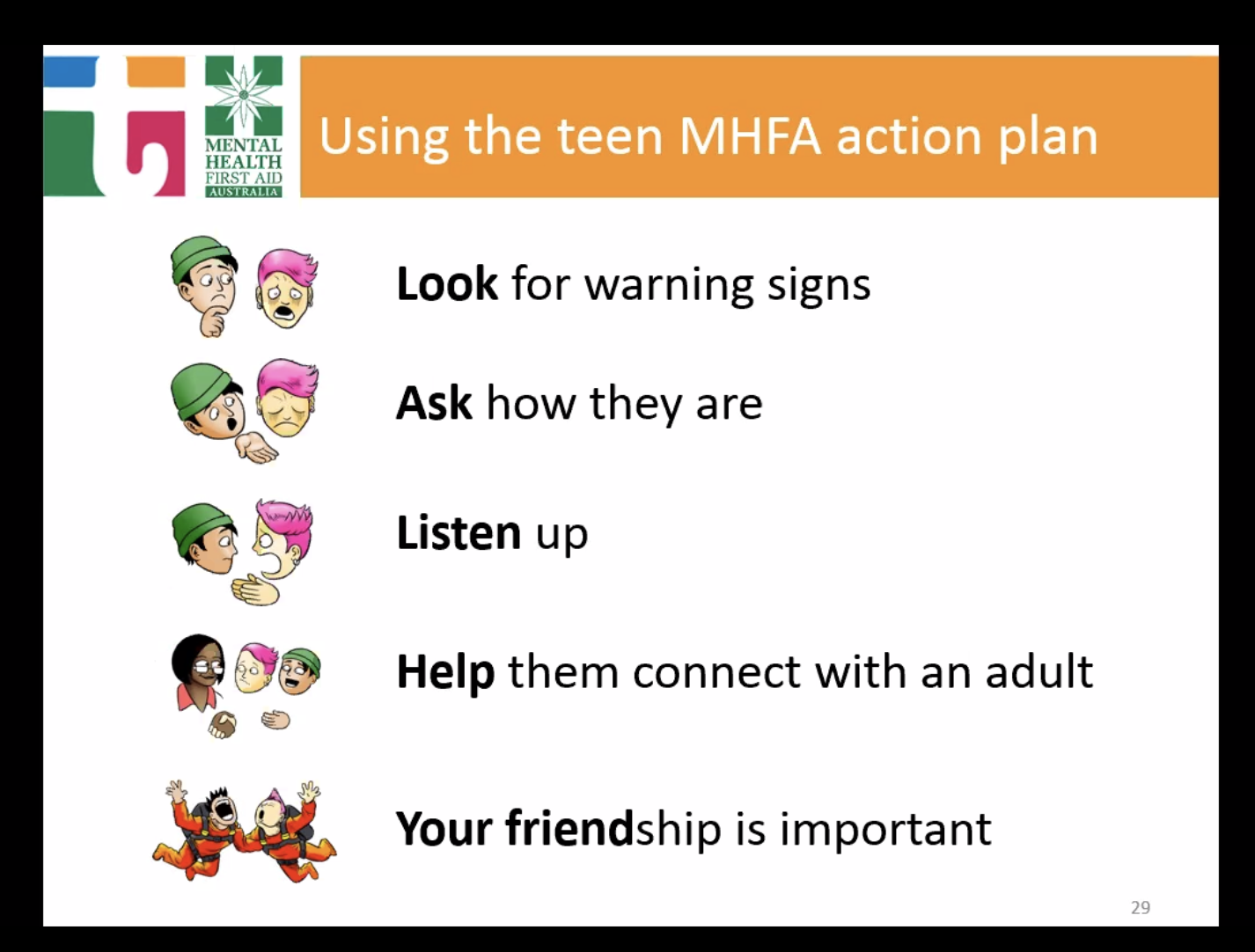 In the final training session, the participants were asked to use all the knowledge they gathered from the presentation to discuss the steps they would take to handle a number of hypothetical situations during the program, in a small breakout group of participants, before sharing their answers with the whole group.
In a follow-up survey to Student Staff Leaders, participants reflected that the most valuable aspects of the session were the knowledge of MHFA plan and gaining techniques to help a friend and student in a mental health crisis. The session also clarified the role of the Student Staff as a Mental First Aid responder on session to all respondents.
"Our volunteer Student Staff Leaders are an invaluable part of the NYSF Year 12 Program. They facilitate the program and provide support to student participants in their search for STEM passion. Providing our Student Staff Leaders with the tools and confidence to assist a student or fellow volunteer in a mental health crisis is vital for the wellbeing of all participants and volunteers and integral to the success of the program. We are extremely grateful to providers like Catherine adapting to online content delivery to support our Student Staff Leadership program participants"- NYSF CEO Melanie Bagg
We once again thank Catherine for her insightful presentation and remind anyone dealing with mental health concerns to reach out to the following organisations.
Lifeline 13 11 14
Suicide Call-back Service 1300 659 467
Kids Helpline (for young people 5-25) 1800 55 1800
Headspace (for young people 12-25) 1800 650 890