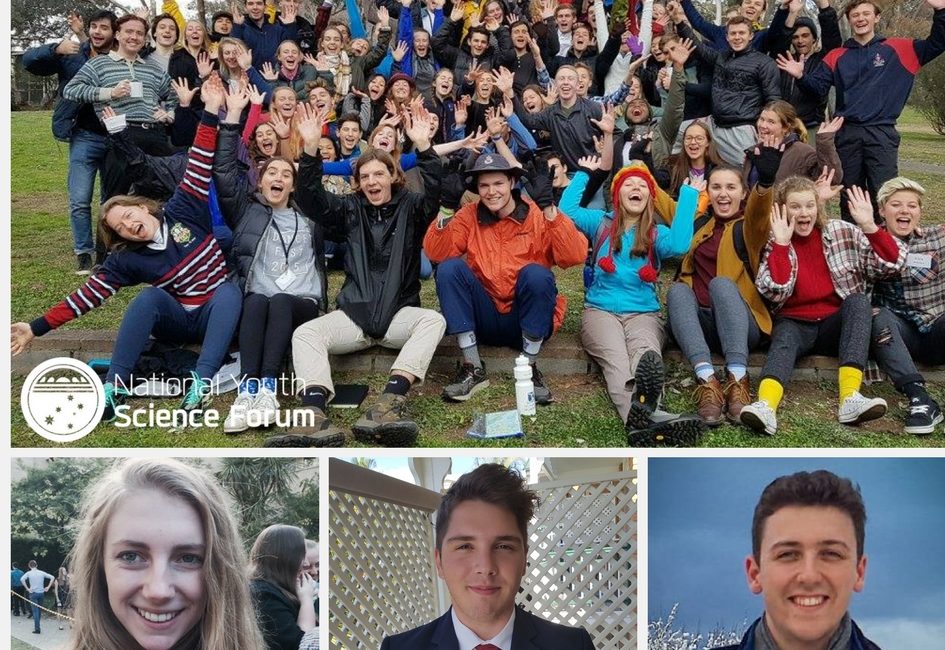 "Each and every one of the student staff members is a fantastic, charismatic and an indispensable part of the NYSF team."
When Kathleen Wisbey went to the NYSF in 2014, she was the first person from her school – St Michael's Collegiate in Hobart – to ever be selected to attend the program. At that time, science wasn't necessarily a popular choice, "… so to apply for the NYSF was daunting for sure," says Kathleen. "But gee, did I make the right decision!"
"Without exaggerating, attending the NYSF has genuinely changed my life. I would never have moved interstate to Monash University, and I wouldn't have made the decision to study physiotherapy. Those two weeks in Canberra helped me to learn so much about so many different things – not only about going to university, but also how to apply for uni, what scholarships are available, what is the best degree for me. And being surrounded by hundreds of students just like me did incredible things for my personal growth. Undoubtedly, I am the person I am today thanks to the experience and opportunities provided to me while being part of the NYSF program."
Kathleen – or Wiz as she is better known – was then asked to participate in the NYSF student staff leadership program and assist in delivering the 2015, 2016 and 2017 NYSF programs. This level of commitment has led to the development of her leadership skills, resulting  in her selection as one of the three NYSF 2018 Chiefs of Staff to deliver the program in January.
"It was an incredible feeling to be asked to be a Chief of Staff. Who would have thought that over four years later, I would still be involved in such an wonderful organisation?"
Kathleen says that, with the countdown for Session A truly on, she is, "… beyond keen to get back out there and make the magic happen for another year. The buzz and excitement for session is infectious and I feel spoiled to be able to be part of it all over again."
Joining Kathleen as Chiefs of Staff in 2018 are Harley Gray and Patrick Hartsuyker. Harley will be the Chief of Staff at our first Session B at the University of Queensland (UQ) in Brisbane. He is studying a Bachelor of Advanced Science at UQ, and also attended the NYSF in 2014, and returned as a student staff leader in 2015, 2016 and 2017.
"My entire field of study and choice of career changed after attending the NYSF," says Harley. "Before the program I had hoped to go on to study medicine or a similar discipline. During the program I met physicists, engineers and mathematicians who demonstrated what a career in STEM looked like. As a result, I decided that I wanted to pursue mathematics at university."
Harley says that having a passion for science and maths can sometimes leave you in the minority at school. "Being at the NYSF and surrounded by others with that same enthusiasm is a wonderful feeling."
On leading the NYSF 2018 Session B, Harley says that it's hard not to feel nervous leading up to the program, "… but I have complete faith that all of the NYSF corporate team, as well as the incredible young leaders of the student staff team, will be able to deliver another life-changing experience for the NYSF 2018 cohort."
The NYSF 2018 Session C Chief of Staff is Patrick Hartsuyker, who attended the NYSF in 2014, and has also supported the program as a student staff leader in 2015, 2016 and 2017.
Patrick comes from Newcastle, NSW and will start his fourth-year studies for a Bachelor of Medicine/Bachelor of Surgery at James Cook University in Townsville, Queensland in 2018.
Of his own NYSF experience, Patrick says that attending the program exposed him to a number of inspiring researchers and individuals working in very diverse fields. "Before attending NYSF, I was considering a career in medicine however I had never really discussed it with others as it seemed an unreachable goal. What NYSF gave me was the confidence and clarity to chase my goals, no matter how out of reach they seemed at the time. The different STEM workshops gave me real insight into how each area worked in conjunction with medicine."
"Attending the NYSF also allowed me to form relationships with students in Australia and internationally, and I am still in regular contact with many of them five years later. I would encourage the 2018 participants to bring an open mind and seize all of the opportunities available. Regardless of your particular interest in STEM, explore all of the areas of science offered at the program. It's also a great platform to develop your skills in public speaking, and network with the NYSF funding partners, researchers and university representatives you may have a chance to meet."
The trio will lead three individual teams of 68 student staff leaders in total – the largest cohort of staffies that the NYSF has ever had. "Each and every one of the student staff members is a fantastic, charismatic and an indispensable part of the NYSF team," says Harley.
Patrick agrees, saying, "This team we have is incredible, and they should be commended for the effort and work they have put in over the past 12 months to make this program what it is. They are such an inspiring group of individuals and I am really excited to see what we will achieve together."
Harley, Kathleen and Patrick all express their sincere thanks to those involved in the NYSF –the corporate team and Board, members of Rotary clubs all over Australia, and the businesses, research organisations, funding bodies and universities that support the organisation in its mission to deliver transformative STEM experiences for young Australians, to encourage life-long learning.
And their best advice? Kathleen puts it well: "Be prepared for the most incredible (almost) two weeks of your life – you can only understand what "session" really is all about after you have experienced it."