Fundraising for any kind of extra-curricula activity can be challenging, especially for year 12 students. Most of the NYSF students selected to participate in the 2014 NYSF International Program have undertaken a wide range of activities, including cake stalls, selling chocolates, raffles, trivia nights and bowling nights to raise money to pay for their trips.
Jordan Epstein from Sydney was selected to attend the London International Youth Science Festival this year. Fortunately, he had lots of ideas for raising money for the trip, having been an active fundraiser for many years. "I've done a lot of fundraising for worthy causes and charities in the past. When I was 12, I did the MS Readathon and raised $5,000. This time, though, the task was focused on my own activities."
Seeking advice from the NYSF Alumni Facebook group, Jordan says he received incredible support. "They definitely steered me in the right direction. Contacting science-based companies and local MPs provided me with good contacts for funding requests."
"I wrote a personal letter to the contacts, attached the media release we received from the NYSF about the international program, and offered to come to present about my trip on my return. This seemed to be viewed as a fair exchange for donations."
Jordan also tapped into his school's charity program, offering to organise a bowling night for an existing fundraising target, with the left-over funds donated to his own trip. "We raised $4,500 in total, with 120 people attending the bowling night. The venue cost $500 to hire, and we needed to set aside $1000 for the school charity program. We sourced raffle prizes and sold tickets at $5 or 3 for $10." Prizes included a case of wine, and a dinner at a local restaurant – both donated by parents whose children attend Jordan's school.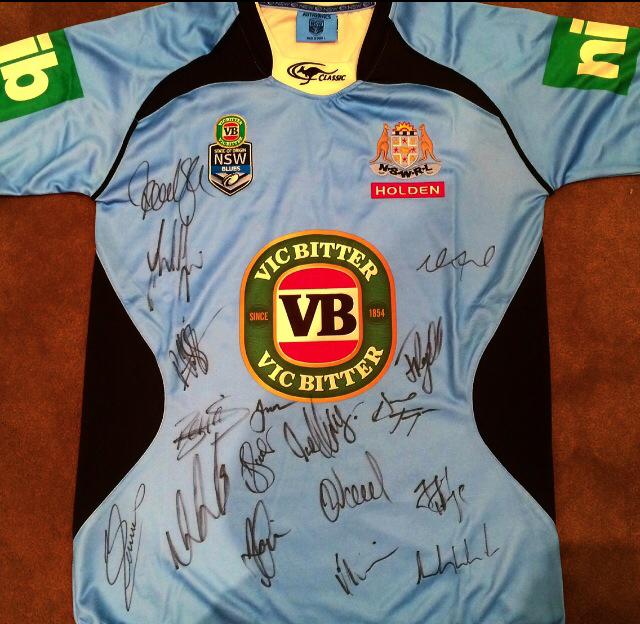 A silent auction focused on two big ticket items – a signed and framed 2003 Sydney Roosters' jersey, and a signed 2014 Blues 100th game memorial jersey from the first rugby league State of Origin win for New South Wales in nine years. "This was an incredibly valuable piece of memorabilia, also donated by a parent at the school." It sold for $1000, and the Roosters' jersey sold for $500.
The upshot for Jordan was that $3000 from the total funds raised was directed to the London trip, with those two pieces of sporting memorabilia key to this success.
"It was a really efficient way to raise large amounts of money and I would recommend this approach to others who need to fund-raise."
All of the students from New South Wales, including Jordan, received funding from NSW Trade & Investment in support of their trip.