"Maths is absolutely what got me where I am today": Karlie Noon
Did you know that Australia's own Commonwealth Scientific and Industrial Research Organisation (CSIRO) was responsible for the development of wi-fi? Not to mention Aeroguard, 3D titanium printing and the first polymer banknote?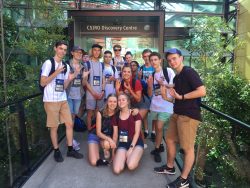 NYSF 2018 Session A students from Hill (biology) and Wu (physics) interest groups were given the opportunity to visit the CSIRO Black Mountain site, starting with a race around the Discovery Centre! Armed with iPads, QR codes and a map, 20 minutes of chaos was created as students raced to find the answers to CSIRO related questions around the building.
The students then heard about the research done by Karlie Noon, an Astrophysics masters student supported by CSIRO and one of the Institute's Education Officers. She also described her work in Indigenous Astronomy, studying Indigenous stories that describe astronomical phenomenon and explaining them with modern science. Karlie advised students about her background in pure mathematics, remarking that, "Maths is absolutely what got me where I am today… it is transferable and will help you with everything!"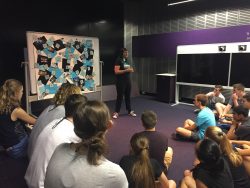 With a background in marine science and now a CSIRO Education Officer, Jillian Browning also talked to the students, giving insights about the possibilities with titanium 3D printing. The students were fascinated by custom titanium 3D printed models of a heel and sternum implants for patients with cancer in those respective areas. She also sparked wonder in talking about new technologies combining 3D plastic and titanium printing to replace cartilage and bone respectively. Needless to say, she was bombarded with questions after the talk! 
After some real-life encounters with some stick-insects, students embarked on tours of the Institute; the biology group heading to the insect collection and the physics group heading to on a building tour with the head mechanical engineer.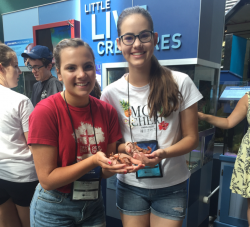 A student on the building tour, Elizabeth from Perth, WA, said, "I was impressed by how much thought went into the design of some of the CSIRO buildings. Adjusting the pressure of foyer areas so that no air flows out of the labs is very clever!"
For more information about the CSIRO, check out their website: https://www.csiro.au/
Brooke Krajancich, Communications Intern NYSF 2018 Session A and NYSF Alumna 2013.