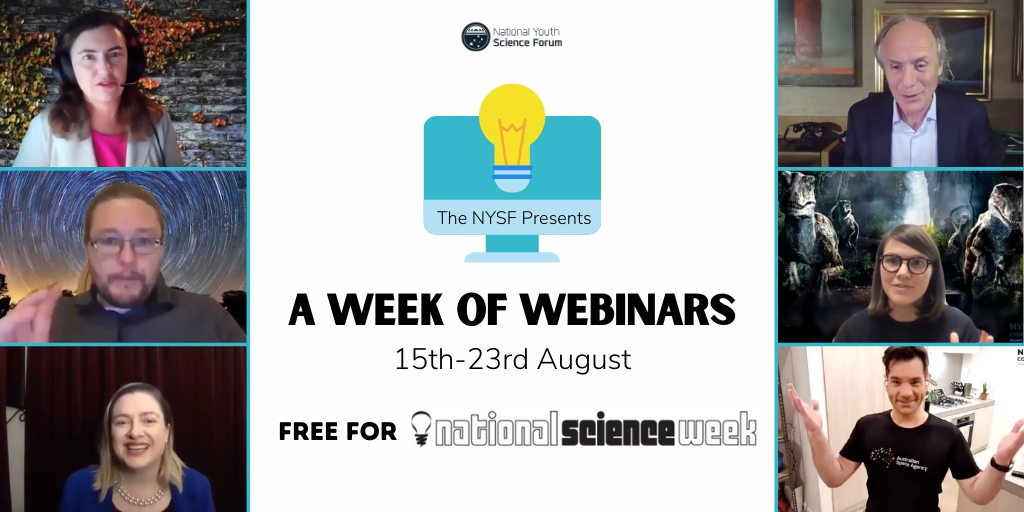 As a special treat during National Science Week 2020, the National Youth Science Forum (NYSF) has made their exclusive NYSF Connect Alumni Webinar Series available and free for public viewing. Ordinarily, NYSF alumni have unique access to pre-recorded lectures and live Q&A webinars with Australia's leading STEM professionals covering topics in STEM & Research, Alumni Stories, and Career & Studies.
---
Australia's Chief Scientist, Alan Finkel AO
Join Australia's Chief Scientist, Dr Alan Finkel AO, as he discusses Australia's response for COVID-19, bushfires, what he got up to in lockdown and more.
Watch his pre-recorded content and Q&A.
Professor Sally-Ann Poulsen
NYSF 1986 Alumna Professor Sally-Ann Poulsen shares her journey from NYSF Year 12 Program to Deputy Director at Griffith Institute for Drug Discovery (GRIDD)
Sally-Ann talks about her research in drug discovery for the most common, most aggressive and most lethal brain cancer.
Watch her alumni story, lecture, and live Q&A.
Dr Brad Tucker
Let Astrologist and Cosmologist Dr Brad Tucker blow your mind, as he describes what we do and don't know about the universe, exploding stars and time travel in his pre-recorded lecture.

Rod Drury CSC
Join Rody Drury, Vice President of International for Lockheed Martin Space, as he discusses his career journey, exploring Deep Space and Australia's role in space industry and innovation.
Watch his discussion with NYSF CEO Dr Melanie Bagg.
Associate Professor Rachel Allavena
Dr Allavena teaches pathology, toxicology and laboratory animal science at The School of Veterinary Science, The University of Queensland, where she is the Deputy Head of School and lead of the veterinary pathology service. Her research develops cancer treatments for pet dogs by triggering the dog's immune system to wake up and fight their cancer.
Watch her lecture outlining her research success and her live Q&A.

Dr Sophie Calabretto
Hear how NYSF 2005 Alumna and Senior Lecturer in Applied Mathematics Dr Sophie Calabretto makes progress on the unsolvable problems of chaos and turbulence in fluid flow using mathematics.
Then watch her lecture and Q&A.
Nate Byrne
Nate attended the NYSF in 2001 and has had a diverse and adventurous career in science since. Watch his webinar to hear more about Nate's journey from NYSF to how he landed his dream job as an ABC Breakfast Weather Presenter.
Watch his lecture and Q&A
Dr Charley Lineweaver
Astrophysicist Dr Charley Lineweaver answers questions in his Q&A and lecture such as: why is the universe spatially infinite? When did time begin? What's new in the discovery of 4000 exoplanets?!
Watch his Live Q&A.

Dr Lachlan Blackhall
As an engineer and scientist, Dr Blackhall looks at the opportunity for other engineers and scientists to create a positive impact for people and the community, as he explores emerging technologies in energy capture, storage and supply.
Learn about his research and more in his pre-recorded lecture and live Q&A
Professor Catherine Travis
Do we judge people on the way they speak? Do perceptions of the way you speak impact your social standing in Australia? Join Professor Catherine Travis from the ARC Centre of Excellence at the ANU, where she will answer these questions and more!
You can participate in a live sociolinguistics experiment here, then watch her Q&A to learn more about the way we speak here.
John Pring
John Pring is a senior project manager within Geoscience Australia and a strong proponent of citizen science, working to raise the profile of citizen science both as a practitioner and as a participant. NYSF CEO Dr Melanie Bagg interviewed John Pring to learn about the importance of citizen science, then participated in a Q&A for alumni to ask further questions.

ANU Ecology, Evolution and Environment Panel Discussion
Hear from four Australian National University PhD students. Their lecture covers the four animals they're researching, and their live Q&A goes in-depth about how they selected their project, their favourite moment so far, and advice for alumni considering the academic route.
Jenny Graves
Jenny Graves is a Distinguished Professor at La Trobe University in Melbourne, Australia. She works on Australian animals; kangaroos and platypus, devils (Tasmanian) and dragons (lizards). Her lectures cover the science of sex, weird animal genomes and the future of men!
Watch her lecture on weird animal genomes, lecture about her career, and her Q&A.
Critical Thinking with Dr. Melanie Bagg
In this workshop, NYSF CEO and science communicator Dr. Melanie Bagg teaches alumni about the extremely valuable skill, critical thinking.