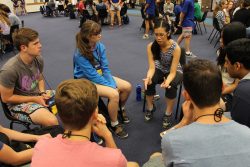 Would you like an opportunity to share your passion and experience in STEM (science, technology, engineering, maths) with young people interested in a career in STEM themselves? Perhaps you studied a STEM degree but are now using your skills and talents in a different field. Are you an alumni of the NYSF/National Science Summer School and would like to re-connect with the program?
Either way we invite you to join our Speed-Date-a-Scientist sessions in January to share your STEM journey so far with the next generation of STEM students.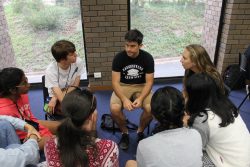 What's involved?
In an informal setting, you'll talk to a small group of students about your career path (approx. 10-12 conversations lasting 5-7 mins). The students might ask you about your study, fields of research, and current role, how you got to where you are today, and where you might be heading. You won't need to pre-prepare anything, just turn up ready to answer the questions the NYSF participants have for you.
When & Where?
There will be two separate events and opportunities to be involved. We welcome you to join for both, or just one of the dates. Please click the dates below that you would like to attend to complete your registration. If you want to come to both sessions, please complete the separate registrations. You'll find more info about the event on the registration page too.
Register here:
Session A – Tues, 10 January 2017 – 10:30am – 12:15pm
Session C – Tues, 24 January 2017 – 10:30am – 12:15pm
Location: Burgmann College, Australian National University