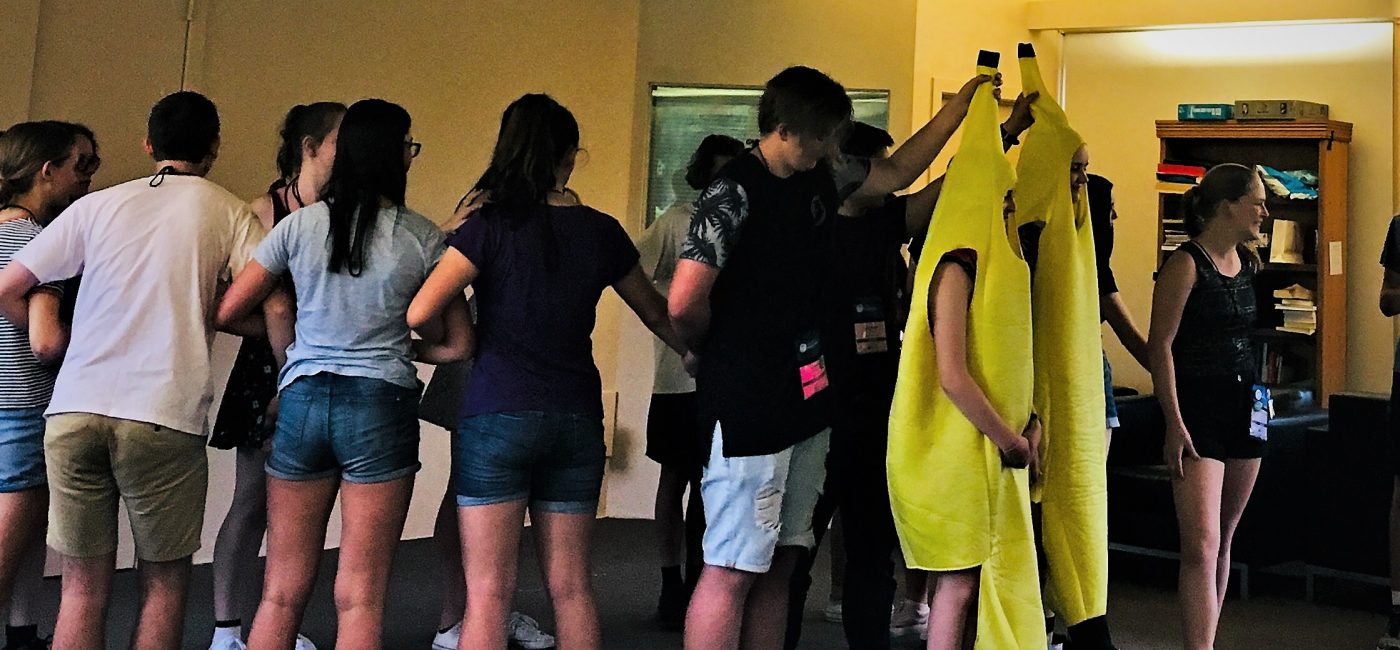 Go beyond the traditional disciplinary perspectives
Q: What happens when we get to the edge of a STEM discipline?
A: The lines start to blur.
During NYSF 2018 Session C students broke outside of the box and started to think how they could link areas of science and creativity to go beyond the traditional disciplinary perspectives.
Firstly, students from different interest groups discussed how their fields could work together towards sustainable development, and their ideas were very innovative:
Using nanobubbles to clear blockages in blood vessels – Oliphant (physics) and Blackburn (health)
Fixing the hole in the ozone layer by creating a self-sustainable device that fuses and splits oxygen atoms to create ozone. It could also be adjusted to control the weather by condensing water vapours to form clouds – Einstein (physics) and Carson (environment)
Creating artificial bees that act as pollinators to encourage more plant growth, which will provide more food to all animals – Hill (biology) and Mirzarkhani (engineering)
Using virtual reality to simulate surgery and disease for educational and training purposes - Lovelace (computer science) and Doherty (medical)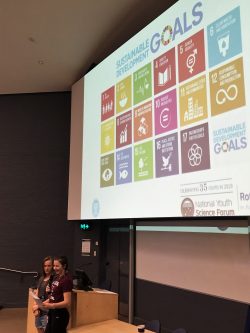 The students were then divided into different groups for workshops and talks, and we'll see how their ideas and views changed by the end of the day.
STEM Plus MEDIA
When people hear "science research", it's hard not to imagine a team of highly skilled people in big safety glasses working in a mysterious lab full of smoke and colourful chemicals buried deep in a university. How to effectively communicate the work of researchers? Especially when the work is important to the public. Lish Fejer, a presenter and producer at ABC Radio Canberra, impressed the students with her buzzing energy and genuine curiosity for all things science. Fejer's talk had the students engaged throughout, and they left with a new insight in to the world of science communication in the media.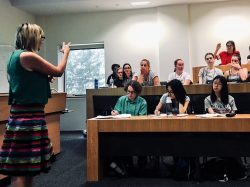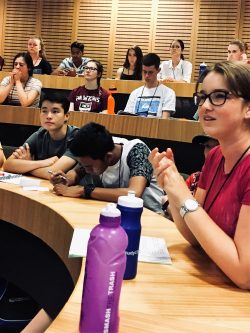 Fejer explained her career journey so far, which was an impressive, and at times hilarious, story. "I said yes to any job opportunity that came across my path," she said. This attitude led her from working in a giant two-storey-high nose in Scotland (to teach people about the respiratory system), to travelling with the Science Circus all over Australia, being a presenter on a television show called Carbon Cops, and ultimately to her present role. Fejer delivered many messages throughout her story about having the right attitude, working in a field you love and keeping an open mind to opportunities.
Lish Fejer also fostered the students' interest in science in the media by stimulating an engaging discussion during the Q&A part of her presentation. Fejer placed a moral imperative on science communication. Since it is ultimately the public who provide funding, "The scientist has the responsibility to keep the public posted," she said. She also shared tips on how to be effective communicators of even the most complex concepts. The value of these tips was seen in the way she delivered her presentation – keeping it clear, simple, and honest.
STEMPlus MUSIC: Building a piano out of bananas
Ardunio is a microcontroller that translates code into something in the physical world (e.g. a blinking light or sound). It can be used for motion capture, building robots, coffee machines, satellites and to automate lights or sprinklers, however in January, the NYSF 2018 students used it to create music.
Students built circuits out of lights, speakers, resistors, dimming switches, and many wires to first create blinking lights, sounds, and then melodies. Initially, sounds filled the air like fire alarms, and then eventually students wrote codes that played different pitches (which sounded a lot nicer!).
You can watch this video of the students' activities.
https://www.youtube.com/watch?v=JRLTX1geVwY
When the cohort of students reconvened after the end of a long day, it was clear that students had learned to explore STEM through "unconventional" avenues, and each group illustrated their newfound knowledge.
The NYSF students had an incredibly fun day and learned to mash their creative and scientific minds together.
Aashritha Kumar, Communications Intern and NYSF alumna 2014 and
Catriona Nguyen-Robertson, Communications Intern and NYSF alumna 2011.